David Robertson: New York Yankees Reliever to DL, Actually Good News for Team
May 15, 2012

Mike Stobe/Getty Images
Matt Snyder of CBSSports.com reports that the New York Yankees announced Tuesday afternoon that reliever David Robertson is being placed on the DL with a strained left oblique muscle.
Right-hander Cody Eppley has been recalled, according to Mark Feinsand of the NY Daily News.
This is just the latest item of bad news for the Yankees, who have been plagued by the injury bug for the past two weeks. Not only did it end the season of the greatest closer of all time, it delayed the return of speedy outfielder Brett Gardner (who suffered a setback in rehab last week) and forced an early end to Ivan Nova's outing Monday evening in Baltimore (due to a sprained ankle).
David Phelps would be the likely choice to return to the rotation if Nova misses any starts, since he has been much better as a starter this year than Freddy Garcia.
Robertson had assumed closing duties after future Hall of Famer Mariano Rivera tore his ACL. That injury occurred while he was catching fly balls in the outfield in Kansas City on May 3rd.
Robertson picked up his first save of the season against Tampa Bay on May 8th, but allowed a hit and two walks in the process. The next evening, he blew the save against the Rays, allowing four runs on three hits and a walk, raising his ERA to 2.63 on the season. He began the evening with an ERA of 0.00.
Rafael Soriano picked up the save against Tampa Bay on May 10th, the night after Robertson's ugly effort, though Soriano did allow an earned run on one hit. Soriano was called upon not because of Robertson's ineffectiveness, but merely because Robertson had pitched two days in a row and had thrown a lot of pitches.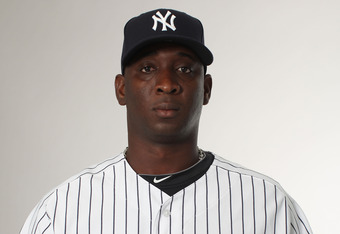 Nick Laham/Getty Images
But Soriano was called upon again on Monday night in Baltimore, even though Robertson was ostensibly fresh. Soriano would have had a perfect ninth, but Eric Chavez committed an error. Unflapped, Soriano promptly retired the next batter to end the game and seal the comeback victory.
It emerged that Robertson was unavailable due to an oblique issue, and that landed him on the DL less than 24 hours later.
It would be almost impossible to argue that Soriano is a better pitcher than Robertson, since the numbers stack up in favor of the latter. Soriano posted a 4.12 ERA last season and sports a robust 1.57 WHIP this year, with 13 K in 14 IP. By contrast, Robertson delivered an unreal 1.08 ERA with 100 K in 66.2 IP last year, and has already struck out 24 batters in 14.1 IP this season.
But as Yankees fans are swiftly finding out—after living with the greatness of Mariano in the ninth since 1997—closing the door in the ninth inning takes a special kind of pitcher. It's not necessarily your best pitcher, or the guy that strikes out the most batters, but a uniquely stoic candidate that has experience and willful amnesia.
Rafael Soriano saved 45 games for Tampa Bay in 2010, and 27 for Atlanta in 2009, while Robertson has just four career saves. While no one will mistake him for Mo, Soriano has the experience.
He also has the closer-type contract. Against the better judgment of GM Brian Cashman, the Yankees signed Soriano to a three-year, $35 million deal. Soriano then quickly lost his eighth-inning role to the flame-throwing Robertson in 2011.
But in a world without Mariano, Soriano is the best candidate to close games for the Yankees, at least for this season. Being that no pitcher on the planet could possibly fill Rivera's shoes, the Yankees would be foolhardy to ruin the confidence of a young up-and-coming reliever like Robertson.
He works like a charm in the eighth inning, and if it ain't broke, don't fix it.
Let Soriano handle the ninth inning. He has the experience and he certainly has the stoic nature required to close. And if he fails spectacularly, at least he's being handsomely paid for his troubles. Better to ruin the confidence of a 32-year-old and run him out of town in 2013 than to destroy a 27-year-old who proved last year he's capable of being practically unhittable.
Robertson needs to mature as a pitcher anyway. He showed again and again last year that he was good at getting out of jams. But he had ample opportunity to demonstrate that because he was so good at getting himself into those jams. It was almost like he wanted to load the bases just so he could strike out the side.
That was something Mariano never did. Keep it boring, keep the bases empty, get the outs one-two-three, shake hands and go home. Robertson makes his appearances so thrilling that his Baseball Reference page actually lists his nickname as "Houdini."
For now, the injury to Robertson guarantees that Soriano will be closing games. Unless he blows it, he could remain the closer even once Robertson returns.
Robertson can focus on getting healthy and spend some time reflecting on the bumpy week-and-a-half he spent as the closer. There's no doubt he can get better and his brief trial by fire should motivate him to work on translating his eighth inning success to the ninth.
But as fate would have it, the ninth inning now belongs to Rafael Soriano. This is what he wanted when he came to New York and took the big money. This is his opportunity. He should sink his teeth into it and not let go—at least not until Robertson is ready to snatch it away from him.