Tim Tebow: Praise from Jets Coaches Increases Threat of QB Controversy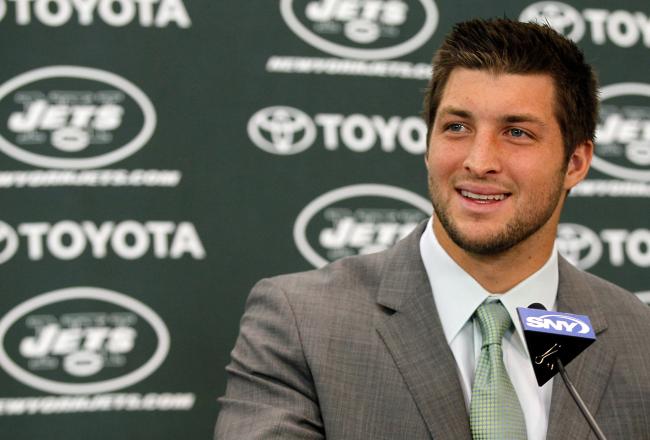 Mike Stobe/Getty Images
The New York Jets have gone out of their way to make it clear that Mark Sanchez is the team's starting quarterback ever since acquiring Tim Tebow in March. However, if recent developments are any indication, Sanchez's grip on the starting job may have loosened a touch, and the fourth-year pro had better come to training camp prepared for a competition and not a coronation.
Manish Mehta of the New York Daily News reports that Tebow has made a big impression with the New York coaching staff, impressing quarterbacks coach Matt Cavanaugh, both with his improved passing mechanics and excellent work ethic.
"I think with Tim, he's more focused right now in the offseason on just working on the fundamentals of trying to be rhythmic in the pocket," Cavanaugh said. "So (he) can be using the mechanics that (he) wants to be using. We started to toy a little bit with some of the other things that will happen to you . . . And he's shown great progress. I'm real pleased with him."

"He doesn't let a day go by when he's not focused on trying to get better at something," Cavanaugh said. "When you're in that role as a backup, you take every rep, every drill, every offseason practice or meeting to get better. . . . The playing time? Nobody knows how much it's going to be. So I don't think we worry about that."
It's important to note that at no point has any Jets official made a statement that has said anything other than that Sanchez will be the starting quarterback, with Tebow serving as a "package" quarterback who runs the Wildcat, comes in during certain goal-line and short-yardage sets and fires T-shirts into the stands with one of those air cannons.
OK, I may have made that last one up.
However, it's also certainly worth noting that just one day before Mehta's story was published Terry McCormack of the National Football Post penned an article for Yahoo! Sports where Cavanaugh levied some fairly strong criticism at Sanchez, blaming many of Sanchez's 26 turnovers a season ago on "poor decision making."
"There were turnovers that were not his fault that were credited to him," Cavanaugh said. "But there were enough that playing that position he needs to cut some of those down. Most of them came from just poor decision-making."
It's possible that this is just an example of a coach trying to use the media as a motivational tool, and it certainly wouldn't be the first time such a thing happened.
That said, it seems a little strange, if that is the case, that Cavanaugh would pump up a quarterback who would probably thank you if you slapped him while publicly criticizing a signal-caller who has already developed a reputation for having a fragile psyche.
Who Will Be the Jets' Opening Day Starter in 2012?
If nothing else Cavanaugh, whether intentionally, just fanned the flames of a potential quarterback controversy for the Jets, as countless media types and supporters of the wildly popular Tebow will almost certainly take these reports as one more sign that Tebow should supplant Sanchez as the Jets' starting quarterback.
I'm certainly not prepared to join that mob just yet, as a few practices aren't going to magically improve the accuracy of a quarterback who didn't complete half his passes last year.
On the other hand, 26 turnovers is a ridiculously unacceptable number, and Sanchez is going to have to quickly demonstrate that he's dedicated to taking better care of the football, or the calls for Tebow to become the starting quarterback are going to become very loud, very quickly.
Whatever Cavanaugh thought he was trying to accomplish with his "dueling interviews," all he's really managed to do is increase the controversy between two dueling quarterbacks, and it's probably best that the New York Jets declined an invitation to appear on HBO's Hard Knocks this season.
That team has enough problems already.
This article is
What is the duplicate article?
Why is this article offensive?
Where is this article plagiarized from?
Why is this article poorly edited?

New York Jets: Like this team?