Boston Red Sox: Jon Lester Is the Key to Salvaging 2012 Season
May 16, 2012
Jim Rogash/Getty Images
Monday night, the man who was supposed to be the staff ace all along finally pitched like it.
Jon Lester was brilliant at Fenway Park against the Mariners, tossing a complete-game gem, scattering eight hits and didn't walk a batter in earning his second win of the season. He was very efficient as well, throwing 73 of his 119 pitches for strikes and not exceeding 15 pitches in an inning until the seventh.
More than anything, though, Lester demonstrated he has fully rebounded from his poor finish to last season and inconsistent start to this year.
Over his last four starts, the left-hander is 2-1 with a 1.33 ERA in 27.0 innings pitched. He has lowered his ERA from its season high of 6.00 on April 23 down to a much more respectable 3.71.
With all the turmoil surrounding the Sox this year, the team needs Lester to be a stabilizing force in the rotation. The inconsistency of the other four starters—especially his fellow "ace" Josh Beckett—has only heightened Lester's importance to the team's overall success this season.
Obviously, 17-19 is not the type of start the Sox were looking for. Equally obvious is the fact that, no matter how bad they've looked, they are not a sub-.500 team.
This is a group with far too much offensive firepower to continue to struggle all season long.
The Sox currently stand at second in MLB in runs scored, first in doubles and fourth in OPS. Though they haven't been as consistent as fans might hope, the offense is clearly not the problem.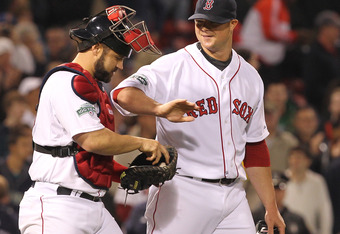 Jim Rogash/Getty Images
Ultimately, the question of whether they can climb out of the AL East basement and back into contention comes down to pitching. A unifying characteristic of most winning teams is each has a "stopper," a pitcher capable of stepping up when the team is struggling and almost single-handedly delivering victory.
For the first five months of 2011, Lester was that guy.
After a September 6 shutout win against the Blue Jays, he was 15-6 with a 2.93 ERA and a Cy Young contender. However, with a horrific 0-3/8.24 ERA split in his final four starts of 2011 paired with his poor beginning to 2012, Lester's hold on the title of top pitcher in the Sox rotation looked tenuous.
His run of late is a sign the Sox might indeed have a good chance of getting back into contention. Granted, Lester's strong efforts have not come against the mightiest of offenses—three of the four teams he has faced rank in the bottom half of MLB in runs scored.
Nevertheless, the signs are clear Lester is rounding back into form, particularly with regard to his command.
In his first four starts of the season, Lester walked 13 batters over 24.0 innings pitched for a 4.9 BB/9 rate that significantly exceeded his career mark of 3.4. Over his last four starts, he has walked just five hitters in 27.0 innings—a huge improvement that shows the left-hander is getting back on track.
Lester will need to be back to his old self the rest of the season for the Sox to get back into the pennant race, and surely knows this better than anyone.
As he has in the past, Lester has shown that he wants the ball at all times, telling the Boston Globe's Michael Vega after Monday's game that "it was my game, and Bobby was going to have to fight me for the ball if he came to the end of the dugout."
This quote is, perhaps, the best sign yet Lester is ready to lead this staff.
Not only does he pitch like an ace, but he wants the responsibility of being the ace. This leadership is something the Sox have been lacking all season and can now rely upon as they look to build on their recent positive results.