Brandon Weeden and the Cleveland Browns: How Soon Is Too Soon?
Rob Carr/Getty Images
I always root for the underdog—so I have been rooting for the Cleveland Browns for quite some time.
Colt McCoy lit the world on fire in college, but last year it seemed like the field and playbook had been cut in half to accommodate the fact that he couldn't make all the throws demanded of him in the NFL.
He was predictable in his inability to spread the defense with a deep ball and the opposition knew this, throwing blitz after blitz at him as he attempted to hit another curl or slant route. The lack of an offseason or elite receiving threat can soak up a portion of the blame, sure, but the reluctance to name McCoy the 2012 starter ahead of the draft indicated that there was change afoot in Northeast Ohio.
The evidence indicates that owner Randy Lerner wanted a quarterback and laid out his demands to Mike Holmgren, Tom Heckert and Pat Shurmur. We know that Kendall Wright was the original target of the Browns at 22, but we also know they believed in Weeden.
It wasn't a reckless panic-grab based on the overbearing demands of an owner—they thought he could do the job and took him. The Browns even considered moving up from 37, if they happened to get Wright first, just in case someone else pushed the button.
The worry that I have for the Browns' 2012 season has nothing to do with the players and everything to do with perception.
How long does this crop of players have before it is branded a failure, both inside and outside of Cleveland Browns Stadium? At the same time, what would even constitute "success" at this point?
How long will you stick with the current coaching setup before demanding change?
There seems to be a tendency to paint the Browns as a franchise in disarray—an organization tainted by indecision and panic, clutching at straws for ever-diminishing returns. This all makes for excellent journalistic copy, but the reality is that it takes time to turn a losing team around.
Patience is a quality that is severely lacking in the NFL, but Shurmur and Heckert have not been afforded the forgiveness that, say, Mike Shanahan has been with the Washington Redskins. Despite posting a worse record in 2011 than in 2010, people are quick to point out the improvements Shanahan has made that aren't necessarily reflected in the results.
I feel it is only right that the Cleveland Browns are granted the same luxury.
At this point it seems that Weeden is the starter, and if we assume that then McCoy will likely serve as backup. He knows the offense, has the on-field experience and is cheaper than Seneca Wallace.
That's my two cents and from there I'll move on, as there has been much debate over this and it doesn't need repeating.
Receiver Greg Little was a high point of 2011, leading the Browns in catches and receiving yards while finishing second and third among rookies in the same categories. His naysayers will point out that he dropped a lot of passes—and he did—but this is something that can genuinely be blamed on the lockout. With no time to learn the West Coast offense he was suddenly expected to be a No.1 receiver, and under those circumstances he delivered.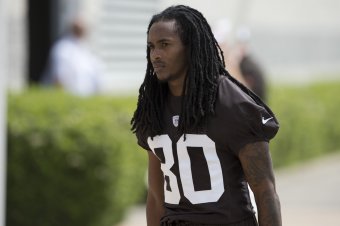 Jason Miller/Getty Images
With more time ahead of this upcoming season to learn the offense and nail his route running, I expect to see fewer drops and continued improvement from Little in 2012.
Aside from his obvious impact on the running game, the addition of Trent Richardson will be beneficial to both Little and rookie Travis Benjamin, as his ability will force teams to reduce the number of blitz packages and to revert to zone- and man-coverage schemes.
This will provide Weeden more time to throw, and Benjamin's speed will allow the wideout to get better separation on his routes and stretch the field as a deep threat. His quickness off the line will also contribute to the passing game on short-yardage plays. The addition of Mitchell Schwartz at right tackle should also buy further time for Weeden to throw, an increase on the 2.5 seconds that Colt McCoy had last year.
The selection of DT John Hughes fueled the fire of draft analysts who had him rated much lower; some had him falling out of the draft altogether. It's true that Hughes has a lot to prove—his effort throughout a game is something that will need to be constantly monitored—but his strengths lie in stopping the run, having good hands and reading the offense early.
These are precisely the things that the Browns defense struggled with last year, further indicating that the front office in Cleveland has more of a plan than they are given credit for. The injury to Phil Taylor now means that Hughes will get his chance to reward the faith shown in him.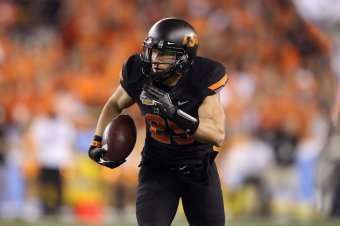 Christian Petersen/Getty Images
Another change at quarterback has been made easier with the acquisition of Josh Cooper, Weeden's undrafted former Oklahoma State teammate. While he was obviously in Justin Blackmon's rather lengthy shadow, Cooper showed he could take advantage of his opportunities, earning All-Big 12 Second Team honors his senior year.
Having a familiar target will ease Weeden's and Cooper's transition to the NFL. It shows again that the Browns are drafting with some care and forethought.
The Browns forewent the bigger names in the draft—excluding Richardson—and trusted their scouts, selecting players based on the way they would complement each other and fill holes within the team.
Yes, they're still the underdogs, within their division and the NFL as a whole, but they are all moving in the same direction—forward. There are no guarantees in the NFL, and the lack of "stars" within the Browns draft doesn't mean that the season is lost.
I'll be rooting for them again this year.
This article is
What is the duplicate article?
Why is this article offensive?
Where is this article plagiarized from?
Why is this article poorly edited?

Cleveland Browns: Like this team?