Manchester United Transfers: Scouting Report for Shinji Kagawa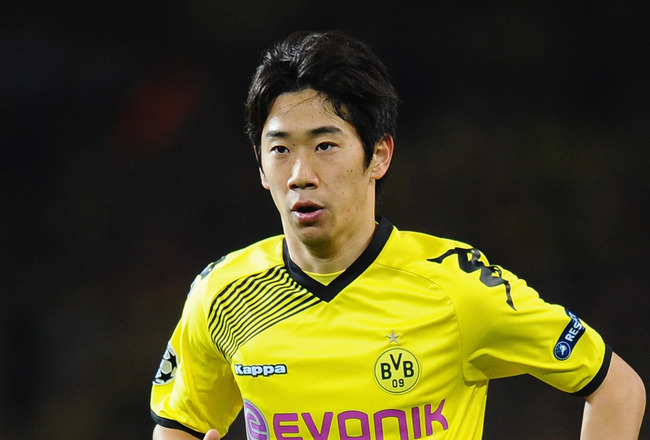 Mike Hewitt/Getty Images
Rumours are rife that Shinji Kagawa has played his last game for Borussia Dortmund—the DFB Pokal final against Bayern Munich—as he prepares to switch clubs.
Speculation linking Manchester United with the Japanese midfielder stretches as far back as January 2012 and the story becomes more and more believable.
Kagawa has reportedly turned down the chance to extend his contract at the reigning Bundesliga champions and manager Jurgen Klopp has admitted he wants to move to the English Premier League.
Here is a scouting report for Kagawa, detailing everything you need to know about the player.
Information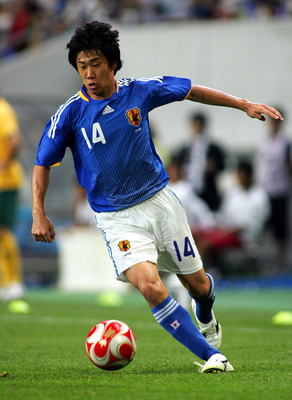 Koji Watanabe/Getty Images
Name: Shinji Kagawa
Age: 23
Position: Attacking midfield, left wing
Club history: Cerezo Ozaka (2006-2010), Borussia Dortmund (2010-present)
Shinji Kagawa was a massive steal on Dortmund's behalf as they parted with just €350,000 to land the Japanese youngster.
The release clause in his contract allowed him to leave for Europe where he could make a name for himself.
If your interested, here are more potential steals from the J. League in Japan.
Achievements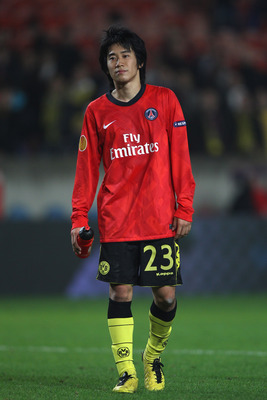 Michael Steele/Getty Images
Domestic
Bundesliga 2011, 2012 (Borussia Dortmund)
DFK Pokal (2012)
International
AFC Asian Cup 2011 (Japan)
Strengths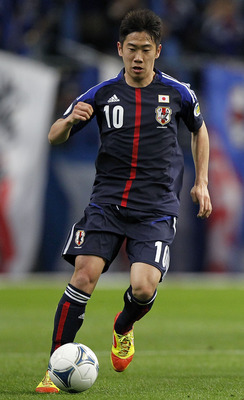 Kiyoshi Ota/Getty Images
Touch and Tidiness
When he's on the ball, his touch is perfect. He's able to manoeuvre the ball through small gaps and keep it short, quick and simple.
Despite attracting the attention of two or even three players at a time, his composure allows him to excel in both dribbling and dropping the ball off.
Positional Excellence
It's rare you'll find a player so positionally aware—even in midfield. Kagawa knows exactly where to be in every second of every game and has even produced his own style of how to position himself in accordance to the opposition's attacking tendencies.
The Japanese ace is able to single-handedly move a defensive line or bank of four in accordance with where he's standing, not only creating space for himself but opportunities for others too.
Strengths (2)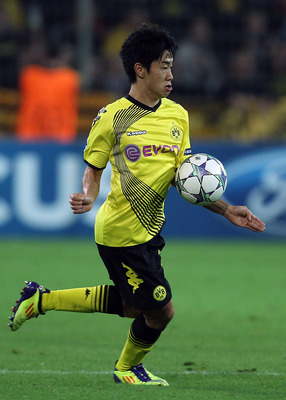 Ian Walton/Getty Images
Agility
Considering the amount of physical pressure this guy receives, his balance and agility are the only reason he doesn't spend half his time on the turf.
His ability to keep his feet, skip out of a challenge or deliver a pass whilst being jostled is borderline unrivalled.
Goalscoring Knack
It's important for a player in Shinji Kagawa's position to be able to grab vital goals.
This season, he's picked up 14 goals and seven assists from the central attacking midfield position—a decent contribution to Borussia Dortmund's haul.
He scores important ones too, such as the only goal in a win against Werder Bremen and late winners against FSV Mainz and Bayer Leverkusen.
Weaknesses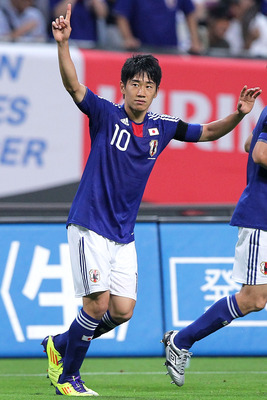 Kiyoshi Ota/Getty Images
When you take into account his position and responsibilities, there are no obvious weaknesses to Shinji Kagawa's game. He is not required to challenge aerially or tackle extremely well and his playmaking ability is good.
You might ask for a little more cutting-edge creativity, but he has his own style and he has perfected it.
However, there is one aspect he could improve upon to make him a complete attacking midfielder.
Requires Teammates to Get Him into the Game
When his team is not in possession, Kagawa likes to drop off and attempt to pounce on a loose ball that might come his way. In doing this, it looks like he is always in the right place at the right time.
For the most part, and especially when playing against skilled opposition, there aren't too many misplaced passes and so Kagawa can't force himself into a game.
He requires teammates to find him and bring him into play.
Comparing Across Manchester United's Midfield
Koji Watanabe/Getty Images
There are parts of this that will be similar to my report on Nicolas Gaitan—there is no one like Shinji Kagawa in Manchester United's current crop of midfielders.
He would be an immediate upgrade to any attack-minded midfielder in United's team, but would not fit in the flat-four midfield Sir Alex Ferguson likes to play.
As with Gaitan, it seems Fergie is considering a change in formation—perhaps switching to the fashionable 4-2-3-1—in order to accommodate the potential signing of this Japanese ace.
He would likely fail in a flat four next to Paul Scholes as he is simply unable to stamp his authority on a game from that position.
Comparing Across the Board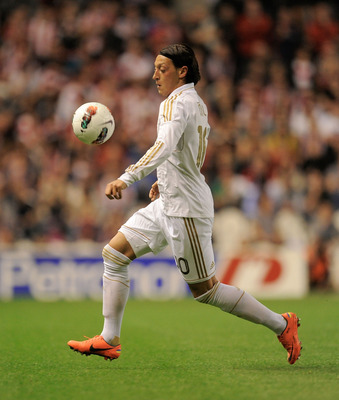 Denis Doyle/Getty Images
Shinji Kagawa is close to being at the top of his trade despite the fact he is only 23 years of age.
There are not many midfielders as clever as him, and not many that combine creativity and intelligence with a goalscoring knack too.
In comparing him against the world's best, it's clear he's still a season or two away from reaching his peak. He needs to test himself on a bigger stage to realise that, though.
I can see Kagawa hitting the heights that Mesut Ozil and Luka Modric have in recent seasons should he get his big move.
Conclusion and Value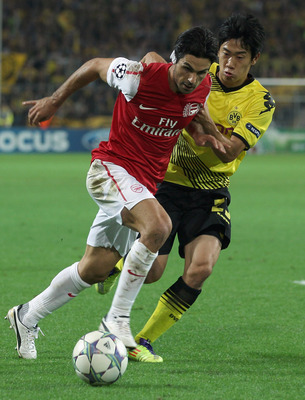 Ian Walton/Getty Images
Transfermarkt.co.uk values Shinji Kagawa at €17 million—an apt guess.
There's no way he'll cost over €10 million though, as with one year on his contract left, he holds all the bargaining chips.
Borussia Dortmund have pretty much said goodbye to this Japanese star and whoever lands him has bagged a 10-year attacking midfield spark.
He'd transform Manchester United's midfield—on the condition that the formation is changed—into one which can play some fantastic football on a more consistent basis.
Please feel free to check out my other scouting reports:
Keep Reading

Manchester United: Like this team?