NBA Playoff Schedule 2012: 5 Players Who Will Crumble in 2nd Round
Justin Edmonds/Getty Images
The first round of the 2012 NBA playoffs is finally over after two deciding Game 7 victories advanced both Los Angeles teams. Now with two Game 1 matchups in the second round already in the books, the other series will be underway this week, and teams will be looking to take the next step towards an NBA Championship.
However, with new matchups and the pressure of playing with the season on the line, some players may not perform as well as they would like to.
Let's take a look at five players who will disappoint in the second round of the NBA postseason.
5. Jrue Holiday, PG, Philadelphia 76ers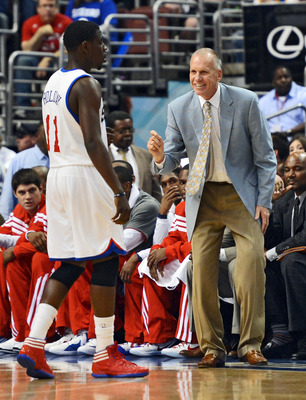 Drew Hallowell/Getty Images
Holiday has been overshadowed by the play of his backup Louis Williams this season which is a bad enough sign as it is.
In case that wasn't enough, Holiday has already shown that he might be struggling a lot against the Celtics in the second round after a 3-13 shooting performance in Game 1.
Holiday scored just eight points with four assists and went 0-4 from beyond the arc. He has shown flashes of brilliance in his career thus far, but had a pretty disappointing 2011-2012 season where he only averaged 13.5 points per game and 4.5 assists.
So far, Holiday has gotten off to a rough start in the series, and the tough defense of Rajon Rondo and the Celtics could weigh heavy on him and continue to make him struggle.
4. Blake Griffin, PF, Los Angeles Clippers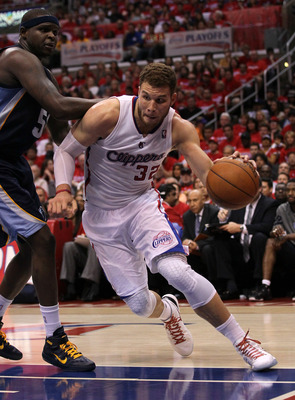 Stephen Dunn/Getty Images
With Griffin's knee injury in the last series against the Memphis Grizzlies, he hasn't been fully 100 percent, and now he won't have much time to heal up before the Clippers move on to face the San Antonio Spurs.
It was evident in Game 6 and 7 of the Memphis series that Griffin wasn't going full speed and he wasn't flying around the court and the rim, throwing down monster dunks. Instead he was very passive and timid which did a lot of harm to the Clippers offense who lost Game 6 and had to scrape out a win in Game 7 to advance.
With little time to get ready for the Spurs, Griffin will have to hope his knee is feeling better if he wants to get any sort of offense going against Tim Duncan or DeJuan Blair down low. If not, he may continue to struggle and not play like himself which will be a huge factor as to whether or not the Clippers can compete in this series.
3. Serge Ibaka, PF, Oklahoma City Thunder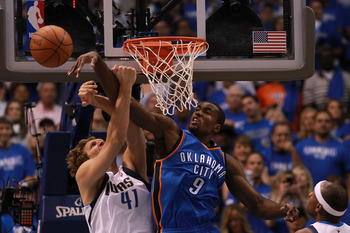 Ronald Martinez/Getty Images
The shot-blocking machine may be slowing down in the Thunder's upcoming series against the Lakers when he faces some tough competition in the paint.
After leading the league in blocked shots and finishing second place in Defensive Player of the Year, Ibaka has been a great presence in the paint for Oklahoma City so far in the playoffs.
However, this could all change when Ibaka is going up against players like Andrew Bynum and Pau Gasol—who are two of the more talented big men in the league who can have their way and score at will in the paint.
Ibaka will have to learn to adjust to their combination of size, skill and crafty scoring ability in order to remain a defensive force.
I don't see this happening, however, as I see the lethal combo of Gasol and Bynum getting the best of the young forward from the Congo in the second round of the playoffs.
2. Paul Pierce, SF, Boston Celtics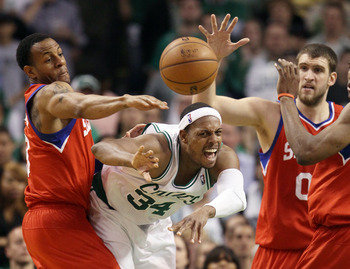 Elsa/Getty Images
This choice may upset a lot of Celtics fans but Pierce may end up struggling in the second round series against the 76ers.
Part of this is due to how much Kevin Garnett and Rajon Rondo have been stepping up lately. With them filling out the scoring needs for the Celtics, Pierce may see the need to help out a lot himself and could end up forcing shots up he doesn't need to take.
I'm not saying Pierce is gonna be jealous of how well Garnett and Rondo are performing, but he is a very emotional player, and he might be trying to do too much to help them in the second round.
We saw a hint of this with Pierce's bad 3-11 shooting night in Game 1 against the Sixers, and it could be a telltale sign of him struggling in this series.
1. Andrew Bynum, C, Los Angeles Lakers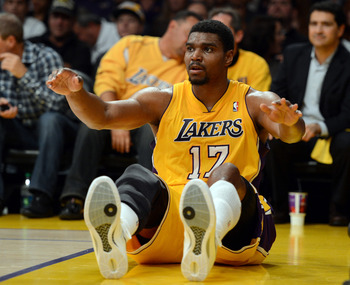 Harry How/Getty Images
Bynum has the raw talent to be an absolute force in this league, but his mental game definitely needs some work still.
After referring to close-out games as "easy", Bynum and the Lakers had to go to seven games to down the Denver Nuggets, even after LA had a 3-1 series lead.
This is just a small window into the inexperienced and foolish mind of Bynum who has a tendency of checking out of games when things aren't exactly going his way.
His immaturity and temperament will be exploited in the second round by veteran Oklahoma City Thunder center Kendrick Perkins. Perkins has a history of getting into scuffles with other players and using mind games and physicality to get under opponents' skins.
He will especially target Bynum in this series since he knows very well how little patience and short of a fuse Bynum has, and Perkins will make sure to push his buttons.
When not being focused on the game, Bynum's performance will struggle, and he won't be able to take the next step in this series or as a player until he can overcome his immaturity.
Keep Reading