Ranking the 10 Most Dangerous Strikers in Football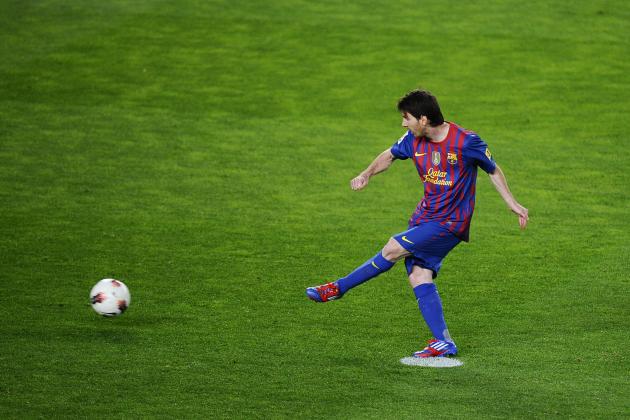 David Ramos/Getty Images
No Prizes For Guessing Who This Is
In football's top leagues, as well as in the UEFA Champions League and Europa League, we have seen goals galore this season. Thanks in most part to the sudden boom of prolific strikers.
In the Premier League, Serie A, La Liga and Bundesliga, the top goal tally from last season has either been matched or truly beaten. For example, the Premier League top-scorer this campaign (Arsenal's Robin Van Persie) has scored 10 more goals than the top-scorer last season (Manchester United's Dimitar Berbatov).
To put in perspective how many goals have been flying in this term, the ten players on this list have scored 418 goals between them in just the 2011-12 campaign alone—an average of 42 goals a season per player.
And with more dizzying goal statistics on the way, read on to find out who are the ten most dangerous strikers in world football right now.
However, there are no prizes to be awarded for correctly guessing who's at No.1 and No. 2 on the list!
Statistics courtesy of WhoScored?com and TransferMarkt.co.uk
Begin Slideshow

»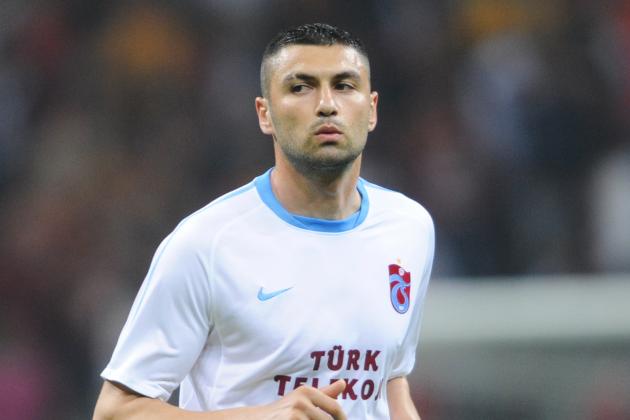 EuroFootball/Getty Images

Such has been the form of 26-year-old Trabzonspor striker Burak Yilmaz this season, La Liga giants Real Madrid are reportedly (link in Turkish) said to be interested in a swoop for his signature.
In fact, so interested in the player are Los Merengues that they've apparently made their scouts compile a detailed dossier on the Turkey international that includes his career statistics, playing CV, psychological profile, and injury history.
Premier League sides Arsenal and Fulham are also said to be keen on Yilmaz, and it's clear to see why.
Yilmaz has scored 32 goals in 30 regular season games in the Super Lig this term, along with nine assists.
His season's tally makes him one of the most valuable players in Europe to his club, with the striker scoring 54 percent of his side's overall goals throughout the campaign.
Definitely on his way to a bigger club this summer, Burak Yilmaz has possibly been the most unheralded dangerous striker in Europe this season.
Dangerous stat: Yilmaz's haul of 32 goals and nine assists in 30 matches means he's directly contributed 1.4 goals per game to his team. Only Lionel Messi has a better combined ratio.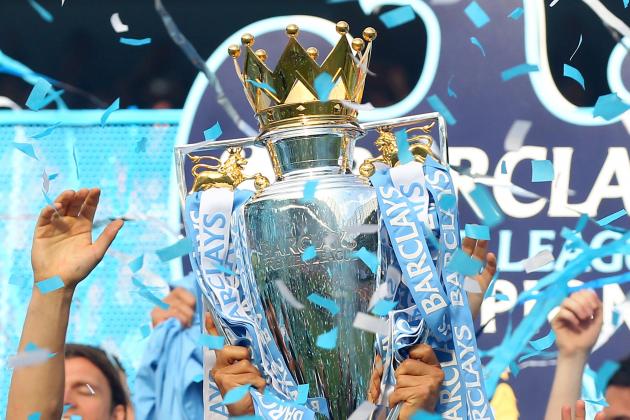 Alex Livesey/Getty Images

"I helped the team and I want to keep doing the same in the future."
That's what Sergio Aguero said in August 2011, shortly after he scored twice and made an assist on his debut for Manchester City in the 4-0 win over Swansea City.
Fast forward to the final day of the season and that's exactly what he did—help his team lift the Premier League trophy by scoring the goal that won them the title.
Already looking as if he'll be well-worth the £38 million it cost to prize him away from Atletico Madrid, Aguero has been City's most attacking threat this season.
The 23-year-old Argentine international has scored 23 goals in his debut season in the Premier League, and has also made eight assists helping contribute 0.91 goals per game to his team.
A player with clear potential to score more especially with the team around him becoming more consistent, Sergio Aguero will be up there with the very best of them next season.
Dangerous stat: Aguero has scored 23 league goals this term from just 52 shots on target, meaning one in every two shots he has on goal will find the back of the net.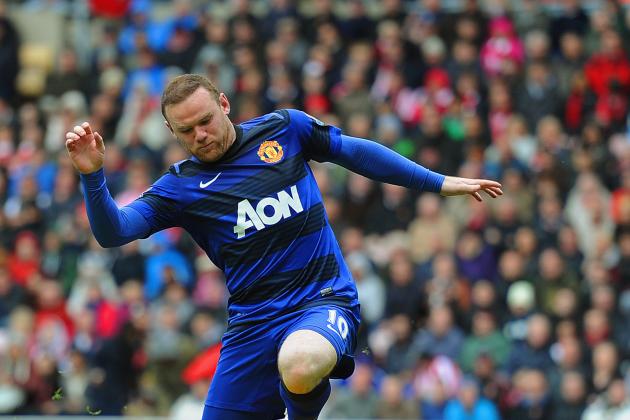 Michael Regan/Getty Images

It was fitting that a Wayne Rooney goal was just two minutes away from giving Manchester United a historic 20th league title.
The 26-year-old striker has been the key man for the Red Devils all season with the 27 goals he's netted in the Premier League this term—a career-best.
In fact, so important has Rooney been to United this season. He's won nine man of the match awards and with all-round ability he's the best playmaking striker in the game.
The 73 time capped England international is the only player in the sport who can boast scoring so many goals, yet also having such good playmaking ability.
If Danny Welbeck or Javier Hernandez can improve on their finishing next season, Wayne Rooney's all-round impact to his team may become more obvious.
Dangerous stat: Rooney is officially the best striker in the world at finding teammates with accurate long balls. His 5.3 accurate long balls hit per game is better than any other forward, and better than most full-time midfielders.
Angel Martinez/Getty Images

When a player scores 163 goals in his first six seasons as a professional footballer, you know he's going to be a special talent.
And after relative dry spells at Real Madrid and AC Milan, Klaas-Jan Huntelaar has finally tapped into his potential to be completely phenomenal.
This season the Schalke 04 striker has scored 48 goals in 47 games, having scored better than a goal a game in both the UEFA Europa League and the DFB-Pokal.
The 28-year-old Netherlands international also finished top-scorer in the Bundesliga with a staggering 29 goals in just 32 matches.
Add in eight league assists and that's a Bundesliga contribution of 1.16 goals per game.
Dangerous stat: Huntelaar never went more than three league games without scoring a goal in 2011-12, and that three-game drought happened only once.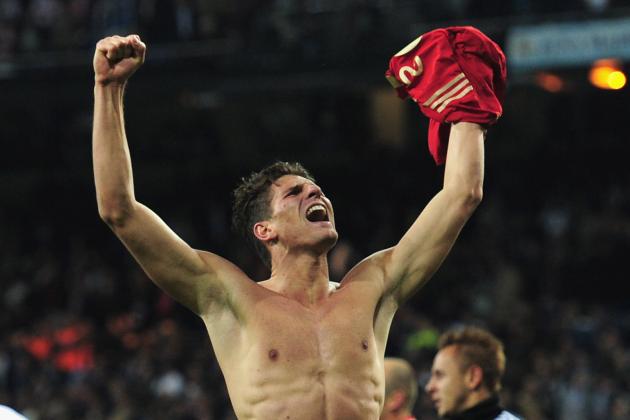 Shaun Botterill/Getty Images

Tottenham Hotspur will be massive Bayern Munich fans for next Saturday's UEFA Champions League Final, and no doubt Mario Gomez will be one of their favorite players.
The 26-year-old German international has been sensational again this season, scoring 41 goals from 51 games.
His 26-goal haul in the Bundesliga put him second in the top-scorer rankings behind Klaas-Jan Huntelaar, but what ranks him above the Schalke forward in this list is his European record.
Gomez is a safe bet to score against Chelsea in the final on home soil at the Allianz Arena, seen as he's scored 12 goals in the Champions League this season, which would've equaled the record for a single season total had it not been for Lionel Messi.
Dangerous stat: With his four goals in the quarterfinal against FC Basel, Gomez is one of only eight players to have scored four goals in one match in the Champions League era.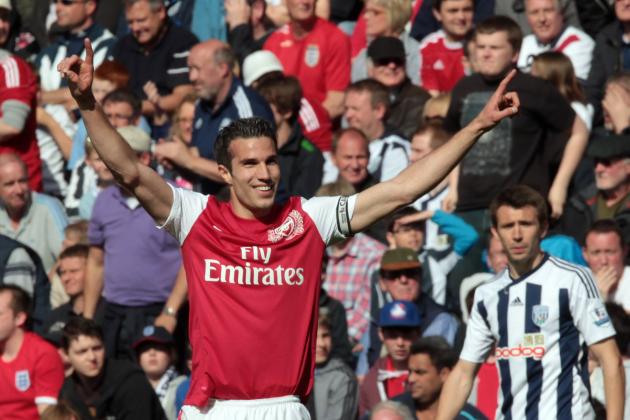 Ross Kinnaird/Getty Images

Up until this season with Robin Van Persie, thanks to his injuries, it was always a case of "what if" for the Arsenal striker.
But now he's remained injury-free and the world has seen what Van Persie can do.
The top scorer in the Premier League with 30 goals, Van Persie has been phenomenal, with the quality of his strikes marking him out as one of the very best in the sport. His goal against Everton displayed completely perfect technique.
Factor in nine league assists, and a staggering 2.4 key passes per game (i.e. 92 direct goalscoring chances created for teammates this season), and it's clear this is a man who's absolutely essential to the Gunners.
Dangerous stat: Having made 14 assists and hit the net 37 times in all competitions, Robin Van Persie has contributed 51 goals to Arsenal this season at a rate of 1.1 goals per game.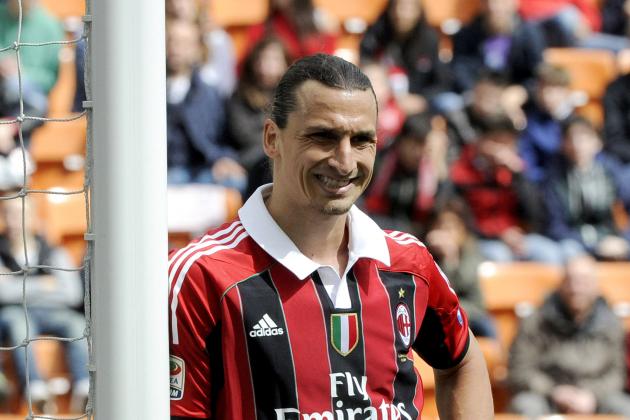 Claudio Villa/Getty Images

He may be a huge narcissist, a massive **** and generally one of the worst characters in football, but there's no doubting Zlatan Ibrahimovic is the one of the very best strikers in the sport.
His record speaks for itself: 35 goals and 14 assists in 44 games this season.
While Robin Van Persie has taken universal plaudits this term, it's perhaps only fair Ibrahimovic receives the same, if not more.
After all, the 30-year-old Swedish international has a better goals per game ratio than Van Persie, and in a defensively tighter league, he has done so with fewer shots.
Plus, he's also the better playmaker, hitting 2.7 key passes each match compared to Van Persie 2.4.
It seems the idiosyncratic Ibrahimovic has found a home at AC Milan. Now the second most expensive player in the world is finally adjusting to the hype.
Dangerous stat: Ibrahimovic has been instrumental to his team this season, winning 12 man of the match awards.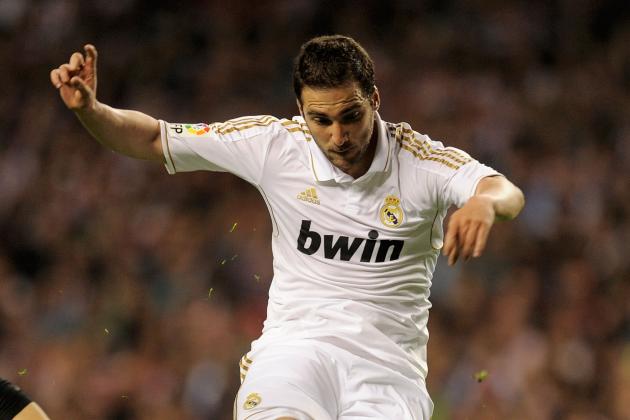 Denis Doyle/Getty Images

Gonzalo Higuain wouldn't be most people's choice as the third most dangerous striker in world football.
Especially when his record this season stands at a good, but not amazing, 26 goals in 54 games this season.
However, such has been his overlooked, underrated, and downright stellar league form, the 24-year-old Real Madrid striker deserves his place on this list.
Because thanks to his La Liga form this term, Higuain is the most efficient striker in Europe.
Higuain has scored 22 league goals this season. He's done it from just 18 starts, and 1,712 minutes of playing time, meaning he scores a goal once every 77 minutes.
In contrast, the player below him on this list, Zlatan Ibrahmovic, scores a goal once every 97 minutes.
Not only that, but Higuain has scored 22 league goals from just 60 shots, or 1.7 a game, a significantly lower shot total than any other player in Europe who has scored the same or a higher amount of goals than him.
Dangerous stat: With 22 goals and nine assists in La Liga, Gonzalo Higuain has contributed a goal to his team at a rate of 1.72 goals per start.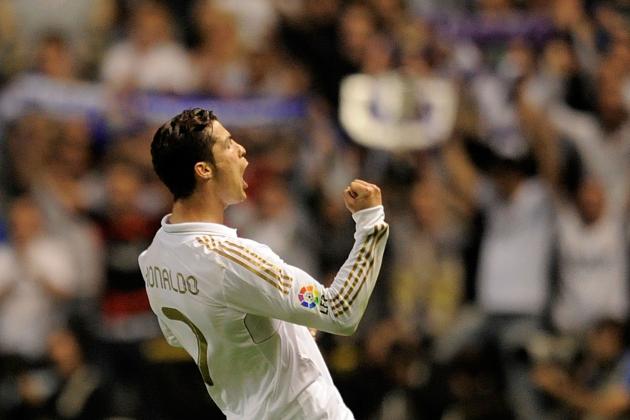 Denis Doyle/Getty Images

There was never any doubting who would be next on this list.
Real Madrid superstar Cristiano Ronaldo has again this season proved that his tag as the world's most expensive player is fully justified.
With a staggering 60 goals in 55 matches this season, if it wasn't for a diminutive Argentine who plays for FC Barcelona, Ronaldo would unassailably be crowned world football's most dangerous striker.
The 27-year-old star has a perfect record in the Champions League with 10 goals in 10 games, while in La Liga he has a whopping 46 goals from 38 games. Add in 12 league assists and that's a contribution of three goals every two matches.
It's therefore no surprise that Ronaldo has won a colossal 15 man of the match awards in the league, the second most in Europe.
Seemingly forever chasing in the shadow of his arch-nemesis, you wouldn't bet against Ronaldo catching him up sometime soon.
Dangerous stat: In his three seasons at Real Madrid so far, Cristiano Ronaldo has scored 146 goals in just 144 games.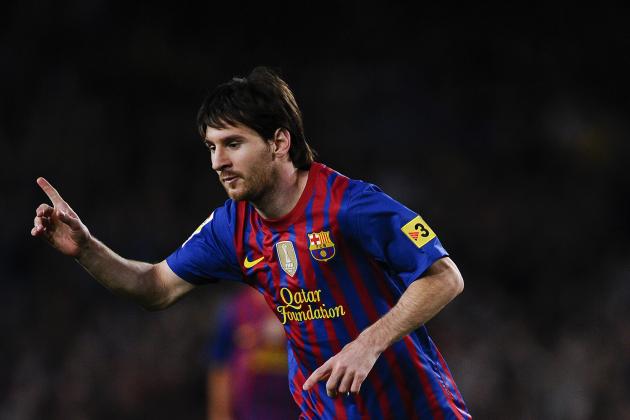 David Ramos/Getty Images

There's nothing one can write about Lionel Messi which hasn't already been written.
The FC Barcelona legend has had a more stellar campaign than any footballer has ever had in the sport, with his 72 goals in a single season easily making him the most dangerous marksman football has, and probably will, ever see.
Having smashed the Champions League and La Liga goalscoring records, it is perhaps poignant to note however that despite Messi's unbelievable campaign, he could in fact end up without a trophy this season (Copa Del Rey Final against Athletic Bilbao pending).
Nonetheless, the world has witnessed the birth of the most natural goalscorer to ever play football who has a spectacular eye for goalscoring.
Lionel Messi is the most dangerous striker in world football right now, and no doubt will be for years to come. Here's hoping for an 80 goal haul next season!
Dangerous stat: With his 72 goals and 28 assists, Messi has contributed 100 goals to Barca just this season alone.