6 Things We Learned from the Braves' Weekend Sweep of the Cardinals
May 14, 2012

Dilip Vishwanat/Getty Images
If there was any thought that a return visit to the World Series looked like an easy trip for the St. Louis Cardinals, the Atlanta Braves established themselves as a threat to the Cards' reign with a three-game sweep over the weekend at Busch Stadium.
The Braves already should've been considered a worthy challenger to the Cardinals, with an offense that scored the second-most runs in the National League and tallied the second-highest run differential at plus-24.
Atlanta's lineup doesn't currently have much of a weak spot, unless you consider the slumping Brian McCann as such. 
Atlanta also looks to have a starting pitching advantage, with Brandon Beachy and Tommy Hanson making a formidable duo at the top of the rotation. In their two starts, the pair combined for 15 strikeouts in 11 innings, allowing two total runs. The two did combine for seven walks, but the Cardinals weren't able to capitalize.
Here are six additional things we learned about the Braves and Cardinals this past weekend.
The NL Central Was a Sanctuary
Going into this weekend's series, the Cardinals had built up their record by beating up on NL Central teams. St. Louis had gone 16-11 within its division, with its other four wins coming against the third-place Arizona Diamondbacks and fourth-place Miami Marlins. 
Against a top team from another division in the NL, the Cards got swept. So what will happen when St. Louis ventures further out of the NL Central? 
We'll find out this week.
After a two-game set with the Chicago Cubs, the Cards travel to California for six games against the San Francisco Giants and Los Angeles Dodgers, the top two teams in the NL West.
A three-game series versus the San Diego Padres might provide a respite, but then the Philadelphia Phillies, Braves and New York Mets each get a shot. Those 11 games against the NL East, seven of which are on the road, will be a major test.
Jason Heyward Is a Force Again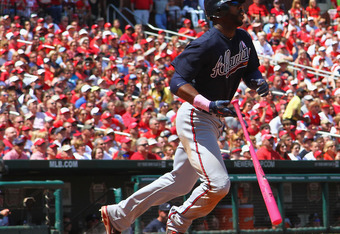 Dilip Vishwanat/Getty Images
The Braves right fielder didn't hit for a high average in these three games, batting 3-for-15 (.200). But those hits came in important situations.
Friday night, his two-run homer off Kyle McClellan broke a 7-7 tie and gave Atlanta a hard-fought 12-inning win. On Sunday, Heyward fouled off six pitches in a 10-pitch battle with Lance Lynn before getting the fastball he wanted and ripping it to right field for a three-run double.
The Cards never caught up from there. 
It wasn't all great for Heyward. On Saturday, he had his worst game of the season, batting 0-for-5 with four strikeouts.
But rather than sink into a slump, Heyward bounced back nicely with his best run-producing performance this year.
Lance Lynn Is Not Invulnerable
Lynn was one of baseball's early-season surprises with a 6-0 record and 1.40 ERA. Those six wins led the majors, and his ERA was the third lowest among starting pitchers.
But those numbers had been compiled against the Cubs, Pirates, Brewers and D-Backs. It was a bit of a different story against a powerful Braves lineup that had scored the most runs in the NL and second most in the majors. 
Atlanta batters made Lynn work, pushing him to throw 121 pitches, his highest total of the season.
The best example of that was the aforementioned 10-pitch endurance test with Heyward. That was preceded by Freddie Freeman and Dan Uggla each drawing two-out walks, putting Lynn in a situation where he had to throw strikes to Heyward.
Lynn showed resolve in lasting three more innings, but the damage had already been done.
Carlos Beltran Is Looking Most Valuable
We pounded the drums for Beltran last week, saying his performance wasn't getting enough attention. That's going to be changing now.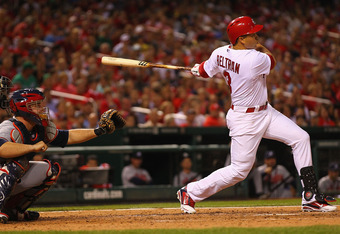 Dilip Vishwanat/Getty Images
Though the Cardinals lost on Friday night, 9-7, Beltran was unstoppable. He batted 4-for-5 with two home runs, a triple, double and four RBI. If only he also could have pitched in relief for St. Louis.
But his homer on Sunday may have been even more impressive, as Beltran swung off his front foot yet still muscled the ball over the right-field fence.
Between Matt Kemp's 0-for-13 slump and Beltran's 5-for-12, three-homer, five-RBI performance this weekend, there's a definite challenger for NL MVP honors.
Though his .298 batting average falls well short of the league leaders, Beltran's 13 homers lead the NL, while his 32 RBI are tied for the top total. 
Allen Craig Can't Sit Down
Finding ways to keep Allen Craig in the lineup was an issue for the Cardinals before this weekend's series with the Braves. But with a 5-for-12 performance to go with two homers and five RBI, Craig should cement a spot in the Cards' everyday lineup.
It won't be easy for Cards manager Mike Matheny, especially with Lance Berkman being activated from the disabled list on Sunday. But someone has to sit down each day for Craig to stay in the lineup.
On Sunday, it was Matt Holliday. According to the Post-Dispatch's Derrick Goold, Holliday wasn't too happy about the decision.
Craig has played almost exclusively at first base since he joined the active roster. But Matheny might have to move him around the outfield to get him regular plate appearances. Dare he try Craig at second base, where he played eight games last season?
Interleague play can't come soon enough for Matheny. Oh, if only Craig could also pitch in relief.
Cardinals Bullpen Needs Relief
OK, that was the second crack we've made about the Cardinals bullpen, so let's address that.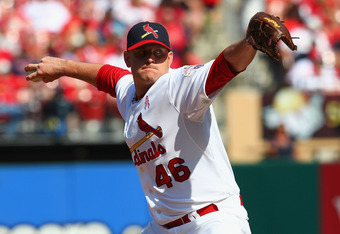 Dilip Vishwanat/Getty Images
As a consequence of the Braves roughing up the Cards starting pitchers over the three games, not to mention Friday's extra-inning affair, the soft underbelly of the St. Louis bullpen was exposed. And Atlanta didn't miss the opportunity to attack.
Jason Motte and Fernando Salas were the only Cardinals relievers to escape the weekend unscathed, providing a combined 4.2 scoreless innings. But everyone else was touched up for at least one run during the three games against Atlanta.
The worst culprit?
Well, Victor Marte's outing on Sunday didn't look very good. In two-thirds of an inning, he allowed three runs and four hits, turning a two-run Braves lead into a six-run cushion. 
But Kyle McClellan may have come out of the weekend looking worst. In two appearances lasting 3.1 innings, he gave up three runs and four walks. He also served up Heyward's go-ahead home run on Friday.
It could be a while before he sees a high-leverage situation again. 
Follow @iancass on Twitter.