Carlos Beltran: Why Isn't St. Louis Cardinals Outfielder Getting More Attention?
May 9, 2012

Jonathan Daniel/Getty Images
On almost any other day, a two-homer, six-RBI performance would get a lot of attention in baseball.
Unfortunately for Carlos Beltran, his Tuesday night against the Arizona Diamondbacks was overshadowed by Josh Hamilton's historic home-run explosion for the Texas Rangers in Baltimore.
Even in his own league, Beltran's numbers have been obscured by what Matt Kemp is doing for the Los Angeles Dodgers.
But attention should be paid to Beltran. If you haven't noticed, he's having a great season for the St. Louis Cardinals.
In his past two games, Beltran has hit three home runs with seven RBI.
Over his last 10 games, Beltran is 11-for-32 (.344) with five homers and 15 RBI. That's pushed his OPS up to .985, the sixth-highest in the National League. During that 10-game stretch, Beltran has hit two home runs in a game twice, driving in a total of 13 runs. 
Beltran's 10 homers are tied for the third-most in the majors. His 26 RBI are tied for fourth. He even has five stolen bases, tied for eighth in the NL. 
I used the word "tied" three times in that last paragraph. Is that the problem with Beltran, as far as getting more attention?
As impressive as his numbers are, do they just not stand out enough from the other elite hitters in baseball? Especially stacked up against the otherworldly numbers Hamilton and Kemp are putting up?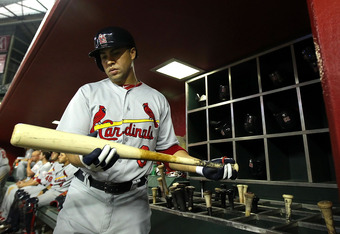 Christian Petersen/Getty Images
Maybe Beltran is also obscured by all of the other fine hitters in the St. Louis lineup. The Cardinals have been an offensive juggernaut, scoring 167 runs going into Wednesday's play. Only the Texas Rangers have scored more in the majors. 
However, the Cards have outscored their opponents by 70 runs. That's the largest positive run differential in the big leagues, five above the Rangers. 
Signing the 35-year-old Beltran to a two-year, $26 million contract during the offseason looked like a fair attempt replace the departed Albert Pujols. Beltran was past his prime of 2006-08, but showed last season that he could still get it done with the bat, hitting 22 homers with 84 RBI and a .910 OPS.
No one was going to replace Pujols by himself, of course. But along with Lance Berkman, and a handful of young hitters like Allen Craig, Jon Jay and David Freese, Beltran could help the Cardinals come close. 
Five weeks and 30 games into the season, Beltran is doing much more than that. It's too bad that no one seems to be paying much attention. I guess he'll just have to keep it up throughout the season and help lead the Cardinals to another postseason bid. 
Follow @iancass on Twitter