Josh Hamilton Hits 4 Home Runs: Analyzing Rangers Star's Value After Huge Game
May 9, 2012

Greg Fiume/Getty Images
Okay, Josh Hamilton's 2012 season is officially getting scary.
In case you missed what happened in Baltimore on Tuesday night, Hamilton helped his Texas Rangers beat the Baltimore Orioles by going 5-for-5 with four home runs and eight RBI.
Yes, four home runs. MLB.com has the video evidence. Hamilton is the first player since Carlos Delgado in 2003 to slug four dingers in a single game, and he's just the 16th player in Major League Baseball history to accomplish the feat.
There have been more perfect games than four-homer games. 
For the season, Hamilton is now batting .406 with 14 home runs and 36 RBI. At the moment I'm writing this, he leads the American League in all three categories. The next-closest guys in each category really aren't all that close.
I didn't think it was possible before the start of the season, but Hamilton is looking much, much better this season than he did back in 2010. He was the best hitter in the league by a long shot that year and he won the AL MVP despite the fact he missed the final month of the season.
For us fans, it's great to watch. For the button-pushers in the Texas Rangers' front office, it's bittersweet. Hamilton's contract is due to expire at the end of the season and the Rangers brass knows that his value is only getting higher and higher with every heroic act.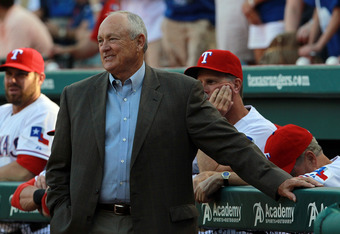 Ronald Martinez/Getty Images
Based on numbers alone, Hamilton is slowly working his way towards an Albert Pujols-esque contract. This kind of production is worth $20 million a year without question, and Hamilton could probably get $25 million a year easy if his contract talks were based on numbers alone.
But everyone on the planet knows that Hamilton's next contract won't be based around simple numbers. There are other forces at work, and they combine their efforts to drive Hamilton's value down.
On the field, there's Hamilton's durability (or lack thereof) to worry about. He's played in more than 150 games exactly once in his career, and the odds of that happening again are somewhere between slim and none.
The Rangers do their best to keep Hamilton healthy, but he has a tendency to come down with nagging injuries. He also has a track record of suffering more severe injuries that require lengthy absences.
Albert Pujols didn't have to worry about this problem when he was seeking a contract this offseason, nor did Prince Fielder. For them, it was only about numbers and they got paid accordingly. Hamilton won't be so lucky.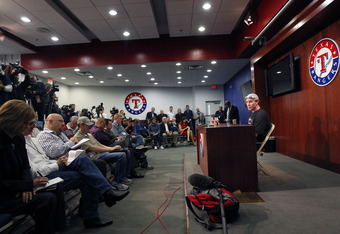 Layne Murdoch/Getty Images
There's also the off-field concerns. Hamilton's history with drugs and alcohol is well known, and he proved once again this offseason that there's a lot of truth to the expression "once an addict, always an addict." 
It's an uncomfortable reality to bring up in a conversation about baseball. Just imagine how uncomfortable things are going to get when Hamilton's past is brought up in offseason negotiations.
So here's the truth: Hamilton, who turns 31 in May, is not going to get a Pujols contract. He's not going to sign on for 10 years at $25 million-plus per year. Investing that kind of time and money into Hamilton would be the pinnacle of foolishness, and no team in the majors is going to be desperate (or rich) enough to make that investment.
My guess is that Hamilton will be able to live with less than a 10-year deal, but he has a very legit argument that he's worth a huge annual salary. When he's healthy, he's arguably the best player in baseball. If Vernon Wells and Carl Crawford are worth over $20 million a year, so is he.
The bidding will most definitely start at $20 million per year and I'd place the years in the five-to-seven range. The question will then become, which team is going to be bold enough to sweeten the pot with a few more millions in guaranteed salary and maybe even an extra year or two?
And my goodness, will there be incentives. Teams will offer extra cash based on games played, numbers achieved, awards earned and so on. The only things that won't be fair game are the things that MLB and the union outlawed in response to Pujols' contract (see USA Today).
There will be talk of options, too. Hamilton's agent will call around asking if teams want to change that option year to a guaranteed year, or to at least make it a player option rather than a team option. No doubt Hamilton will strive for an opt-out clause as well.
Make no mistake about it: By the time the dust clears, Hamilton is going to have the most complicated contract in the history of the MLB.
Regardless of how it's worded, Hamilton's new deal is going to guarantee him a ton of money, and it's going to present him with the opportunity to become even more stinking rich.
Signing Hamilton will be a risk, but whichever team he signs with will know full well that it may have landed the biggest steal in baseball history. 
Contract years don't get any more interesting than this one.
If you follow me on Twitter, I'll tell you how much you're worth.