Will New York Yankees Miss Playoffs If David Robertson Does Not Shine?
May 15, 2012

Mike Stobe/Getty Images
To say the Yankees will not make the playoffs if closer David Robertson does not shine is defeatist, to say the least.
Understand that one blown save in two opportunities is not impressive in the wake of losing Mariano Rivera.
But Yankees fans need to give Robertson a chance.
In 85 games the past two seasons, Robertson has given up just 12 earned runs in 80.3 innings of work. In his five-year career with the Yankees, Robertson has gone 14-7 with 294 strikeouts and a 3.00 ERA. And until recently, Robertson had not given up one run in six months before blowing a save versus the Rays.
This is pretty ironclad if you ask me.
So ironclad, I can see how Joe Girardi would find confidence in Robertson to make him the closer.
Yet it seems some Yankees fans refuse to give Robertson much love at this point. Sadly, this has nothing really to do with Robertson.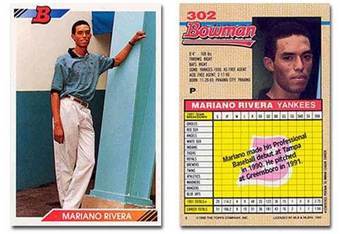 It seems to Yankees fans still get the shakes these days when unable to see Rivera dart to the dusty hill to close ball games.
I get it. Nobody compares to Rivera.
But look, I am a huge fan of Rivera. I have rooted for the guy since I was a teenager. Somewhere in my old collection of baseball cards sits his 1992 Bowman rookie card.
As I Tigers fan growing up watching a team that had no pitching whatsoever, I hoped Rivera would one day give Motown a shot. Two decades later, it is indisputable I will miss the man who uses a one pitch arsenal to defeat hitters.
With that said, as difficult as this is to say, I have to say it.
It is time for Yankees fans to move on without Rivera.
I know. I know. It is a harsh thing to say. But it is true. It is time to embrace a new closer in New York.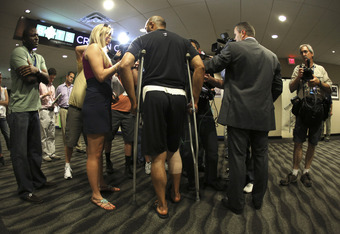 Ed Zurga/Getty Images

Now, I am not sure if Robertson is the long-term solution to replace Rivera as the Yankees' closer. But fans have to give the man a chance to bounce back.
If Robertson is unable to close, Brian Cashman will have to make moves to align stars in the black and blue AL East.
Let's not forget the Yankees have Rafael Soriano. The team also has Boone Logan as an option.
However, to say the success or failure of the Yankees to make the postseason lies on Robertson's shoulders is ridiculous.
I mean this is the New York Yankees we are talking about here!
If the Yankees could find a Moonlight Graham-like loophole that enables Ruth, Gehrig, DiMaggio and Mantle to return from the dead to play ball, they would do just that.
And who is to say Phil Hughes or even—yes, I will say it—Freddy Garcia will not able to transform from goats to heroes?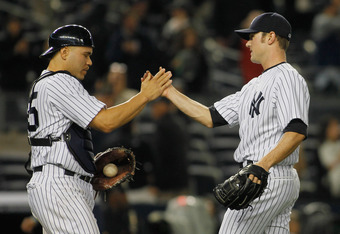 Mike Stobe/Getty Images
Not to say they will, but it points to the fact the Yankees have more options than some fans think.
The bottom line is come late September the Yankees will be right in the thick of things in the AL East.
With an extra postseason spot this season, it would not surprise me if three teams from this division make the playoffs.
And while it will be emotional for many to not see Rivera take the hill in a close game in the bottom of the ninth inning, I have full confidence leadership in the Yankees front office will make moves to get things done.
This is the Yankees way.
Related Articles:
Why New York Yankees Must Sign Phillies Hurler Cole Hamels