NHL Playoffs 2012: Western Conference Finals Series Odds Preview
May 13, 2012

Harry How/Getty Images
Just like we all thought, right?
An NHL playoffs final four of the Los Angeles Kings, Phoenix Coyotes, New Jersey Devils and New York Rangers...
Any semi-rabid sports fan can predict a Packers-Patriots Super Bowl, or a Cardinals-Rangers World Series or a Thunder-Heat NBA Finals. But show me just one expert, or novice for that matter, who had the Coyotes or the Kings going to the Stanley Cup Finals. Just one.
Exactly. Crickets.
And that's one of the things that make the NHL playoffs so great. Only the strong survive, and regular season records and stacked rosters go out the window when that first puck is dropped in Round 1.
So that "hot goalie" cliche you hear every April is obviously more than just a cliche, as the four netminders for the conference finalists have proven again through the first two rounds.
It's time to size up the odds heading into the Western Conference Finals, fresh from sportsbook director Jay Kornegay and his crack staff over at the LVH SuperBook here in Sin City.
Western Conference Finals Series: Kings -165, Coyotes +145
After disposing of the Blackhawks and the Predators in the Western Conference quarterfinals and semifinals, the Coyotes and goalie Mike Smith (8-3, 1.77 GAA, .947 save percentage, two shutouts in 2012 playoffs) now go toe-to-toe with the Kings and an equally dominant guy in the crease in Jonathan Quick (8-1, 1.55 GAA, .949 save percentage, one shutout).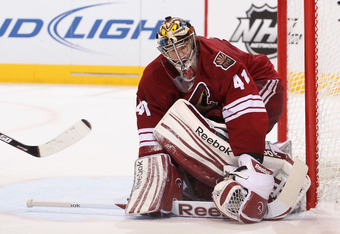 Christian Petersen/Getty Images
Los Angeles and Phoenix both opened at -105 (Total: 4½, over -120) for Sunday night's Game 1 (NBCSN, 8 p.m. ET/5 p.m. PT) at Jobing.com Arena in Glendale, Ariz. 
The two teams split the season series 3-3, with five of those six skates being decided by just one goal and the other by only two goals. In two preseason games, the Kings and Coyotes also split two more one-goal contests.
So to say these two teams who nobody expected to be here are tight would be an understatement. These two are as tight as a frog's ass.
Besides Smith (8-2-1, 1.62 GAA, .941 save percentage lifetime in regular season vs. Kings), Phoenix (50-28-5-10) has had stellar play from Antoine Vermette and Keith Yandle. This team has made the faithful in the Phoenix metropolitan area glad the Coyotes franchise has stayed put in the Valley of the Sun.
The Kings (48-28-6-9) squeezed into the playoffs as the No. 8 seed but made quick—no pun intended—work of both the top-seeded Canucks and the much-improved Blues, winning eight of nine games and outscoring their foes 27-14 as distinct underdogs.
Los Angeles—with Quick (2-2, 2.05 GAA, .941 save percentage lifetime in regular season vs. Coyotes), Anze Kopitar and Drew Doughty—are underdogs no more, sister, as the series price justly reflects.
The first goal in these games between these two sides at this point in the season will be paramount, and with likely totals of 4½ for every game, one can see why.
And after getting every series prediction wrong in my last NHL playoffs odds story here, I'll spare you (and me) the grief and just give you the dates, times and television schedules for Games 2-7 and these two teams' current odds of bringing home the Stanley Cup.
This series is just too hard to handicap, but I think the oddsmakers got it right making the Kings (5-0 on the road in the playoffs) the favorites and the totals oh-so low Joe.
SERIES SCHEDULE:
 Game 2: Tuesday, May 15 Kings @ Coyotes 9 p.m. ET/6 p.m. PT NBCSN
 Game 3: Thursday, May 17 Coyotes @ Kings 9 p.m. ET/6 p.m. PT NBCSN
 Game 4: Sunday, May 20 Coyotes @ Kings 3 p.m. ET/12 p.m. PT NBC
*Game 5: Tuesday, May 22 Kings @ Coyotes 9 p.m. ET/6 p.m. PT NBCSN
*Game 6: Thursday, May 24 Coyotes @ Kings 9 p.m. ET/6 p.m. PT NBCSN
*Game 7: Saturday, May 26 Kings @ Coyotes 8 p.m. ET/5 p.m. PT NBCSN
* If Necessary
STANLEY CUP ODDS:  Kings 2/1, Coyotes 4/1 (Rangers +175, Devils 7/2)
EASTERN CONFERENCE FINALS LINK: Eastern Conference Finals Odds Preview Link 
Follow me on Twitter: @KevinStott11