NHL Playoffs 2012: Eastern Conference Finals Series Odds Preview
May 14, 2012

Patrick McDermott/Getty Images
So, the defending Stanley Cup champion Boston Bruins—the former favorites in Vegas—the Pittsburgh Penguins, and the upstart Philadelphia Flyers didn't even make it to the Eastern Conference finals.
Nothing new in the NHL playoffs where only the strong, and the hot, survive.
Maybe not as unpredictable as the Western Conference finals where the Coyotes and Kings are now battling, but this New Jersey Devils-New York Rangers matchup should be just as close.
Let's examine all the particulars puckhead, with odds from the world's most renowned sportsbook, the LVH SuperBook here in Las Vegas.
Eastern Conference Finals Series: Rangers -150, Devils +130
Madison Square Garden is the site of Monday's series opener (NBCSN, 8 p.m. ET/5 p.m. PT) with the host Rangers favored at -135 (Total: 4½, over -120) over 40-year-old Martin Brodeur and the Devils.
These two longtime East Coast, Atlantic Division rivals, just like Phoenix-LA, split the season series 3-3 and also their two preseason meetings (1-1).
The Devils ousted the Florida Panthers and the Flyers en route to the Eastern Conference finals, while the Blueshirts needed all seven games to beat both the Ottawa Senators and the Washington Capitals to advance.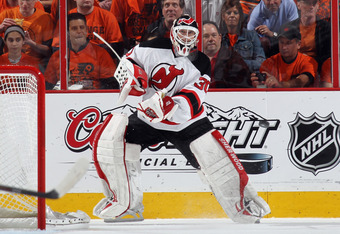 Bruce Bennett/Getty Images
The East's top-seed New York is led by goaltender Henrik Lundqvist, captain Brad Richards and future stars Ryan McDonagh and Chris Kreider, and are the favorites in Sin City (+175) of the four remaining teams to win hockey's Holy Grail.
As always, the Devils are led by Brodeur in net and offensively by Ilya Kovalchuk, Petr Sykora, Zach Parise and Patrik Elias and are much improved roster-wise from their defensive-minded teams of past.
A rivalry renewed, neither team should get too far ahead of the other in any one game, or the series, so this will be a fun one to watch and should end up being pretty physical in the end, and may have an overtime affair or two for your viewing pleasure.
With a nice blend of veterans and young guns, I like the Rangers' chances of advancing to the 2012 Stanley Cup in this Hudson River Valley series, but I certainly wouldn't be surprised if it took New York another seven games to do so.

PREDICTION: Rangers 4-2

SERIES SCHEDULE:
 Game 2: Wednesday, May 16 Devils @ Rangers 8 p.m. ET/5 p.m. PT NBCSN
 Game 3: Saturday, May 19 Rangers @ Devils 1 p.m. ET/10 a.m. PT NBC
 Game 4: Monday, May 21 Rangers @ Devils 8 p.m. ET/5 p.m. PT NBCSN
*Game 5: Wednesday, May 23 Devils @ Rangers 8 p.m. ET/5 p.m. PT NBCSN
*Game 6: Friday, May 25 Rangers @ Devils 8 p.m. ET/5 p.m. PT NBCSN
*Game 7: Sunday, May 27 Devils @ Rangers 8 p.m. ET/5 p.m. PT NBCSN
* If Necessary

STANLEY CUP ODDS:  Rangers +175, Devils 7/2 (Kings 2/1, Coyotes 4/1)

WESTERN CONFERENCE PREVIEW: Western Conference Finals Odds Preview
Follow me on Twitter: @KevinStott11