Bob Melvin Needs to Work with the Infield and Pay Attention, Close Attention
Use your ← → (arrow) keys to browse more stories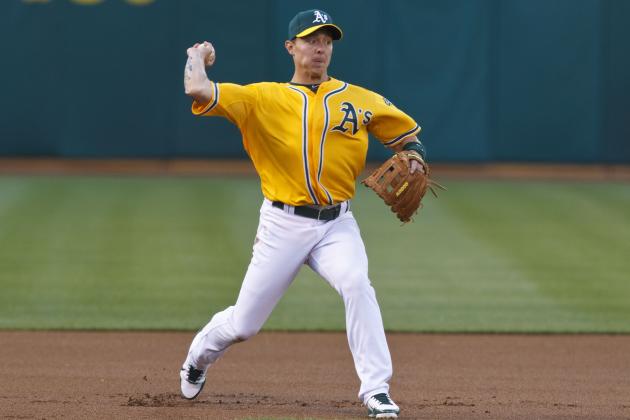 Jason O. Watson/Getty Images
Brandon Inge has been a huge pickup for the A's, but he needs to be a little more in the field in the A's are going to win more games and begin to challenge the Rangers in the AL West.
Note to the Reader: If you have not already done so, be sure to read "Lineup the Oakland Athletics Should Use When Manny Ramirez Arrives: Revised." It serves as a precursor to this column.
Now that the A's are 18-16 and currently beating the incredibly talented Detroit Tigers 2-1 in a four-game series, it is safe to say that the beginning of the season has been quite the pleasant surprise.
One of the pleasant surprises on this team has been the outfield. Josh Reddick has been phenomenal thus far, Yoenis Cespedes has shown flashes of potential for the future in center field, and Manny Ramirez, and more importantly, his bat, is on the way to Oakland.
The A's have even gotten some bright points in what could have easily been a terrible pitching year. Bartolo Colon and Tommy Milone started the season hot and the new prospect Jerrod Parker has shown some great stuff in his short time in Oakland so far. Not to mention the strong season from closer Grant Balfour.
However, the disappointment, and likely the reason the A's aren't closer to the Texas Rangers in the American League West division, has been the infield.
Jemile Weeks started the season cold at the plate and still has trouble with overshooting the bag on base-stealing attempts. Weeks seems to have corrected his earlier mistakes, but now Cliff Pennington is cold...ice cold. The first-base and third-base positions have been revolving doors all season long as well.
So, my message to Oakland A's manager Bob Melvin is this: let's play around with this infield a little bit. There is a good amount of personnel there, and the lack of hitting cannot continue like this.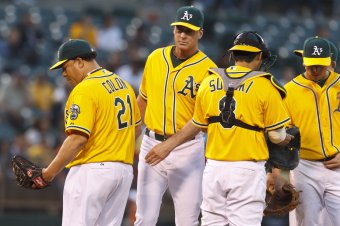 Jason O. Watson/Getty Images
In short, the A's need to teach numerous players different positions in the infield so the hot bats can remain in the game. Here are some infield lineups that I think should be attempted.
3B: Brandon Inge
SS: Cliff Pennington
2B: Jemile Weeks
1B: Kila Ka'aihue
This would be my everyday infield, the one that will be the most likely combo assuming everyone is healthy, not in need of a day off and hitting well.
That is clearly not the case now, as Pennington is one of the coldest hitters in the AL West (not an exaggeration). So, here's one solution.
3B: Daric Barton
SS: Jemile Weeks
2B: Brandon Inge
1B: Kila Ka'aihue
OR
Are there any other infielders that you would like to see in the mix for the everyday rotation?
3B: Daric Barton
SS: Brandon Inge
2B: Jemile Weeks
1B: Kila Ka'aihue
Either way, there is a new position to be played here. Weeks has never played shortstop, but being a career second baseman, the move to shortstop should not be terrible for him if he fields grounders there in warmups and works on his arm when he can. Inge has played second before, so that move is not as bad as it may seem.
If Inge or Ka'aihue ever need a day off, Barton has played both first and third base in his career, so subbing Barton into those slots will be natural. Barton can also be played at third when Weeks needs a day off, which would have Inge moving from third to second to replace Weeks. Those situations look like this.
3B: Daric Barton
SS: Cliff Pennington
2B: Jemile Weeks
1B: Kila Ka'aihue
Do you like the idea of training Oakland's infielders to be so diverse?
...
3B: Brandon Inge
SS: Cliff Pennington
2B: Jemile Weeks
1B: Daric Barton
...
3B: Daric Barton
SS: Cliff Pennington
2B: Brandon Inge
1B: Kila Ka'aihue
To summarize, and get back to the main thesis at hand, the Oakland A's coaching staff needs to put more effort into developing diverse infielders that can play many positions in the infield: not for the defensive advantages, but for the offensive advantages.
With these shifts, the A's would never be prevented from putting a hot bat in the lineup or be forced to keep a cold one (like Pennington's) in there.
So, in short, the following Athletics need to be able to play the following positions on any given day so the A's can get consistent offense from its infield.
3B: Brandon Inge, Daric Barton
SS: Cliff Pennington, Jemile Weeks, Brandon Inge
2B: Jemile Weeks, Brandon Inge
1B: Kila Ka'aihue, Daric Barton
Notice to the Reader: Columns like this one work best with feedback. So please, vote in the polls, and feel encouraged to comment on the column with your thoughts. I'm the type of writer who will respond to your comments. Don't we all love a good sports debate?