Alabama Football: Why a 2-Headed Monster at Running Back Works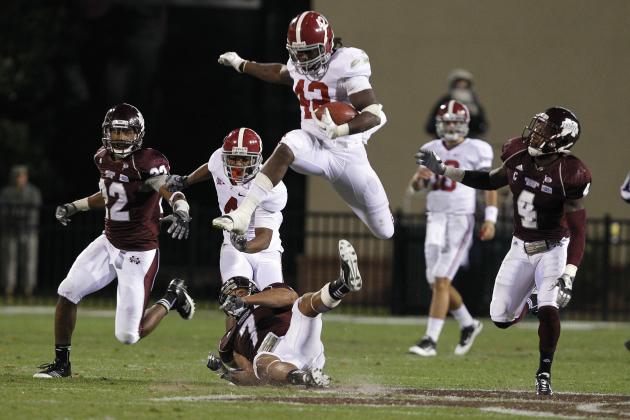 Butch Dill/Getty Images
Lacy may not have any starts under his belt, but backing up Trent Richardson prepared him to step in and be an impact player this fall.
No school in college football has had more success with running back tandems since Nick Saban took over at Alabama.
After having the top running back selected in the last two NFL drafts, Alabama has become a haven for elite prep ball carriers to step in immediately and carve a path straight to the next level.
The Crimson Tide rode the combo of Heisman Trophy winner Mark Ingram and stud freshman Trent Richardson on its way to claiming a national title in 2009 and then turned the same trick last season behind the powerful duo of Richardson and Eddie Lacy.
This year, Lacy will finally get his turn to take over as the starter—but junior Jalston Fowler and stud true freshman T.J. Yeldon will battle it out to fill the backup spot he occupied last season.
Here are four prime reasons why a two-headed monster at running works for the Crimson Tide.
Begin Slideshow

»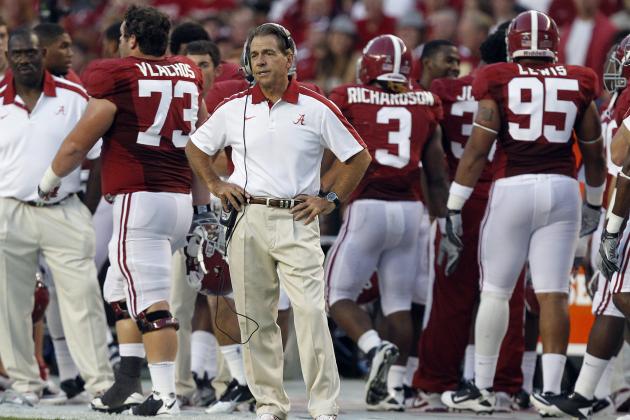 Butch Dill/Getty Images
Saban has always favored the platoon system with his running backs throughout his coaching stops.
While Alabama's offensive system is a huge factor in their success, their ability to utilize two talented running backs capable of starting for any other team in the nation ultimately makes their attack thrive.
When Ingram missed the first two games of the 2010 season, Richardson was more than able to fill his shoes and the Crimson Tide's offense did not miss a beat.
Considering how much of the offensive load running backs carry for Saban's team, the development of Fowler and Yeldon will play a big factor in Alabama's success on offense this season.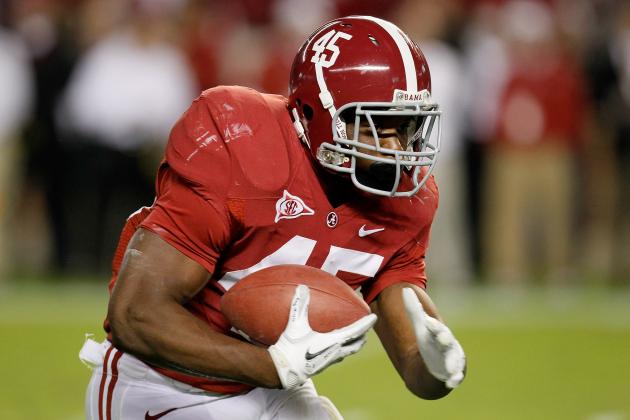 Kevin C. Cox/Getty Images
Fowler could be in line for more carries if he wins the backup RB spot.
Alabama had the top rushing offense in the SEC last season (they finished 16th nationally) –with Richardson stampeding his way to claiming the SEC's Offensive Player of the Year award.
However, having Lacy spell him while maintaining a high level of productivity (averaging more than seven yards per carry) was a key to wearing down defenses all season long for the Crimson Tide.
Perhaps no game better illustrated the duo's effectiveness than the methodical 24-7 pounding of Mississippi State last November.
Richardson was the workhorse—carrying 32 times for 127 yards and a touchdown, but in the process, he softened up the Bulldogs defense enough for Lacy to gain 96 yards and two scores on just 11 carries.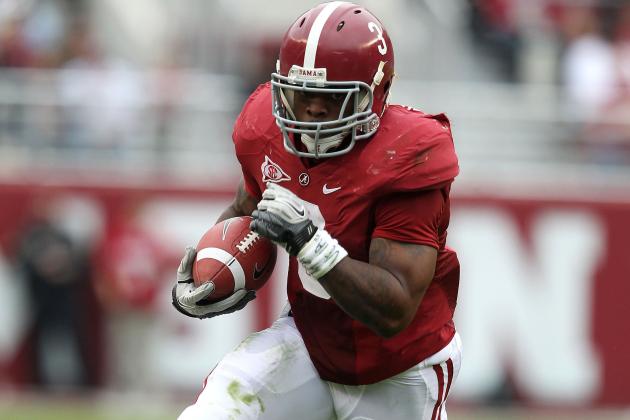 Mike Zarrilli/Getty Images
Richardson caught 29 passes out of the backfield last season.
Having two prime options to line up in the backfield also gives Alabama the versatility to keep their same identity regardless of which back is in the game.
Play-action passing is still effective and with Richardson and Lacy combining to grab 40 receptions last season, their backs have demonstrated the ability to be threats in the passing game as well.
Considering that the Crimson Tide constantly has an impact player lining up in their backfield, their luxury on offense turns into a nightmare for opposing defenses for four quarters.
With two years of valuable game experience serving as the apprentice to Richardson and Ingram, Lacy is more than ready to step into the spotlight as Alabama's full-time starter at running back.
Several new faces will be counted on to start for the Crimson Tide this season—yet Lacy is already being projected to be a huge part of the offense this season.
While the battle is on between Fowler and Yeldon to claim the role as Lacy's understudy, what seems to be clear is that whoever emerges to spell Lacy this fall will eventually take over as the starter when he moves on.
Their two-headed system is another reason why they can lose impact talents like Richardson and Ingram and still maintain the same level of productivity.