2012 New England Patriots: An Open Letter
May 13, 2012

Dear New England Patriots,
Year after year, your loyal fans enter the season believing you can win the Super Bowl. It doesn't even matter if you have a Super Bowl-caliber roster in place. We simply believe it's going to happen.
Do you know how rare it is to have fans like that?
Last season I believed the Bruins were going to win the Stanley Cup. They did. This season I believed they were going to win it again. They got prematurely bounced, which stung beyond belief.
And yet I'm still entirely convinced they'll win it next year. If anything, the Cup is just being temporarily borrowed by whichever team eventually shakes out on top.
Look at the Celtics. The Celtics have no business being this far in the playoffs right now. Ray Allen has bone spurs, Avery Bradley's shoulder is popping in and out, Paul Pierce's legs are banged up, Kevin Garnett is aging rapidly, Rajon Rondo is bubbling with some kind of strange anger from within, Danny Ainge has made a series of terrible roster moves, and the bench is absurdly depleted.
And yet Allen's hitting his shots, Bradley's playing top-notch defense, Pierce is sinking key buckets, Garnett's playing basketball like he's 28, Rondo's proving he's the best floor general in the league, and the bench is producing. I'm not sure how this is happening, but I'm convinced they'll win it all.
This is where the confidence comes from. It isn't false confidence. It's real. There's something about Boston athletes, like yourselves, which makes us genuinely believe that greatness is always coming. It's the respect that you guys feel when you put on your jerseys. It seeps out of your pores. It's contagious. The fans feel this energy and feed off of it.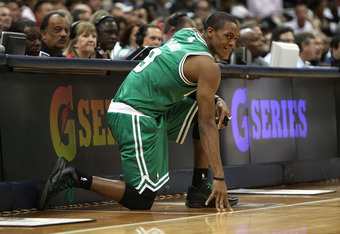 You have trained us to expect championships, and championships are what we expect from you.
When Tom Brady waltzes on to the field, we see three Lombardi trophies waltzing with him. When Ray Allen shoots a three-pointer, of course we expect it to go in because he's the all-time leading three-point shooter in history.
When Pierce shoots those jumpers from the elbow, of course they're going in, that's his sweet spot. When Rondo nabs a triple-double, we nod and say, "Yep, that's what he does." When Tyler Seguin scores a game winner, well, of course he did, because he's the future of hockey.
We don't take these things for granted, but we've certainly been conditioned to expect our players to perform at this level. 
For fans there's a big difference between being upset because your team lost and being upset because your team didn't win. It's two completely different things. Eagles fans are disappointed because their team lost. Patriots fans are disappointed because you didn't win.
It's a sickness, but that's how it is. You helped create this monster when you won three world championships in four years. Now deal with it.
Look, I don't care that the Bruins lost. I care that they didn't win the championship. Someone else is going to have their greasy fingers all over my Cup. I'm worried that they're going to break it. After all, it isn't theirs. It's mine. 
Last season we all believed that you were going to win the Super Bowl. But why? Your roster really wasn't top notch. You looked a bit like this year's Celtics: depleted, shallow, banged up and absent-minded on the defensive side of the ball.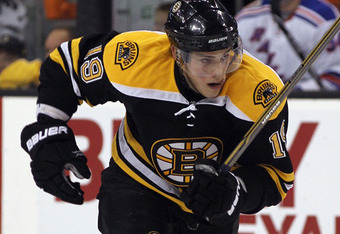 And yet like clockwork, you were in the AFC championship, and then you were in the Super Bowl. When Eli Manning hoisted the Lombardi trophy, all I could think was, "Why does that guy have my trophy right now?"
So here we are, back in the thick hazy fog of another offseason without a fourth banner. But I must say, this has been an unusual offseason. Between the free-agency frenzy and the highly productive draft, I'm looking at your roster, and I'm feeling something strange. Aside from the normal confidence I feel with any incarnation of this team, I'm suddenly struck by the sensation that your roster is nearly perfect.
I don't always have that feeling. As I said, you were far from perfect last season. But this current team is slightly ridiculous. Aside from a few lingering gaps in the secondary, your roster looks dynamite right now.
This is how I felt about the Celtics before the 2007-08 season. Top to bottom the roster looks and feels right.
In the past few months, you hit three home runs by adding Brandon Lloyd, Chandler Jones and Dont'a Hightower. You've also added a list of phenomenal role players. Patriots fans aren't accustomed to this much change, this quickly.
It all seems perfect. Perhaps, too perfect? No, not too perfect. But the perfectness is certainly strange.
Just look at your team; it's deliriously heavy. This roster is like a complex Italian opera, layered with depth, symbolism, emotion, intrigue and artistic gusto. It's been a while since this team felt this unbreakable.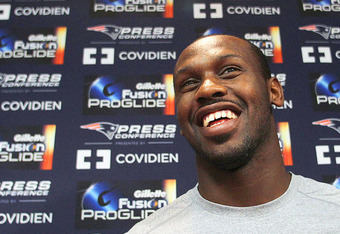 And yet I must fight the feeling of becoming drunk with premature glee. Your fans can't fall into the trap that Eagles fans fell into last season. Even though we have a different pedigree, and we're accustomed to greatness, we must still collectively stay hungry, as if we've never won anything. We must hold your feet to the fire.
In filling out this roster to such an extreme extent over the offseason, the burden of winning is now quite heavily upon your shoulders. It's now up to us, the fans, to make sure that you win. We will not be overconfident, we will not celebrate, we will not refer to this as a dream team, and we will not expect anything. Now, for the first time, I will be skeptical.
Skepticism can be healthy. We shouldn't see the glass as half empty, but we should remain undecided about how full the glass really is. We must remain starving and act desperate.
We're accustomed to seeing Tom Brady as a divine being. And of course, he is. But in preparation for the 2012 season, I will alter my view of him. For the first time, I choose to see Brady as a mortal being. I choose to see him as a man. And as such, I gaze upon him with questioning eyes.
I will remain forever in his corner, but now the stakes have been raised to such an insanely high level, I submit that this puts a heavier weight on him.
I challenge Brady to meet the dawn with the same hunger he showed a decade ago.
Brady now has a real, authentic, championship-caliber team around him. This is it. This is the team he's been waiting for. Forget 2013. Forget 2014.
The time is now: 2012. I no longer expect Brady to win the Super Bowl—I now challenge him to win the Super Bowl. There is no "next season." There is only the present. I challenge you, Tom Brady, to win this now.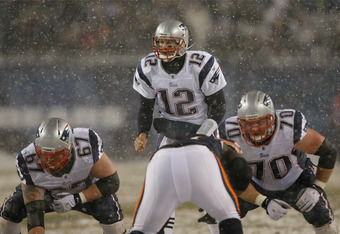 This team is so good, so complete, so accurate and cunning in their makeup, I can no longer blindly hand over my faith. You're too good for abstract confidence. Now, you must earn it. Brady must earn it. The tools are there, and the gaps have been filled. As a fanbase, everything we've ever wanted is here. It's right in front of us.
Now, it's time to win. I challenge you, the New England Patriots, to win the Lombardi trophy in 2012.
I dare you to do it.
Sincerely,
A Pats Fan