Lakers vs. Nuggets Game 7: No One Played with More Passion Than Pau Gasol
May 13, 2012

Harry How/Getty Images
In a do-or-die Game 7 that the Los Angeles Lakers had to win to keep their playoff hopes alive, no one played with more passion and intensity than the Lakers' Pau Gasol.
Gasol finished with 23 points, 17 rebounds (11 offensive), six assists, four blocks, a bloody lip, a cut on the bridge of his nose, a game-winning performance and a place back in the hearts of Laker fans everywhere.
An overall magnificent outing for the Spaniard and one that reassured us that the championship player who helped lead the team to back-to-back titles in 2009 and 2010 was still wearing a Lakers uniform.
Gasol got off to a great start in the first half, highlighted by a breakaway two-handed slam, a buzzer-beating tip-in and an "And-One" layup on the dish from Kobe Bryant that ended with a classic Gasol primal scream to the basketball gods.
But his passionate performance was just beginning.
In the third quarter, Gasol picked up with his intensity, grabbing key rebounds and playing strong defense on an assortment of players. And, like a true artist, he would save his best for last.
Pau's fourth quarter included: shutting down Ty Lawson for a 24-second violation, blocking JaVale McGee, blocking Lawson, grabbing five offensive boards on one unbelievable trip down the floor ending in a tip-in, scoring eight crucial points, nailing the coup de gras free throws with 30 seconds left and doing whatever it took to bring his team to victory.
Lakers broadcaster Bill MacDonald said it best: "Redemption for the Spaniard."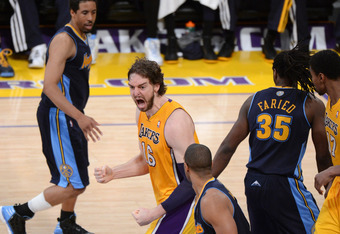 Kevork Djansezian/Getty Images
There was never a question of Gasol's skill level. He is still the most gifted big man in the league. It was the heart and effort following the nine-point effort in Game 5 and three-point effort in Game 6 that were called into question.
On Saturday night, these questions were undeniably answered.
Gasol left his heart on the floor for all to see and played with more passion and emotion than any player on the hardwood this night.
His energy was infectious. Metta World Peace, in his first game back from his seven-game suspension, stepped up with 15 points, five rebounds, four steals and two blocks, and Steve Blake notched a playoff career high with 19 points, going 5-for-6 from downtown.
World Peace's return and the must-win circumstances were certainly factors in elevating the Lakers' play in Game 7.
But the catalyst to it all had to be the passion of Gasol.
As they catch their breath and gear up for another grueling series against the Oklahoma City Thunder in the second round, the Lakers should take comfort in knowing their big man from Barcelona is officially back.
Should the Spaniard and the rest of the team play with this much intensity on a nightly basis, hopes for a Laker return to the NBA Finals this year could become a real possibility.