Spanish F1 GP: Lewis Hamilton Relegated as McLaren Incompetence Bites Hard
May 12, 2012

Mark Thompson/Getty Images
If you didn't know better, you would get the impression that McLaren don't like Lewis Hamilton and are doing their best to sabotage his 2012 challenge for the Formula 1 championship.
In the latest in a long line of botched efforts, McLaren have conspired to see Hamilton stripped of an outstanding pole position drive and relegated to start at the rear of the grid for the Spanish Grand Prix.
Hamilton was forced to stop on track after the final qualifying session to ensure that he had the minimum one litre of fuel available for testing.
The problem is that the cars are required to return to the pits under their own power. McLaren realised that he was going to have to choose which rule he was going to fall foul of.
The team's sporting director, Sam Michael, argued "force majeure"—that it was an unavoidable accident—as the reason behind the lack of fuel, that a team member accidentally put insufficient fuel in the car.
That he supplied the excuse with a straight face is either a tremendous tribute to his sense of humour or complete misunderstanding of the fact that the FIA stewards are absolutely devoid of an ability to laugh at anything.
In a sport where precision is everything, it beggars belief that a car could go out with insufficient fuel. The fuel systems are insanely accurate, it's not like they pop down to the nearest gas station to fill up from the same pumps as you and I.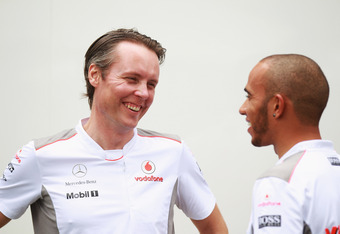 Mark Thompson/Getty Images
Taken by itself, the incident can be excused as an isolated mistake—we all make them—but when added to the team's performance in recent weeks, conspiracy theorists start chattering.
In Bahrain, Hamilton was delayed in the pits twice by a screw-up with his left rear wheel change. This follows a similarly inept effort in China.
McLaren used to be the gold standard when it came to team professionalism. Always impeccably turned out, their pit work is traditionally slick, fast and with a minimum of fuss.
This year they are bordering on sloppy—by F1 standards, at least.
Is it a coincidence that the team performance has slipped since the addition of Sam Michael to the team? Michael was the technical director at Williams until he was pushed out in 2011 and signed with McLaren.
The irony is that Williams have leaped ahead since his departure while McLaren are now making mistakes galore.
Could Michael still be on Sir Frank's payroll?
Lewis Hamilton is—outwardly at least—absorbing all of these challenges with good grace and great patience, but behind the scenes he must be seething.
In the past, Hamilton has been his own worst enemy. His on-track decision-making has often left a lot to be desired, but now it seems that he has competition.
He could be in for a very long season.