76ers vs. Celtics: Game 1 Highlights, Twitter Reaction and Analysis
May 12, 2012

Elsa/Getty Images
Plenty of people have the Boston Celtics already penciled in the Eastern Conference finals, but Kevin Garnett and company found out the hard way Saturday night that the Philadelphia 76ers won't go away without a fight.
The second round of the 2012 NBA playoffs kicked off in Boston, and the Celtics needed every bit of their veteran playoff experience to squeak out a 92-91 victory.
It was a game of runs and despite the Sixers leading by 10 after the first quarter, they could never extend the lead despite outplaying Boston for nearly three-and-a-half quarters.
Boston used the experience of the Big Three and a triple-double by Rajon Rondo to keep chipping away at the Philadelphia lead until a Garnett layup put the Celtics up 85-84 with 2:51 left—a lead the veteran Celtics wouldn't relinquish.
Boston was outshot and outrebounded, but found a way to make their last run count and take a 1-0 series lead.
In addition to Rondo's triple-double, Garnett finished with 29 points and 11 rebounds as he almost single-handedly kept the Celtics in the game for the first three quarters.
Tweets of the Night
Philadelphia's Andre Iguodala got off to a hot start, scoring 12 first-half points on an impressive 5-of-8 shooting, which prompted CSN anchor Marshall Harris to wonder if that was actually Iguodala wearing his familiar No. 9 jersey.
RT @RoobCSN: Aliens have kidnapped Andre Iguodala and replaced him with an exact replica, only with shooting ability.

— Marshall Harris (@mharrisCSN) May 13, 2012
If you are a fan of good shooting, this wasn't the game for you as the Boston Globe's Gary Washburn noted early on.
Other than Kevin Garnett, the #celtics starting five is 1-for-17 from the field #sixers

— gary washburn (@GwashNBAGlobe) May 13, 2012
After three quarters, the Celtics had to feel very lucky to only be down four points. Celtics columnist Scott Souza agreed as he tweeted often about how fortunate the Celtics were despite their poor play.
So that's now three times we've come to the end of a quarter saying: Well, that could have been worse. #Sixers 71 #Celtics 67 after 3.

— Scott Souza (@scott_souza) May 13, 2012
Where are all the people early in the season that were saying that Garnett was all done? Even at the age of 35, KG allowed he has some gas left in the tank, stepping up with a huge Game 1 performance.
Kevin Garnett has 4th 20/10 game of playoffs, and 11th this season. Not bad for a 35-year-old dude (friendly 'fuel' from #Celtics media)

— Scott Souza (@scott_souza) May 13, 2012
Must-See Highlights
The Sixers get it done on the defensive end of the floor and then Iguodala delivers the fancy behind-the-back pass in transition.
The Celtics have been a fantastic defensive team almost all season long, and it showed today as Paul Pierce races back to prevent an easy bucket with a fantastic block.
Grades for Key Sixers Players
Andre Iguodala: C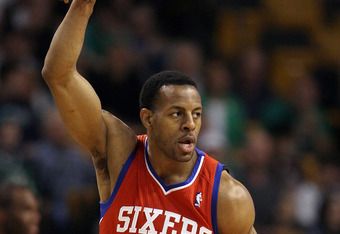 Elsa/Getty Images
Iguodala got off to a hot start, hitting 5-of-9 shots to start the game but cooled off drastically in the second half and was near invisible in the fourth quarter when the Sixers needed someone to step up.
He finished with 19 points on only 7-of-19 shooting and only took one shot attempt in a very tight fourth quarter.
Evan Turner: C+
Turner was outstanding from the opening tip, putting up double-double numbers early in the third quarter but didn't do a thing the final 18 minutes of the game.
With six minutes remaining in the third quarter, Turner had 16 points and 10 rebounds, and that's exactly what he finished the game with. Similar to Iguodala, Turner was invisible in the fourth quarter, taking only two shot attempts and missing them both.
Grades for Key Celtics Players
Rajon Rondo: A
Rondo doesn't get an A+ because he shot only 6-of-15 from the floor, but the All-Star point guard finished with 13 points, 17 assists, 12 rebounds and four steals.
The Celtics don't win Game 1 without Rondo's eighth career-playoff triple-double. Plain and simple.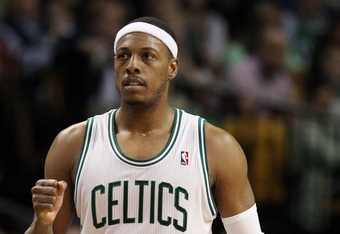 Elsa/Getty Images
Paul Pierce: B-
You could tell the knee is still bothering Pierce as he struggled big time from the floor as he had no jump and only made 3-of-11 shots from the floor.
He only scored 11 points on the night but made an impact with six rebounds and six assists, along with a couple big blocks. In a one-point game, the Celtics needed every bit of effort they got from a banged up Pierce.
Deciding Factor: Playoff Experience
If you ever doubted how important playoff experience is, the Celtics showed it for the second consecutive game.
You saw a veteran team that didn't panic when they fell behind early and things weren't going their way.
Then, down the stretch with the game in the balance, the Celtics were able to execute, calmly getting into their offensive sets. You saw the difference at the other end of the floor where the younger Sixers weren't able to slow things down and get the same type of execution.
Of course, having a point guard like Rondo and a go-to guy such as Garnett helps out a great deal.
Game MVP: Rajon Rondo
Rondo overcame a lackluster first half, especially shooting the ball, but still managed to put up a triple-double in leading the Celtics to a Game 1 win.
At one point, Rondo was 1-of-9 from the floor, but he made shots in the fourth quarter, including a 17-foot jumper that gave Boston an 83-82 lead with under four minutes to play. Since the All-Star break, Rondo has possibly been the best point guard in the NBA, and he proved his worth Saturday night.
What's Next
Game 2 of the series is scheduled for Monday night at 7:00 p.m. ET at the TD Gardens in Boston, Mass. It's not a must-win situation for the Sixers, but it's close, as they let one slip away Saturday night.
But if Philadelphia can head home for Game 3 with the series tied at one, then mission accomplished.