6 Reasons to Believe Kellen Moore Makes Detroit Lions' Final Roster
Gregory Shamus/Getty Images
System quarterback. Too short. Poor arm strength. Not NFL material.
Such were the criticisms tossed implicitly in the direction of Boise State Broncos quarterback Kellen Moore as he sat through three days of the NFL draft, waiting for a phone call that would never come.
Eventually, 32 teams collectively decided that Moore was not one of the 253 best players in the 2012 draft class.
But a few hours after the selection of Mr. Irrelevant, while Moore must have been sitting at home wondering, "if that guy's irrelevant, what does that make me?"the Detroit Lions came calling with a chance to prove he is relevant.
And so, as a 50-win undrafted free-agent quarterback, Moore will join the Lions in training camp, and while he has a long way to go and lot of work to do, I think the odds are in his favor to still be with the team in September, even if he rarely dresses for games.
I stop short of deeming Moore a diamond-in-the-rough superstar, but he can absolutely make the Lions' 53-man roster and stick to an NFL roster for the next 10 years. And here are six good reasons why.
QB3 Vacancy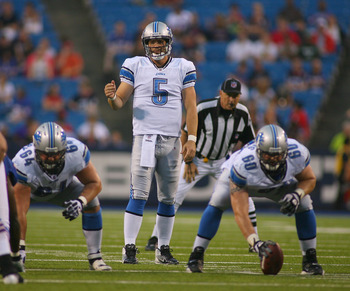 Rick Stewart/Getty Images
It seems Drew Stanton was never going to be more than the No. 3 quarterback in Detroit.
He had a fair number of shots at the position, but no matter who the starter, who the coaching staff or what injuries surrounded him, Stanton was never really trusted with the reins of the team.
For that reason, Stanton decided to play football for a team outside the state of Michigan for the first time since his sophomore year of high school, leaving a gaping hole at QB3 on the roster.
The Lions have solidified the rest of the depth chart with young star Matthew Stafford and steady veteran Shaun Hill locking up the top two spots. But now that the Lions can be assured of Stafford's ability, it's time for them to start developing a young quarterback who can either grow into the backup role or Matt Cassel-like trade bait.
And just in case you were wondering...
The Lions Will Take 3 QBs out of Training Camp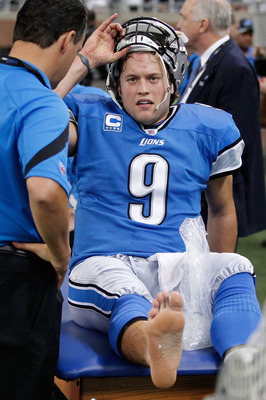 Gregory Shamus/Getty Images
It wasn't so very long ago that the Lions' third quarterback started several games in a single season. That was, in fact, the season before last, in which Drew Stanton started three games while both Matthew Stafford and Shaun Hill were nursing injuries.
Having finally played a full 16-game (plus one) schedule in 2011, Stafford has hopefully shaken the majority of the "injury-prone" doubters. Even those who still worry about his health have to recognize the injuries that he played through in 2011.
Obviously, players, coaches and fans alike would love to see Stafford play another season of 16-plus games, but after just one healthy season, are the Lions really in a position to assume that he won't ever get hurt again? Because that's basically what they'd be saying by taking only two quarterbacks into the season.
Track Record of Success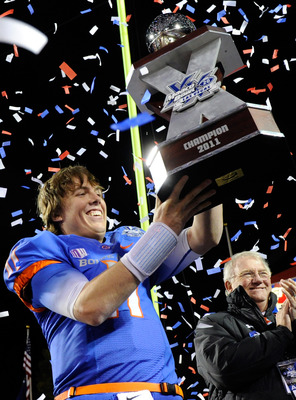 Ethan Miller/Getty Images
One thing head coach Jim Schwartz has been adamant about since he took over the Lions is changing the locker room "culture of losing."
There's no doubt that the team has made tremendous strides in that department since 2008, much of it because of Schwartz bringing in guys to lead the team who are proven winners and hard workers. But there's still work to be done, and anybody who watched the Lions give winnable games away with silly mistakes and penalties knows that.
Kellen Moore falls right in line with this concept. After all, if you're trying to foster a winning atmosphere, who better than a guy who won more than anyone else in NCAA history? Moore is the all-time wins leader for a college quarterback with a 50-3 record, including a bunch of bowl games.
This seems intangible, and it is, but part of fostering a winning attitude in the locker room is adding players who have that mentality individually. And there's little doubt that a guy coming in with a .943 win percentage is a guy who expects to win every time out.
Quarterbacks Don't All Have to Be 6'5"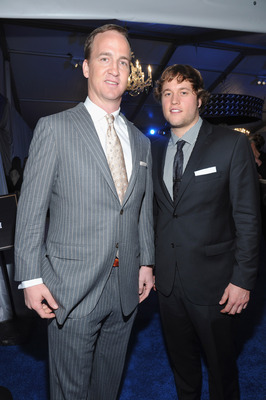 Mike Coppola/Getty Images
On the left, you see 6'5" Peyton Manning. On the right, 6'2" Matthew Stafford.
There's no arguing that taller quarterbacks are the more prototypical position build, but it would be difficult to find a sane Lions fan that would trade Stafford for Manning straight-up right now. Stafford isn't unusually short for a quarterback, but he's not exactly an ideal build.
Of course, Kellen Moore is about two inches shorter than Stafford, and his height is undoubtedly a knock on his scouting profile. He'll be about a half-foot shorter than many of the linemen slamming bodies in front of him, and that will undoubtedly make it difficult for him to see down the field.
Still, being short (by NFL standards, since six feet tall is not really short) is in no way a fatal flaw for a quarterback, especially one that exhibits as sound an understanding of the game as Moore does.
When you think "short, successful quarterback," the first name that pops up is Drew Brees, but let's be realistic here; nobody is expecting Moore to evolve into the next Brees. Still, Brees provides a template that shows that while they may be in the minority, the short quarterback can be successful in the NFL.
After all, he's only a couple inches shorter than Stafford. Go look at two inches on a ruler or tape measure and try telling me that much height is the difference between a Hall of Fame quarterback and a camp arm who can't make a 53-man roster.
The Titus Young Connection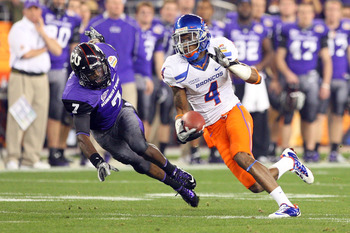 Christian Petersen/Getty Images
We talk a lot about Matthew Stafford building chemistry with his receivers. It takes time to develop an understanding of when a receiver will come out of his break or where his hands are going to be.
Luckily, Kellen Moore already has three years of experience playing with Titus Young, and he should have the opportunity to show off some of that chemistry with his former No. 1 target in training camp.
But having that connection doesn't just show up on the field. Perhaps even more important is that Moore has an ally in the Lions locker room now.
See, team play is all well and good, but in training camp, it's every man for himself. That sounds awful, but think about it. Training camp isn't where players band together to win football games, it's where they try their damnedest to show each other up to earn a job.
This is especially true for a guy like Moore, who will likely be on the bubble when cuts come down.
I mean, nobody is going to try jumping on Calvin Johnson's bad side, since the odds of him being cut in training camp are a flat zero. The same goes for Young, whose youth, high draft status and 2011 performance make him basically untouchable,
But do you think a seventh linebacker, special teamer, or receiver/return specialist is going to go out of his way to help Moore out? The Lions' decision on Moore could spell the difference between whether or not they have a job next month. When there are only 53 spots on the roster, nobody wants to be No. 54, and they're certainly not going to help No. 53 pass them.
But Young has nothing to worry about, and he has a year of experience in the Lions offensive system, he knows what the coaches expect, and he also knows how to work with Moore.
In a job interview as intense as an NFL training camp, that advantage, however small, could be the difference between 54 and 53.
Brain for the Game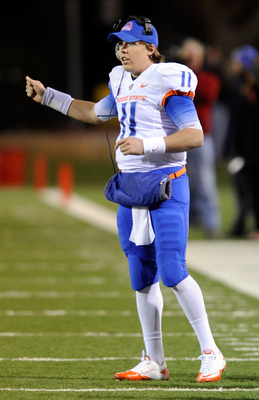 Ethan Miller/Getty Images
Contrary to popular belief, quarterbacks are more than just a robotic arm.
Oh sure, having a arm that can launch the ball 50 yards with surgical precision is a plus, but the most important thing is reading a defense well enough to know whether to throw that pass in the first place.
Moore is known as someone who puts in as much time in the film room as on the field. That's something that any quarterback needs to do if he's going to be successful. But it's even more important for a backup quarterback.
After all, if Moore makes the roster, his primary job is going to be holding a clipboard on the sidelines. But while we often use that expression, "holding a clipboard," as a derogatory way to describe a failed starting quarterback, the fact is that the backup quarterback provides a useful service.
The backup quarterback isn't just standing around, he's standing with the offensive coordinator or coaches, trying to get a read on the defense and see if he's noticing something the guys on the field are missing. He's looking for tendencies, tells and anything else he can see from the sideline that he might be able to discuss with the starter when he gets back to the sideline.
Moore is a smart kid, and while it will take him a while to get fully up to speed with an NFL defense, he can succeed on the sideline with a clipboard.
And I mean that in the sincerest way possible.
Keep Reading

Detroit Lions: Like this team?