Urijah Faber at UFC 148: A Case for the Elimination of Interim Titles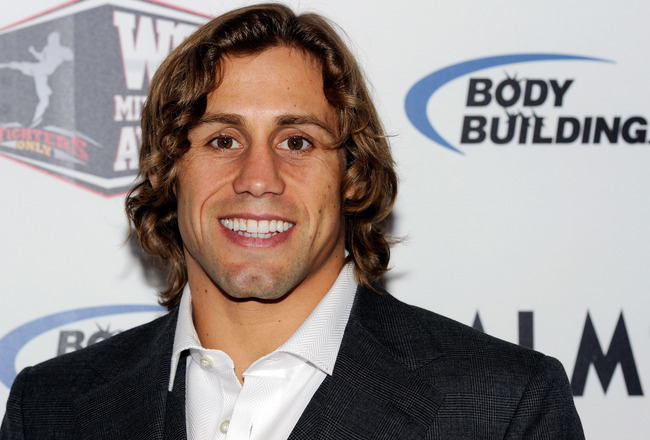 Ethan Miller/Getty Images
When bantamweight champion Dominick Cruz was forced out of his scheduled title defense against Urijah Faber at UFC 148, the UFC was put in a very tough position.
Injuries happen from time-to-time in the sport of mixed martial arts, and recently, Cruz's fellow champion Jon Jones had his own title defense against Rashad Evans delayed due to a minor injury.
Cruz's injury was much more severe, however. In fact, for a high-level athlete, the injury was one of the worst possible—a torn ACL.
To their credit, the UFC sprung into action. After all, this isn't their first setback of a major title fight.
Without much hesitation, UFC President Dana White announced that while Cruz was out of the main event, Faber would still be competing at the event against an opponent yet to be named. Not only that, but that fight would now be for the interim bantamweight championship.
While most are happy that "The California Kid" will still be fighting at UFC 148, there's a growing group that is asking the question, "Why?"
Not about Faber still fighting—we get that—we're questioning whether there's a real need for an interim championship. Personally, I don't believe there's any real need for it. Allow me to explain why.
A Traveling No. 1 Contendership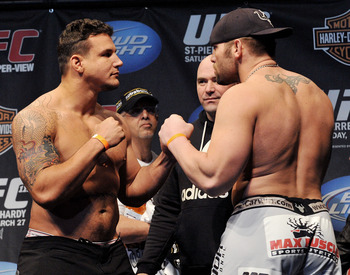 Jon Kopaloff/Getty Images
When Brock Lesnar went through his first battle with diverticulitis, the UFC opted not to wait and to instead put on an interim heavyweight championship bout between former champion Frank Mir and then-undefeated up-and-comer Shane Carwin.
Like most interim titles, the assumption is that, once the injured champion returns, he will automatically fight whoever is currently the interim champion in a bout which will unify the two titles.
Essentially, the interim title is nothing more than a "traveling" title which signifies the current No. 1 contender in the division.
Even Dominick Cruz himself echoed those thoughts in a recent interview.
"First of all, it's not like Faber is a lock to beat whoever they put him again," Cruz told Yahoo! Sports' Kevin Iole. "If he gets it -- and that's a big if -- he won't be carrying around the championship belt. I am the champion and I have the belt. He'll have a No. 1 contender's belt."
With that being the case, one has to ask—what's the point of having a championship belt for it, if it's going to go away eventually, anyway?
Fans Don't Care About the Interim Champion
Current UFC interim welterweight champion Carlos Condit.
Jason Merritt/Getty Images
Pop quiz—who's the UFC welterweight champion?
If you answered, "Georges St-Pierre," you're right.
If you continued your answer by explaining that Carlos Condit is technically the interim welterweight champion, well, you're still right—but you're also in the minority.
Condit, like many other prior interim champions, is not getting the credit he deserves from fans or from the media. Sure, he got to main event a pay-per-view event when he beat Nick Diaz at UFC 143, but there's a general unspoken consensus that he's only where he is right now because Georges St-Pierre is hurt.
And that perception is very understandable, considering St-Pierre has been the king of the welterweight division for nearly five years now, having rarely even been tested during that span.
Condit still needs to beat St-Pierre. Only then will he receive the respect he deserves. Without that victory, he might as well be a substitute teacher—sure, he might be in charge, but your real teacher will be back soon.
The Awkward Waiting Game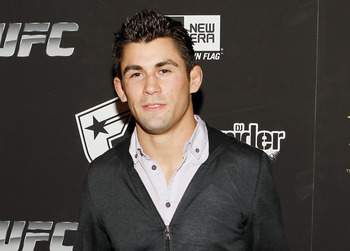 UFC bantamweight champion Dominick Cruz.
Isaac Brekken/Getty Images
After a fighter wins an interim championship, the questions immediately begin to arise about when the interim title will be unified with the real title.
Unfortunately, it's always a guessing game because every injury heals differently. Not only that, but the potential setbacks of an athlete pushing their body too quickly after being hurt adds another unpredictable dynamic.
So what should the interim champion do? Should he look to defend the interim championship against another top challenger, potentially risking his opportunity to fight for the undisputed title? Or should he play the odds and wait for the champion to return, even if it won't happen for quite awhile?
It's a really awkward, uncomfortable situation.
Without an actual "interim championship" involved, the UFC would relieve itself from the necessity of giving a title fight to a specific contender once the champion returns. They can make the case that the more a challenger fights, the better his opportunity would be to fight for the title.
Selective Usage
Ask yourself this—hypothetically speaking, what are the odds that the UFC would have decided to implement an interim bantamweight title if Urijah Faber wasn't in the picture?
Would they have been so quick to promote the scheduled bout between Ivan Menjivar and Renan Barao as a title fight?
Probably not.
UFC champions have missed time before without having to "share" their title with an interim champion.
For example, following his victory over Forrest Griffin at UFC 112, Anderson Silva missed over eight months of action as he recovered from elbow surgery. Similarly, after UFC 100, Georges St-Pierre also missed over eight months as he recovered from a groin injury which did not require surgery.
Granted, eight months is quite a bit shorter than the time period that Dominick Cruz will have been without a fight once he returns from the ACL injury, but the point is that there doesn't seem to be any sort of guideline as to when the interim titles are implemented and when they are not.
What If the Interim Champion Gets Hurt?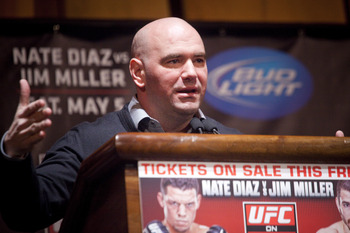 Michael Nagle/Getty Images
Proponents of interim titles will say that they exist to keep interest in a given division while the real champion is hurt. From a business standpoint, that makes a lot of sense.
However, it completely disregards the possibility of a serious issue that could arise.
Let's say that the interim title fight goes on as planned at UFC 148, and hypothetically speaking, Urijah Faber is victorious. But during that victory, the unexpected happens and Faber himself tears ACL, blows out his shoulder or breaks his hand.
Now what?
Yeah, Faber is the interim champion, but he's also going to be out for an extended period of time—perhaps even longer than Cruz.
When Cruz returns, who does he fight? Does he defend his title against another challenger? Does he wait for Faber?
Not only that, but what happens if another challenger such as Renan Barao or Michael McDonald truly establishes himself as a force in the bantamweight division and becomes worthy of a title fight?
Thankfully, this scenario isn't something that the UFC has seen in the past, but given the increased number of injuries we have seen in recent years, it's really not all that unlikely.
The best way for the UFC to avoid this situation and the others I have listed is to stick to what makes them great by making decisions on a case-by-case basis, without officially anointing anyone as an "interim champion."
For more MMA news, fighter interviews and opinions, follow Nick Caron: @NicholasCaron.
Keep Reading