Nuggets vs. Lakers Game 7 Preview: Denver Will Win Wild West Shootout
May 12, 2012

Justin Edmonds/Getty Images
There's nothing quite like the NBA playoffs; Denver and Los Angeles have shown basketball fans why with their superb first-round series.
The Lakers started out on fire, holding the Nuggets to a mere 88 points in Game 1, as Andrew Bynum dominated Denver for a triple-double that included 10 blocks.
Game 2 saw a similar result, with the Lakers—led by Kobe Bryant's 38 and a career-high 27 by Bynum—controlling throughout, despite beating Denver by only four, 104-100.
Denver was down 2-0, but not out, and Ty Lawson responded with a masterful performance, attacking the hoop with reckless abandon and scoring a game-high 25 points. He also recorded seven assists as the Nuggets got out in transition much better than they had in the first two contests, for 30 fast-break points on the night, as they cruised to the 15-point victory. And the Nuggs' young big men JaVale McGee and Kenneth Faried outplayed Bynum and Pau Gasol and outrebounded them 30-19.
But Bynum, Kobe and company responded in Game 4, and despite Denver's leading most of the contest, the Lakers finished strong and won 92-88. Lawson was held to only 11 points on the night, while McGee and Faried could only combine for 14 points and 11 rebounds.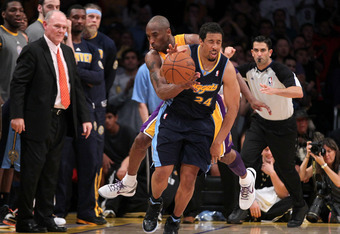 Jeff Gross/Getty Images
With the Nuggets down 3-1, most thought the series was a done deal. Well, most everyone outside of Denver's locker room that is.
The Nuggets went into LA on a mission to win Game 5, and Andre Miller wouldn't let them leave without a victory. Miller, the veteran leader of the team from the bench, scored with a litany of old-man moves, throwing the ball off the glass to perfection, while handing out eight dimes.
Many of those assists went to McGee, who soared through the air to catch perfectly tossed alley-oop passes from Miller. And McGee went wild for 21 points and 14 boards as Denver dominated the paint 55-44.
With Game 5, the Nuggets simultaneously stole a win in Los Angeles and stole the series momentum.
In Game 6, they only further built that momentum.
Denver came out on fire on their home hardwood, running up a 13-0 lead and never looked back. While they held a nine point lead at half, the Nuggets went on a tear, knocking down nearly every look they had at the rim, widening their lead to a soul-crushing 28 at one point in the fourth quarter.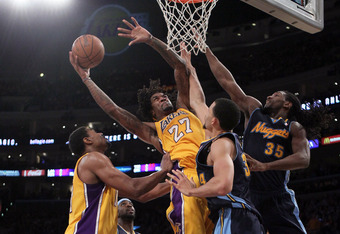 Jeff Gross/Getty Images
Lawson was unstoppable, knocking down 13-of-18 shots and scoring a playoff career-high of 32, with six assists and five boards. Corey Brewer was remarkable off the bench, with 18, while five Nuggets scored in double digits.
On LA's bench sat Andrew Bynum, staring off into space while his team huddled—a sign that the big man is up to his old ways of acting like a big baby. Bynum's been huge for LA in this series, at times, and nearly unnoticeable others. The same can be said for Gasol, who went a terrible 1-of-10 shooting for three points in Game 6 and didn't play that much better in Game 5.
The Nuggets have all the confidence—even though not one current player has participated in a Game 7—because Denver's dictated the pace of the last two games, as their younger and more athletically gifted players have run circles around the reeling Lakers.
No, the Nuggets don't have a star—though Ty Lawson is blossoming into one—but they've proven they don't need one. Denver's team-oriented basketball has overwhelmed the Lakers' stars, as the Nuggs have so many capable scorers, they're too difficult to game plan for.
Which Nuggets player will get hot on a particular night is anyone's guess, and there has been no shortage of young men stepping up for Denver this series.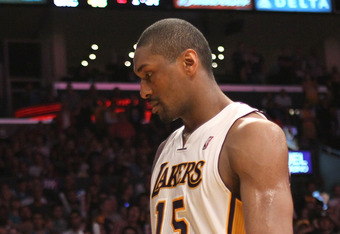 Stephen Dunn/Getty Images
One thing is certain though, the Nuggets need Lawson to bring his best game tonight for them to win. All season long Denver's gone as Lawson does, even more so in the postseason, as he's put up 20 points and seven assists in wins compared to 14.3 and five in losses.
While we all expect and anticipate Kobe to play spectacularly, the wild card of this Game 7 will be Metta World Peace. World Peace was suspended for the first six games of the playoffs due to his UFC-like elbow to the head of James Harden, and he returns tonight for the Lakers.
Both Kobe and LA head coach Mike Brown called out Bynum and Gasol for their lackadaisical play in Game 6, and Bryant specified that he can't wait to have World Peace back saying, "He's the one guy that I can rely on night in and night out to compete and play hard and play with that sense of urgency and no fear. I'm looking forward to having that by my side again.''
Indeed, World Peace—with his ironic new name—has no fear and loves to play with lots of physicality. After being forced to watch the first six games of the series at home, World Peace will almost certainly be rusty on the offensive end, but it will be his defense that matters.
If he's overanxious, which could be in a game of this magnitude, he could play too physically and get whistled for early fouls, having to sit. If not, he could certainly disrupt some of Denver's offense, whether he plays on Danilo Gallinari, Andre Miller or anyone else, if he's disciplined in his play.
But this is "World Peace" we're talking about—the man with a shorter fuse than a bottle rocket and much more force behind him.
Of course, the play of of the big men tonight will be vastly important.
If Bynum pouts and Gasol underwhelms, it will play into Denver's hands, and they'll win with ease. If they play up to their potential, though, it will be difficult for Faried and McGee to match them, though they've already shown they can multiple times this series.
While the rookie Faried and fourth-year center McGee can play spectacularly at times, they're still incredibly inconsistent, and with the pressure on their broad shoulders, will they perform?
Likewise, will the Nuggets' bench continue to come through when they're needed most? Denver's undoubtedly deeper than LA, and they'll be counted on to perform, which they will for the Nuggets to have a chance.
And it can't be missed that home teams have won 70 percent of Game 7s, meaning, unfortunately, the way the referees call the game will come into play as well.
If they let the teams play, it will be an epic bloodbath of a physical battle and will almost certainly come down to the wire.
This has shaped up to be an amazing series, and the Nuggets time to finally defeat the Lakers is now.
If Denver plays their brand of basketball—running relentlessly, sharing the rock for easier looks and domineering down low—they'll win at the wire and beat the Lakers for the first time in their history.
Rich Kurtzman is a freelance journalist. Follow him on Facebook and/or Twitter for breaking news, links to articles and interesting sports info.