Assessing the Strengths and Weaknesses of the 49ers' Running Backs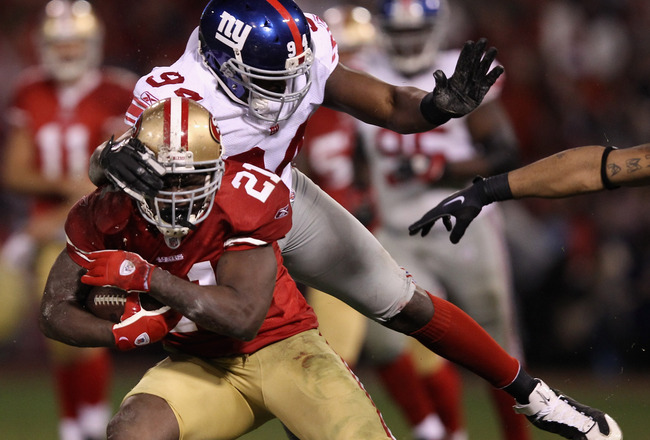 Ezra Shaw/Getty Images
After drafting LaMichael James in the second round and signing free agent Brandon Jacobs to a one-year deal, the San Francisco 49ers have a surplus of running backs. With Frank Gore and Kendall Hunter coming off productive seasons, the 49ers have four running backs who have the potential of taking the majority of the carries in 2012.
Let's take a closer look at the strengths and weaknesses of each and the chance each is the starter by the 2013 season.
Note: Anthony Dixon, last year's third-string running back, has little-to-no chance of seeing the field this year and will not be evaluated in this slideshow.
Brandon Jacobs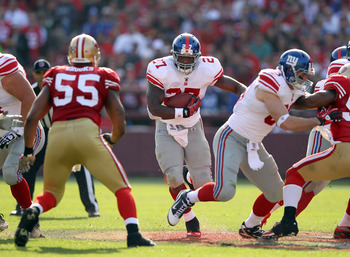 Ezra Shaw/Getty Images
Strengths
Jacobs is the most powerful runner of the four, so he will likely have the short-yardage role in the offense. Jacobs is looking to take out opposing linebackers every time he has the ball.
Possibly the most underrated part of Jacobs' game is his ability to receive out of the backfield. He has good hands and does a nice job blocking blitzing defenders when asked.
Weaknesses
Jacobs really struggled last year, averaging just 3.8 yards per carry. Part of the blame should go to the Giants' beat up offensive line, but Jacobs' lack of vision was equally suspect.
Besides being the slowest runner of the 49ers' bunch, Jacobs' post-game rhetoric could easily become a problem in 2012.
When the Giants won the Super Bowl, his constant post-game chatter looked genius, but Jacobs is more likely to divide the locker room with the 49ers. He probably won't see the field as much as he did in New York, and when he starts complaining publicly, Harbaugh will be put in a tough decision for proper discipline.
Projected 2012 RB Rank: 2
Years Left on Current Deal: 1
Likelihood of Starting in 2013: 0 percent
Frank Gore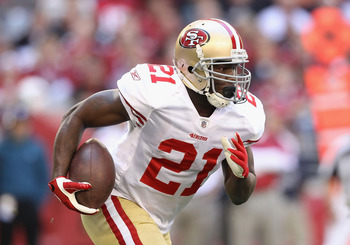 Christian Petersen/Getty Images
Strengths
Gore does just about everything well. He has outstanding vision and an ability to stay low, and he delivers punishment on opposing defenders.
Gore is a great blocker, an excellent receiver and a phenomenal runner in space. He also has great patience, allowing his offensive linemen to create the hole before he bursts through it.
Weaknesses
Gore has two major weaknesses that could force the 49ers to lessen his role dramatically this year and next.
First, he's one of the slowest starting running backs in the NFL, and he has no breakaway ability whatsoever.
Second, Gore has major injury concerns, which comes as no surprise considering he's grinded out seven seasons in the NFL. In his last eight regular-season games, Gore ran for just 429 yards on 123 carries—that's a paltry 3.48 yards per carry.
There's no question that injuries derailed Gore down the stretch.
Projected 2012 RB Rank: 1
Years Left on Current Deal: 3
Likelihood of Starting in 2013: 50 percent
Kendall Hunter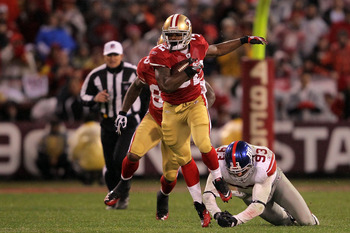 Doug Pensinger/Getty Images
Strengths
Hunter is a tank who hits the hole quickly and can break through arm tackles. In last year's offense, the 49ers often ran Hunter off-tackle and Gore inside. The combination was effective, but not spectacular.
Hunter also showed a decent ability to block out of the backfield as well as a good feel for catching out of the backfield. Hunter didn't have one fumble last year, either, making him the most sure-handed ball-carrier of the 49ers' four runners.
Weaknesses
Hunter really struggled running inside last year, which made his runs very predictable. He also showed almost no ability to make people miss in space.
Consequently, despite having excellent speed, Hunter had only three runs of 20 yards or more.
Projected 2012 RB Rank: 3
Years Left on Current Deal: 3
Likelihood of Starting in 2013: 10 percent
LaMichael James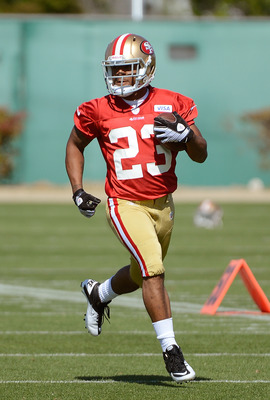 Thearon W. Henderson/Getty Images
Strengths
Unlike many college running backs, James did a great job of staying inside on his initial burst through the line and then bouncing it outside at the second level. His outstanding vision and quickness made him the most explosive running back in college football, and he should create big plays for the 49ers immediately.
James also has unbelievable agility in space, making defenders whiff all over the field. He was a red zone machine in college, quickly hitting the hole and showing no fear of running between the tackles.
Finally, James mastered the art of the screen play at Oregon and figures to be a huge threat in the passing game next year.
Weaknesses
James has a tiny frame, and it's yet to be determined if he can stay healthy playing in the NFL. He doesn't break many arm tackles, meaning he's unlikely to be on the field in short-yardage situations.
James played his whole career at Oregon in the spread formation, so it may take him a long time to be comfortable lining up directly behind Alex Smith. James also may struggle to block blitzing defenders because of his size.
Projected 2012 RB Rank: 4
Years Left on Current Deal: Unknown (likely 4)
Likelihood of Starting in 2013: 40 percent
Conclusion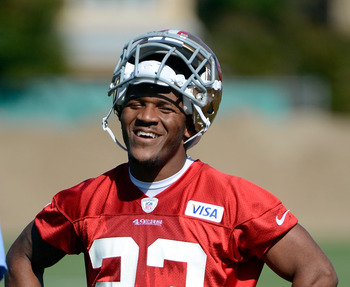 Thearon W. Henderson/Getty Images
In 2012, 49ers coaches will be put in a tough position to divvy out the touches for these four running backs.
There's a small chance the 49ers will cut Jacobs before the season starts to make room for the others, but Jacobs is the only true power back on the roster, and that will likely be the reason he keeps his job this year.
Unless Roman and Harbaugh create a spread offense package for James, expect him to be seldom used early in the 2012 season. But by the end of the season, don't be surprised to see James on the field as much as any running back. He's the big-play threat that the 49ers have lacked in their offense for years.
Keep Reading

San Francisco 49ers: Like this team?