Clippers vs. Grizzlies: Game 7 TV Schedule, Live Stream, Spread Info and More
May 12, 2012

Stephen Dunn/Getty Images
It was said by many that Game 6 between the Los Angeles Clippers and Memphis Grizzlies was the biggest game in Clippers' franchise history.
But after letting the Grizzlies up off the ground in two different close-out attempts in both Game 5 and Game 6, Sunday's Game 7 has now become the most important four quarters of basketball in Clippers history.
After blowing a 3-1 series lead, it's win or go home for the Clippers as the series shifts back to Memphis for the ever-important Game 7.
It's a pair of talented and up-and-coming teams with very bright futures ahead of them, but only one will advance to the second round of the 2012 NBA playoffs. We've seen a bit of everything and both teams have blown opportunities to close out the series already.
The Grizzlies blew a 27-point lead in Game 1, lost a close one-point Game 3 and had a chance in Game 4 as well before Chris Paul dominated overtime.
The Clippers have had their chances as well, getting beat handily in a close-out opportunity in Game 5 before dropping a heartbreaking Game 6, 90-88, while playing with a banged-up Chris Paul and Blake Griffin.
So far this series has been very exciting and Game 7 promises some of the same.
For the loser, it's a long offseason and a lot of "What if" questions. For the winner there's a date with a well-rested No. 1 seed San Antonio Spurs squad. Let's take a look at Game 7 as here's everything you need to know leading up to tipoff.
When: Sunday, May 13 at 1:00 p.m. EDT
Where: FedEx Forum in Memphis, Tenn.
Watch: ABC
Live Stream: None
Betting Line: Memphis (-8)
Clippers Key Injuries (Per ESPN)
Day-to-Day: Mo Williams (finger), Chris Paul (hip)
Grizzlies Key Injuries 
No key Injuries
What They're Saying
After losing Game 6, the looks on the faces on the Clippers players told a huge story. Their body language suggested that of a team that hit the Grizzlies with their best punches and has nothing left for a Game 7.
ESPNLosAngeles.com's Arash Markazi suggested that Friday night's postgame press conference looked more like a wake, as stars such as Paul and Blake Griffin struggled to find the words to describe the heartbreak.
The veteran Paul did finally offer his opinion on how important Sunday afternoon really is.
"We got to win. This is it," Paul said. "We could lose Game 5 and lose Game 6 and be OK. Game 7 is going to be exciting. It's going to be in Memphis, and we showed the ability to win there. It's going to be my second Game 7 ever and I can't wait. I'm going to leave it all out there."
Most Important Player to Watch: Zach Randolph, Memphis Grizzlies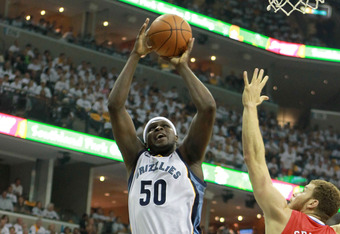 Andy Lyons/Getty Images
Here's a message I'm sure most Grizzlies fans would like to send to coach Lionel Hollins.
Get Randolph the ball.
He looks healthier by the game and resembles more of the 20 and 10 guy fans saw in last season's playoffs. With a banged-up Blake Griffin, the Grizzlies should make a point to feed Randolph and center Marc Gasol in the post as much as possible.
During the past two Memphis wins, Randolph averaged 18.5 points and 13 rebounds. If he has similar success in Game 7, the Grizzlies will be advancing to Round 2.
Key Matchup: Chris Paul vs. Tony Allen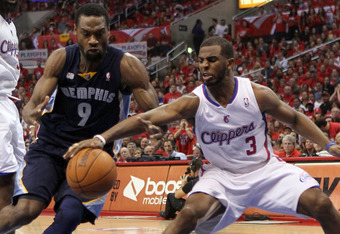 Stephen Dunn/Getty Images
I actually thought about making this about the two coaches, as I've questioned a lot from both Hollins and Vinny Del Negro this series, but Memphis containing Paul is the key to this game.
He's had a great series, averaging 20.7 points, 7.7 assists, 5.2 rebounds, 2.8 steals, while shooting 47 percent from the floor and 38 percent from the arc.
Hollins has a defensive weapon in Allen and must use him as such, especially late in the game. Sacrificing defense for offense will not work here, as if Hollins doesn't keep Allen on Paul primarily, the veteran point guard will have the opportunity to have a big afternoon.
Someone has to step up to the challenge for Memphis and that guy will be Allen.
Prediction:
Grizzlies 94, Clippers 90