2012 Dallas Cowboys: Why DeMarco Murray's Impact Is Key to This Offense
May 20, 2012

Ronald Martinez/Getty Images
During the 2011 season, the Dallas Cowboys brought new definition to the phrase failure to close out games. Now that we've uncovered their biggest problem and what ultimately cost them a playoff berth, it's also encouraging to see the Cowboys take major steps in rectifying the failures of last season.
When you look back to last season, the impact DeMarco Murray had on this team, and not just the offense, was very profound. The Cowboys played mediocre football before he became the starter and plummeted after he fractured his ankle. He was actually the solution to the Cowboys' problems at a point in the season where Felix Jones had failed to put any fear into opposing defenses.
His ability to run the ball effectively late in the fourth quarter not only clinched victories for the Cowboys, but he was probably a huge factor in helping Tony Romo have his best statistical season of his career. What was more amazing is that Murray consistently took on eight-man fronts and was able to successfully run behind a rebuilding and young offensive line. With Murray running loose, the Cowboys found themselves in first place at 7-4. We all know what happened later.
 I see it as no coincidence that the Cowboys lost their final four games after losing Murray for the year.
When the Cowboys drafted Murray, the concerns that accompanied him had to do with his injury history, and that ultimately did prove to be the case last year. I'm sure the questions about his future health will continue to be a hot button topic and should've prompted the Cowboys to do some work in free agency or the draft. Unfortunately, the Cowboys held firm at the running back position, and instead, opted to sign two undrafted free agents.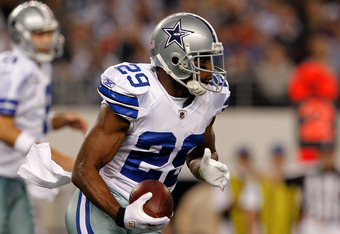 Tom Pennington/Getty Images
That decision could come back to bite the Cowboys next year as Felix Jones is in the last year of his contract. Jones will once again find himself in a backup role, but will he play motivated? A player, once thought of as the long-term solution at running back, has seen his career marked by injuries.
The Cowboys seem content to let Jones play out his contract instead of trading him for less value. If he can draw from his motivation and turn in a big year, then it will make this offense even more dangerous. This will also be a big year for Phillip Tanner, who showed flashes of potential last season.
Putting Felix Jones and Phillip Tanner aside, If the Cowboys are able to run the ball effectively in the second half of games with Murray leading the way, then that can be huge in solving their problems of failing to close out games. In a short span last season, Murray showed his ability to simply take over games both as a runner and being able to catch passes out of the backfield for crucial first downs.
When Murray picks up in 2012 where he left off in 2011, his impact on this offense will be even more influential. After having success as a rookie and displaying what his talent means to his offense, I also believed he's learned what it will take from a physical standpoint in terms of offseason training as he heads into his second year. Factor in the addition of Lawrence Vickers and the impact he had in Arian Foster's career, and it's hard not to get excited how Murray's game can reach new heights as well.
Not only will he be able to provide this offense with four to five yards a carry as a runner while being a dangerous receiving weapon out of the backfield, but he will, yet again, help elevate Tony Romo's game. Murray's ability to keep defenses honest will also help the Cowboys get greater and proper production out of Miles Austin and Dez Bryant, as teams will have to account for Murray all the time.
Tom Pennington/Getty Images
His ability to have an impact on the passing game of the Cowboys will not only propel this offense into the top five, but it could be the determining factor in how successful this offense is in 2012.
For Cowboy fans, it's still hard looking back at the 2011 season and how it ultimately ended. But on bright side, the Cowboys were able to establish their running back of the future, and we all saw just a glimpse of his impact.
I think DeMarco's impact not only is the key to this offense in 2012, but it's quite enviable.