Lakers, Clippers, Nuggets and Grizzlies: The NBA Playoffs March Along
May 12, 2012

Marc Serota/Getty Images
Believe it or not, basketball fans, the NBA playoffs are still slogging on.
That's the first round of the playoffs.
Given how frenetic and fast-paced the regular season was, these playoffs feel like a Helen Mirren movie playing one door over from a Jason Statham shoot-em-up: it's drawing on forever.
And we haven't even gotten to the conference semis yet.
The East has gone as most expected – the Boston Celtics beat the Atlanta Hawks; the Indiana Pacers beat the Orlando Magic (led, for perhaps the last time, by petulant, overpaid millionaire unhappy center Dwight Howard); the Miami Heat beat the Lin-less New York Knicks; and the 1-seed Chicago Bulls fell to 8-seed Philadelphia 76ers.
This wasn't like the '94 Sonics falling to the Denver Nuggets; this was expected. Derrick Rose's season-ending ACL tear ripped the heart out of the Bulls, and Joakim Noah's ankle injury just compounded the problem. The 76ers had played well all year, and with the Bulls' star players out, no one could have considered the team's early exit a true upset.
But what about the West?
The San Antonio Spurs and the Oklahoma City Thunder made quick work of their matches, sweeping the Utah Jazz and the Dallas Mavericks, respectively. They've been resting with their feet up on their ottomans and bowls of Cheetos by their sides for almost a week now.
As for the other two matchups, something curious is going on.
The Los Angeles Lakers were up 3 games to 1 against the Denver Nuggets, and it looked like they'd continue their 15+ year playoff waltz. But then Andrew Bynum opened his mouth, lighting a fire under the Nuggets, and suddenly, the teams find themselves staring Game 7 in the face.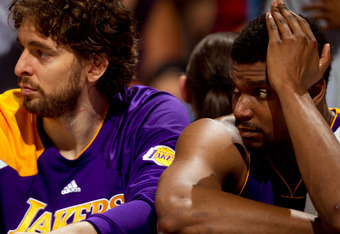 Justin Edmonds/Getty Images
For the first time in NBA history, that other team in Los Angeles, the L.A. Clippers, seemed ready to go even further in the postseason than their Staples Center cohabitants. But up 3 games to 1 as well, the Clippers blinked, and now the Clippers and the Memphis Grizzlies will meet up in their own Game 7 on Sunday afternoon.
I'm all for drama. But this first round of NBA playoffs is lasting longer than a Jon Isner match. Can't we keep this moving? It's almost time the MLB All-Star game, for Pete sake.
Who do you think will win these two Game 7's and advance? The Lakers or the Nuggets? The Clippers or the Grizzlies?
Leave your thoughts in the comments below.