Locking Up Jeremy Lin to Long-Term Deal Would Be Death Knell for NY Knicks
May 12, 2012

Chris Chambers/Getty Images
Now that the New York Knicks are eliminated from the NBA playoffs, all eyes are turned to the offseason, especially as it relates to what the franchise will do about the impending free agency of point guard Jeremy Lin.
However, as good a story as Lin has been, the Knicks must think toward the future before offering Lin a long-term deal, as it could wind up being crippling down the road.
Before you go nuts, I'm not talking about the future of Lin as a player, but the future shape it will put the franchise in financially.
Interim head coach Mike Woodson was adamant on Thursday that the Knicks would bring Lin back next season, but also stopped way short of saying he would be the starter.
Lin, on the other hand, sounded not so sure about a return to the Big Apple as he told Stefan Bondy of the New York Daily News:
Nothing is set in stone. That's what I've learned. We talked about (my free agency). I love the Knicks and the organization. But at the same time, it's a business. Me, personally, I think it would be great if I come back. But crazy things happen and I don't really know what's going to happen.

Lin was brilliant in his 25-game stretch as a starter, averaging 18.2 points, 7.7 assists and 2.0 steals, while shooting nearly 45 percent from the floor. But Lin also averaged 4.7 turnovers in those 25 games, and that is very concerning.
As a player, the bottom line is that he's unproven. The Knicks still don't know what they really have in Lin right now, but that's beside the point.
The point is, a long-term contract without Lin's full Bird rights could be crippling.
The Knicks are over the cap and can only give Lin the mid-level exception (about $5 million), which would leave them with little else to persuade a veteran point guard and other depth pieces.
Under the Gilbert Arenas Provision in the new CBA, no team can offer more than the MLE to a player like Lin for the first year of the contract, one that the Knicks have the right to match.
But consider the fact that any contract that Lin receives, whether it be from the Knicks or any other franchise, will be back-loaded with a majority of the money coming in the second and third years of the deal.
Just take a look at where the Knicks sit for the next two years, assuming the cap remains a flat $58 million.
2012-13
Carmelo Anthony: $20.46 million
Tyson Chandler: $13.6 million
Amar'e Stoudemire: $19.95 million
Iman Shumpert: $1.68 million
Josh Harrellson: $768K
Jerome Jordan: $768K
That's over $56 million tied into six players, and without Lin's full Bird rights, all of his contract money counts against the cap.
Now let's take a look a year later and see what kind of bad financial shape the Knicks will be in by adding another long-term deal.
2013-14
Anthony: $22.4 million
Chandler: $14.1 million
Stoudemire: $21.68 million
Shumpert: $1.78 million (team option that is certain to be picked up)
That's over $59 million tied into four players.
Basically, a long-term contract to Lin that pays him big money almost assures the fact that the Knicks will be unable to add the depth they need to compete.
If they can bring him back cheaply, that's great, but if it costs a lot of money, then New York could be in trouble for the next few years.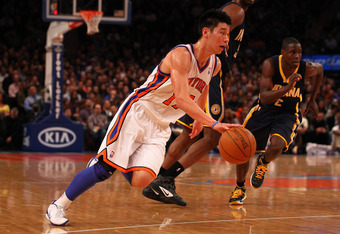 Al Bello/Getty Images
Lin said it best when he stated that the NBA was a business, and no one understands that better than he does, since he lived most of his NBA career off of 10-day contracts.
They can't have it both ways, and in a business, sometimes tough decisions need to be made.
No one wants to see Lin in a Knicks uniform more than I do, but is it worth the expense of a large cap hit for a guard that, like it or not, is still unproven?
Knicks general manager Glen Grunwald has a tough decision on his hands.
Does he sign Lin and put the Knicks in a bad cap spot for the next few years, or does he let him walk and use the MLE on a more experienced point guard, angering the Knicks' fanbase in the process?
At the end of the day, though, it is a business and business decisions must be made.
We will just have to wait and see what direction the Knicks' franchise will be headed.