NBA Playoffs 2012: Miami Heat and Sizzling Teams Ready to Cruise Through Round 2
May 11, 2012

Jonathan Daniel/Getty Images
Teams like the Miami Heat and the Oklahoma City Thunder cruised through the first round of the NBA playoffs, and naturally, you'd think the sledding would get much tougher as the second round approaches.
But not so fast.
Elite NBA teams are that way for a reason, and even though the competition should get tougher in Round 2, the best teams in the league won't have a problem reaching the Conference Finals.
Here's a look at the teams that should cruise through Round 2 of the NBA playoffs.
Miami Heat
The Indiana Pacers will give the Heat a real fight; but LeBron James is on a mission, and it's hard to see anyone stopping him or the Heat as a team.
Miami took three of four from Indiana during the regular season, and as long as they stay committed on the defensive end of the floor, there's a place in the Conference Finals waiting for them.
San Antonio Spurs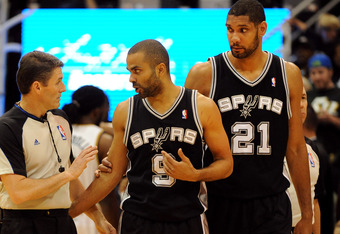 Steve Dykes/Getty Images
The Spurs have looked great during the regular season, but they looked as dominant as ever in sweeping the Jazz in Round 1.
They will face a much tougher test in Round 2 against either the Memphis Grizzlies or Los Angeles Clippers; but San Antonio is deep, and they put on a clinic on how to play unselfish team basketball.
With point guard Tony Parker playing at an MVP level, it's very difficult to imagine this team losing for a while. The fact that Memphis and Los Angeles have played a lengthy series also plays into San Antonio's advantage, and the Spurs' veterans will be rested.
Oklahoma City Thunder
The Thunder polished off the defending champions Dallas Mavericks very easily and will also head into Round 2 well-rested, although with Oklahoma City's youth, they don't necessarily need it.
Whoever wins the Los Angeles Lakers-Denver Nuggets series will be quite worn out as they prepare to take on Kevin Durant, Russell Westbrook and company. 
Many didn't expect the Lakers to be playing in a Game 7 on Saturday, and having to deal with two very athletic teams in back-to-back series could be very tough. The Thunder could be in a good spot to roll right into the Western Conference Finals.