Usain Bolt: Jamaican Sprinter Splits with Lubica Slovak Ahead of London Olympics
May 11, 2012

Mark Dadswell/Getty Images
Before Usain Bolt collects a bounty of gold in London, he is showing the Heisman to his wonderful girlfriend Lubica Slovak. 
I'm sure there were about three of you out there who were really pulling for this couple, but they are now splitsville. The reason?
Those damn Olympics. 
While I am sure the impending London Games are hardly interfering with your daily lives, they have certainly been a nuisance for Bolt and his now ex-girlfriend. 
The New York Post reports the worst news since Rachel and Ross almost got together, but didn't, because Ross didn't read the note and...
Anyway. 
The champion sprint star ended his relationship with gorgeous fashion designer Lubica Slovak so she won't "distract" him from training.
Harsh. I mean, this is the same reason you send your dog out of the room for—he keeps stepping over the cords as you try to camp out in Call of Duty. 
I understand how having a girlfriend can weigh on the mind in this case, though. Consider the report states Bolt was taken to task by fans recently for having a white girlfriend.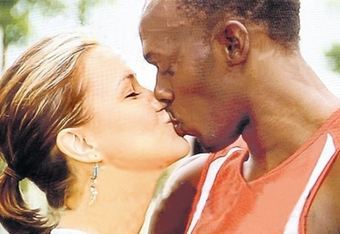 When a picture of the two kissing surfaced, he received a great deal of flack. From there, we can finally see what's really behind this part of the report. 
They were said to be "very comfortable together" and to favor quiet dinners over glitzy functions. 
I can just imagine how he might have answered her constant asking of, "Honey, can we go to the movies, the party or anywhere?"
Bolt would just sit back and mutter, "Nah, I'm good." 
At least, that's how I see it. 
Consider the Olympics as the best excuse to break up with someone that you have been wanting to break up with for months. 
I'm not saying, but I am saying. 
Sure, this could all be a grand ruse to buy Bolt the sentiment of his fans who apparently don't like him dating Slovak, but I am a glass-is-half-empty kind of guy. 
These two are as done as Jennifer Aniston and her next future ex-boyfriend.
Follow me on Twitter to get the latest on all things awesome.