New York Giants: Targeting 3 Safeties Who Could Replace Deon Grant
May 11, 2012

Christian Petersen/Getty Images
The New York Giants' defense relies a lot on the three-safety package favoured by coordinator Perry Fewell. With veteran Deon Grant unlikely to return, Big Blue could use a box-playing, run-support safety.
The free-agency market still contains some useful veterans who would fit this role well. Here are the best three for the Giants to choose from.
Abram Elam, Dallas Cowboys
Abram Elam is a strong and sure tackler, with the blitz skills to be an effective weapon as the "lurch" safety in the Giants' "Big Nickel" fronts. The 30-year-old is limited in coverage, but is ideally suited to fill the hybrid linebacker/safety role Grant occupied.
With Elam patrolling the line of scrimmage, Kenny Phillips and Antrel Rolle could dedicate more time to locking up receivers across the middle in man and combination coverage.
Jim Leonhard, New York Jets
Jim Leonhard has roamed the box as the adjuster in Rex Ryan's multiple, 46-style defensive schemes. The seven-year veteran is an intelligent safety who quickly diagnoses gaps in coverage or run defense.
Leonhard offers decent blitz capability and is a solid tackler. Injuries are the concern with the 29-year-old. He ended the season on injured reserve and also missed five games with various ailments in 2010.
However, Leonhard has recently stated his confidence that he will be healed in time to start the new campaign fresh. On a short-term, low-risk contract, similar to the ones the Giants gave to Martellus Bennett and Shaun Rogers, Leonhard makes a lot of sense.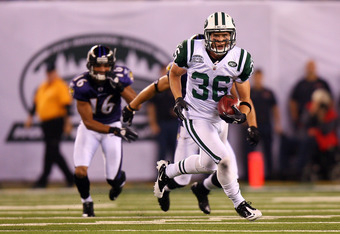 Andrew Burton/Getty Images
Chris Hope, Tennessee Titans
Chris Hope offers above-average run support and blitz skills and has the savvy and instincts to be effective in underneath coverage. Hope is well-versed in both zone and man coverage techniques and while he is not a fierce hitter, the 6'0", 204-pounder is no liability when stepping up to tackle.
Conclusion
The Giants have youngster Chad Jones returning from injury and also added Chris Horton via free agency. Horton, in particular, could stake a claim to Grant's job if he can stay injury-free.
However, given the legitimate health concerns and relative inexperience of both players, the G-Men may be best served to look for another experienced stopgap at this important position.