2012 NBA Mock Draft: Big Names That Will Be Overvalued on Draft Day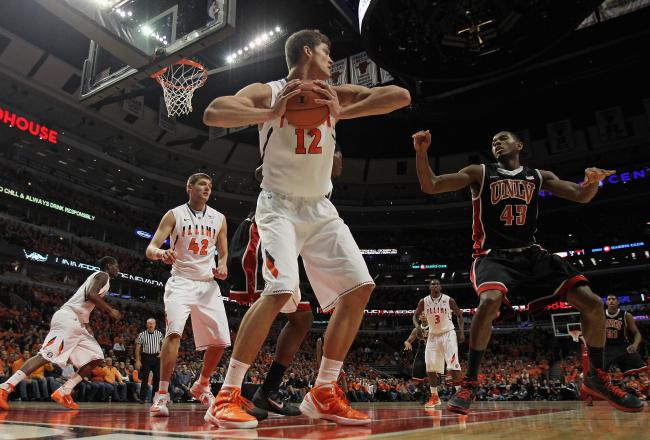 Jonathan Daniel/Getty Images
There are always overrated players in the draft, and the 2012 NBA Draft is no exception. Many things can cause a player to be overvalued, most of the time it's size. But there are smaller players that will get more love than they deserve as well.
In this mock draft, I'll spotlight some of the draft's overvalued players.
(Spotlighted players and teams will be italicized)
1. Charlotte Bobcats: Anthony Davis, PF, Kentucky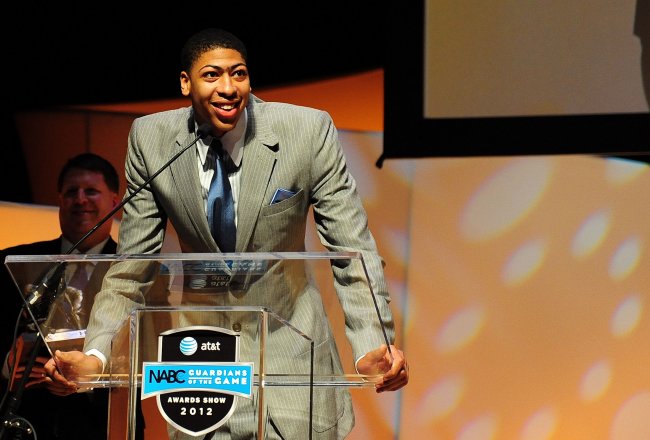 Stacy Revere/Getty Images
The uni-brow is going to be a solid player, but he is not a superstar. In my opinion, the top pick in the draft should be reserved for a player with that type of ceiling. As productive as I expect Davis to be in his career, he shouldn't be the top pick in the draft—at least not this year.
There are at least two other players that have higher upside. Davis was extremely productive in his freshman season, and he did help lead his team to a national championship.
But Davis doesn't have the ability to be a standout on both ends of the court. The team that is awarded the top pick in the draft should strongly consider Andre Drummond.
He has the highest ceiling of any player in the draft, and could be dominant on both ends. That is the type of player a team should target with the top pick.
2. Washington Wizards: Andre Drummond, PF/C, UConn
Drummond is potentially the most dominant player in this draft. The Wizards may be bashful about taking him, having just cut loose JaVale McGee via trade. But Drummond and John Wall could be amazing together.
3. Cleveland Cavaliers: Michael Kidd-Gilchrist, SF, Kentucky
The only thing not to love about MKG's game is his jump shot. He shot only 25 percent from three-point range in 2011-2012. Aside from that, he is a stat-sheet stuffer that brings it in every way. The Cavs could benefit from a player like MKG as they rebuild.
4. New Orleans Hornets: Thomas Robinson, PF, Kansas
Robinson is a beast of a specimen. He will score and rebound in the NBA from day one. This would be a smart and safe pick for the Hornets in the first round. They can address the perimeter position with their second first-round pick.
5. Sacramento Kings: Harrison Barnes, SF, North Carolina
Barnes is a solid prospect at SF, but he isn't a future star. If he lands in a situation that allows him to be a complimentary scorer, he will be in his comfort zone. Sacramento could be that place, as he'd be second to Tyreke Evans and DeMarcus Cousins.
6. Portland Trailblazers (Via Brooklyn Nets): Bradley Beal, SG, Florida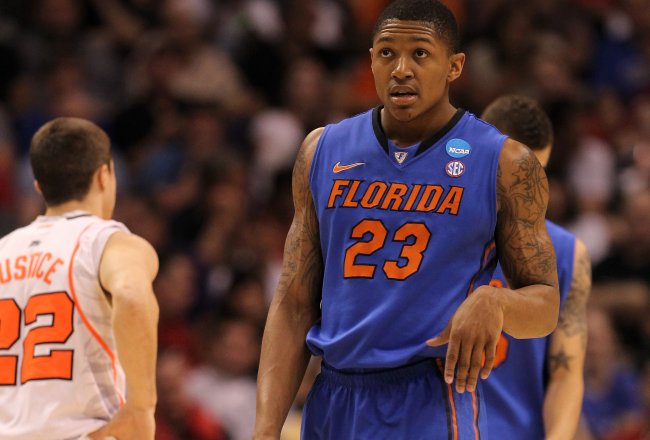 Jamie Squire/Getty Images
Beal has been called the top SG in the draft by Chad Ford of ESPN, but I don't agree. While I see him as a solid pro, I have questions about his ability to get his shot in the NBA.
If he measures at 6'3", as some sites have him listed, that will be a problem on the next level. Beal is not an explosive athlete, so he won't have the benefit of blowing by defenders. Even as a jump shot shooter, he could have an issue getting clear looks.
While Portland does need to address the SG position, I think Jeremy Lamb would be a better fit because of his length and athleticism.
7. Golden State Warriors: Perry Jones III, SF/PF, Baylor
PJ3 is the only player whose upside is near Drummond's, but he can appear nonchalant at times. Golden State needs a presence in its frontcourt and Jones III is too talented to pass on.
8. Toronto Raptors: Kendall Marshall, PG, North Carolina
Marshall is the draft's best pure point guard in my opinion. The Raptors need that type of stabilizing force for their young nucleus.
9. Detroit Pistons: Jeremy Lamb, SG, UConn
Lamb is the best SG prospect in a draft that is not laced with great players at that position. Even still—he'd be a great fit for the Pistons, and an immediate upgrade from Ben Gordon.
10. New Orleans Hornets (from Minnesota): Austin Rivers, SG, Duke
I think Rivers is going to make some believers out of his doubters during pre-draft workouts. His game is made for the NBA, as he excels in isolation situations. The Hornets would do well to come away from this draft with Rivers and Robinson.
11. Portland Trailblazers: Tyler Zeller, C, North Carolina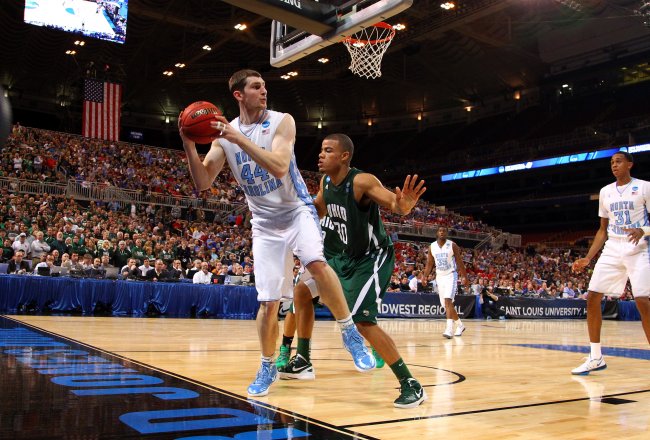 Dilip Vishwanat/Getty Images
Zeller is a legit seven-footer and he has good athleticism, but he'll never be a go to man on the block. He'll never command a double-team, so taking him here may be a reach. The No. 11 pick in the draft may be a bit high for a big man that offers nothing offensively beyond put-backs.
He'll likely get an opportunity to be the starting center alongside LaMarcus Aldridge, because he will run the floor, defend, and rebound. But it's possible the Blazers, and other teams, could find this skill set later in the first round.
Zeller is just the first example, in this year's draft, of size getting a prospect picked earlier than he should.
Which player will be the biggest bust?
12. Milwaukee Bucks: John Henson, PF/C, North Carolina
Henson is an excellent shot-blocker and he's developing a nice 15-foot jump shot. His defensive prowess would make him popular with Bucks' coach Scott Skiles.
13. Phoenix Suns: Damian Lillard, PG, Weber State
Lillard is the best player from a small school in this draft. He is explosive, and he could potentially play either guard spot at 6'3. The Suns may be looking for a replacement at PG, if Steve Nash leaves, and Lillard would be an exciting option.
14. Houston Rockets: Arnett Moultrie, PF/C, Mississippi State
Moultrie is big and extremely athletic. He reminds me of Taj Gibson with his passion and defensive acumen. The Rockets need an inside presence, and Moultrie would partially fit that need.
15. Philadelphia 76ers: Jared Sullinger, PF, Ohio State
Sullinger will be one of the top scoring rookies if he gets the opportunity. My concern for him will be his ability to score at crunch time, against long and athletic PF's. The Sixers need scoring badly and Sully could ultimately make Elton Brand expendable.
16. Houston Rockets (from N.Y. Knicks): Dion Waiters, SG, Syracuse
Waiters is an exciting slasher/penetrator. He must work on his jump shot, but the tools to be a solid guard are there. Waiters could help push Kevin Martin out of Houston.
17. Dallas Mavericks: Terrence Ross, SF, Washington
Ross is one of the draft's most athletic players. Athleticism and youth is something the Mavs desperately need. Thus, Ross would be an excellent selection for Dallas.
18. Minnesota Timberwolves (via Utah Jazz): Terrence Jones, SF, Kentucky
Jones offers versatility and potential matchup problems for opponents. If the Wolves drafted him, he could be a solid perimeter option for their young nucleus of Ricky Rubio and Kevin Love.
19. Orlando Magic: Fab Melo, C, Syracuse
Melo is a legit seven-footer that excels at blocking shots. He averaged almost three per game last season. The Magic need a big man, even if Dwight Howard remains with the team. Melo could add depth or an emergency replacement for the Magic.
20. Denver Nuggets: Quincy Miller, SF, Baylor
Miller has intriguing versatility, but he's thin as a rail and a bit raw. If the team that drafts him has time, and he has patience, he could be very good in a couple years.
21. Boston Celtics: Andrew Nicholson, PF, St. Bonaventure
Nicholson's game is fundamentally sound and effective. He's a solid low-post scorer and a good rebounder. The Celtics would do well to bring him into the fold.
22. Boston Celtics: John Jenkins, SG, Vanderbilt
Jenkins and Doron Lamb are the best pure shooters in the draft. He connected on 42 percent of his three-point attempts this past season. The Celtics could use their second consecutive pick to add a deadly shooter.
23. Atlanta Hawks: Jeff Taylor, SF, Vanderbilt
Taylor is a pure scorer, and that could be a welcomed addition at the SF position for the Hawks. The team has never reaped the expected benefits from taking Marvin Williams No. 2 overall in 2005.
24. Cleveland Cavaliers (via Los Angeles Lakers): Meyers Leonard, C, Illinois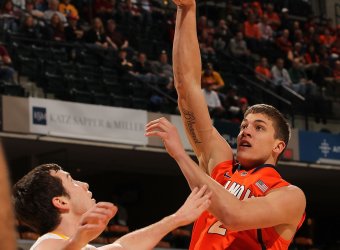 Jonathan Daniel/Getty Images
Leonard is big and he's a good athlete, but more than almost any player in the draft, he needed another year in school. He isn't physical, and he seems to be easily thrown off his game by rough play.
Leonard can be pushed off his base too easily, and forced to play off-balance by aggressive low-post defense.
These are impediments he'll see every night in the NBA. Because of that, he is the second player in the draft that'll be taken higher than he should, because of his size.
He does have some upside, but he'll need a couple years before he can contribute regularly.
25. Memphis Grizzlies: Tony Wroten, PG/SG, Washington
Wroten is a very good athlete with great size. At 6'5", with solid ball-handling skills, he can legitimately play either guard spot. His problem is his outside shooting. He shot only 16 percent from three-point range this season.
The Grizzlies could bring him in to back up either guard spot, and hope he works to improve his jump shot.
26. Indiana Pacers: Moe Harkless, SF/PF, St. John's
I love Harkless's effort and his game. It wouldn't surprise me to see his stock rise as the draft approaches. The Pacers could add depth with Harkless, or his arrival could precipitate a trade.
27. Miami Heat: Festus Ezeli, C, Vanderbilt
Ezeli is a big body that excels at shot-blocking and physical play. The Heat have a void in those areas, and Ezeli could possibly start for Miami in the 2012-2013 season—if they draft him.
28. Oklahoma City Thunder: Marquis Teague, PG, Kentucky
Teague is blazing fast, but he needed another year at school. But with the Thunder's need to add depth at the PG position, they can't afford to pass him by.
29. Chicago Bulls: Doron Lamb, SG, Kentucky
Lamb is the best shooter in the draft in my opinion. He shot 47 percent from three point range and 81 percent from the free throw line at Kentucky. The Bulls still need a SG, and Lamb would be a great fit in Chicago.
30. Golden State Warriors (via San Antonio Spurs): Draymond Green, PF/SF, Michigan State
Green has great intangibles and versatility, but he is a bit of a tweener. The Warriors could use a player like Green, his presence and positive attitude can help change the environment in the locker room.
Follow Brian Mazique and Franchiseplay.net for reactions, analysis and news from the world of sports and sports Video Games
This article is
What is the duplicate article?
Why is this article offensive?
Where is this article plagiarized from?
Why is this article poorly edited?