Nebraska Football: Is It Time for Cornhuskers to Get Rid of Bo Pelini?
May 11, 2012

Eric Francis/Getty Images
I am always grateful for readers who take the time and energy to comment, but I've been surprised recently by the number of commenters who are convinced Bo Pelini is not the right head coach to bring Nebraska back to national prominence.
In general, the arguments against Pelini have focused on his inability to win a title in his four years in Lincoln, and that his sideline demeanor has rankled some people. There has also been some criticism of his recruiting prowess, and one person questioned whether Nebraska would have been better off retaining Bill Callahan.
I've raised questions about Pelini on a number of occasions. There are elements to Pelini's personality and coaching style that concern me. But there is no good argument that Pelini has been less successful than Callahan.
In four seasons, Callahan only won enough games to reach a bowl twice (2004 and 2007), while Pelini has taken the Cornhuskers to a bowl each year. Pelini has won two division titles (2009 and 2010), while Callahan only won one (2006).
Pelini has also won two bowl games (2008 Gator, 2009 Holiday), and Callahan only won one (2005 Alamo). In every on-the-field metric, Pelini has spectacularly outperformed Callahan.
The legitimate area where Callahan can be compared to Pelini is in recruiting. Much of Pelini's success was with players Callahan brought into the program. Nebraska's first round NFL draft picks, Ndamukong Suh and Prince Amukamara, were Callahan recruits.
And Nebraska has struggled recently on the front, with NU only appearing twice in ESPN's Top 25 recruiting classes (22 in 2008, 17 in 2010).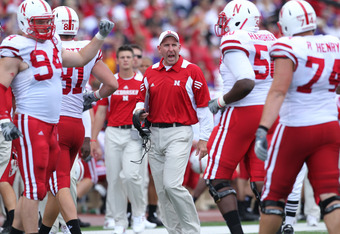 Otto Greule Jr/Getty Images
Many Nebraska fans are concerned with NU's overall talent level, a concern crystallized by former defensive backs coach Corey Raymond's comments after the Capital One Bowl suggesting that Nebraska did not have the athletes to compete with an SEC team like South Carolina.
Big Red's 2012 recruiting class is harder to judge, simply because of its small size. And, particularly on offense, Nebraska has a tremendous amount of youth waiting to prove itself.
But the Cornhuskers have also struggled in the Pelini era to get younger players onto the field. Tyler Moore, Jamal Turner and Aaron Green are prime examples from last year of younger players who seemed to disappear even when the offensive unit was struggling.
Green's perceived underuse was one of his prime motivators to transfer from Nebraska this spring.
Starting in year five, the next few seasons will be the fairest judge of Pelini's skills as a recruiter. If the players he recruited start panning out, Pelini's reputation as a solid ambassador for the school and program should improve.
And he should be given credit for his success in the junior college transfers he has brought in, including Lavonte David, Brandon Kinnie, Joe Carter, Jermarcus Hardrick and Daimion Stafford. We'll see if Mohammed Seisay fits into that list of junior college success stories, but Pelini, at this stage, has a proven track record of finding instant impact players from two-year colleges.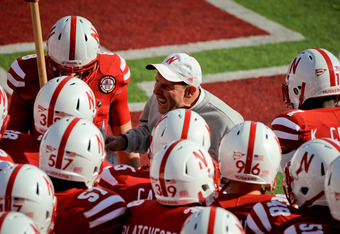 Eric Francis/Getty Images
The bigger question is whether this former defensive coordinator at LSU is the guy to take Nebraska back to the heights of college football.
Nebraska is demonstrably better than it was prior to Pelini's arrival. The question has now turned to whether Pelini has hit a ceiling in his success at Nebraska, and whether that ceiling is good enough for Nebraska.
The case against Pelini boils down to his teams not being disciplined or focused enough to reach that next level. Pelini's squads are regularly penalized, turn the ball over too much, and regularly lose at least one game a year to a team they should beat.
Indiscipline, the argument goes, combined with a lack of recruiting talent, has resulted in Nebraska leveling off and beginning a descent to mediocrity.
At this stage, I don't think it's fair to take Pelini's body of work and conclude he has hit his ceiling. You really do have to remember how bad Nebraska looked when he returned to Lincoln.
I was in the stands in Lawrence, Kan., on that chilly November day in 2007 when the Jayhawks took out a century of frustration and laid 76 points on the 'Huskers. On that afternoon, I was convinced it would take a decade for Nebraska to dig itself out of the hole it had been thrown into.
Forget competing for national titles—on that November afternoon, Nebraska looked years away from being a regular bowl-game contender.
In came Pelini, and Nebraska returned to a nine-win season and a bowl game. The following season, Nebraska won its division and was one second (or even less than that, by some accounts) from winning the Big 12 and making its first BCS appearance since 2001.
Big Red's turnaround in Pelini's first two years was nothing short of remarkable, and it probably doesn't get the credit it deserves.
It's fair to argue that the Cornhuskers have taken a step or two back since the '09 season. And 2010 felt a bit like déjà vu, but with a far less encouraging end after an abominable Holiday Bowl performance.
It was a definite step backwards in 2011, with ugly road losses against Wisconsin and Michigan and a second-half collapse in the Capital One Bowl against South Carolina.
In my judgment, Pelini's accomplishments are enough to merit faith in him. It was a weird year in 2010,  with Nebraska's ugly "farewell tour" of the Big 12, and 2011 was an oddity with Nebraska entering a new conference.
With the waters a little calmer around the program, the stage should be set for Pelini to show what he can do now that the program is truly his.
But there is a window, and it's fair to say that window is starting to close. Another four-loss season filled with turnovers, penalties and games thrown away will embolden the critics and begin to create a truly hot seat under Pelini.
In other words, his job fixing the mess Callahan left behind is complete. Now it's truly time to see if Pelini can take Nebraska football back to glory.
If you would like to contact me directly to schedule an interview, ask a question or to get my recipe for a killer peach cobbler, you can send an e-mail to patrickrunge@gmail.com. (DISCLAIMER: Peach cobbler recipe might not be all that killer.)
Or, you could always ... Follow @patrickrunge