Nebraska Football Recruiting: Don't Kid Yourselves, Fans, Huskers Must Do Better
February 2, 2012

Eric Francis/Getty Images
What's the big deal anyway? Those star rankings are just meaningless. Nebraska won its championships with lower-rated recruiting classes. We love our guys, and our coaches will just coach 'em up!
Sound familiar? That's a summary of the reactions many Nebraska fans had to NU's 2012 recruiting class. And while there are a number of individual players that Nebraska fans could get excited about, the fact remains that the class was underwhelming from a scouting standpoint. Nebraska didn't make ESPN's top 25 classes nationally and got a C+ grade from ESPN's RecruitingNation staff.
Big deal, cry the Children of the Corn on message boards and comment sections throughout the Internet. Nebraska's title-winning teams were never rated higher than low-20s by those recruiting "experts," so what do they know?
And it's a fair criticism. Scouting high school players is, put at its most charitable, an inexact science. Football fields through the country are littered with 5-star prospects that never produced a thing in a game and 2-star prospects who have gone on to shine.
So, does that mean it doesn't matter? Or is it a defense mechanism for Nebraska fans stinging from the decision of 5-star offensive tackle prospect Andrus Peat to spurn NU for Stanford?
Maybe a little of both. But don't kid yourself. Even with all the warts, all the guessing and all the 5-star busts, success in recruiting is still the single most important factor in determining success on the football field.
Don't believe me? Let's just take a look at the teams that have won national titles in the past few years. Alabama is the reigning champion and was rated third, second, third and second in ESPN's recruiting rankings the previous four years. Auburn, the title winner the year before, was 19th and fourth in recruiting in the three years prior to their title.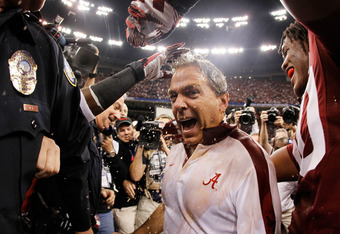 Kevin C. Cox/Getty Images
Sure, it's not the only deciding factor. But it's no coincidence that the teams at the top of the recruiting lists year after year tend to be the teams at the top of the national rankings at the end of the college football season.
Is it a guarantee? Absolutely not. Florida State, Clemson, Texas and Georgia have all spent lots of time in the last few years at the top of the recruiting rankings. That success in recruiting hasn't translated to success on the field.
But the stark reality of college football is that to compete on an elite level, teams need elite-level talent. When scholarship limits were put into place, it took away some of the built-in advantages of college football's historic elite (such as Nebraska) to stockpile talent. Now, with the advent of social media and the increased exposure given to the nouveau riche of college football, the built-in advantages for the blue bloods are even less relevant.
Think about it. Nebraska lost out on a blue-chip recruit, the centerpiece of its 2012 recruiting class…to Stanford after losing out on its blue-chip centerpiece recruit in 2011…to UCLA. Even 10 years ago, that kind of result would have been unthinkable. Now, it happens without so much as a batted eye.
Look, I get the natural antipathy towards geeking out about recruiting. Nebraska fans throughout the country were burned by Bill Callahan and his promise of 5-star recruiting bonanzas leading Nebraska on its return to the Promised Land. We all know how that turned out.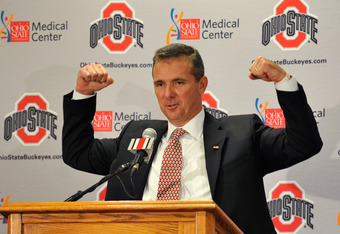 Jamie Sabau/Getty Images
But please, Nebraska fans. Stop with the "we don't need big-time recruits" comments. You're embarrassing yourselves.
Not sure if you've noticed, but Ohio State has hired this new guy as its head coach. Won a couple of national titles. Took freaking Utah to a BCS bowl game. And now, even with the Buckeyes on probation, assembled a top-five recruiting class. And that's not even mentioning Michigan's resurgence under Brady Hoke.
The water's gotten a little choppier for Nebraska in its new Big Ten home. If Nebraska isn't careful, Ohio State and Michigan could very well run away and hide from the rest of the conference the way Oklahoma and Texas did in the Big 12 a few years ago.
Certainly, the opportunity is there for Nebraska to hang with the big boys and start competing for conference titles again. Michigan got a big recruiting bump from its success in 2011, much like Stanford. There's no guarantee that the Wolverines will be able to replicate that success in 2012, and there is no guarantee that Meyer will be able to work his magic in Columbus the way he did in Gainesville and Salt Lake City. Heck, there's not even a guarantee he'll be there in two years' time.
So, Nebraska's chance is still there to stand amongst the elite in the Big Ten. But the window is starting to close. I know it's comfortable for fans to trot out the "Osborne didn't need top recruits" argument and wear it like a threadbare sweatshirt. But the cold fact remains that if Nebraska wants to play on the biggest stages in college football, it needs to be more competitive on the recruiting trail as well.
If you would like to contact me directly to schedule an interview, ask a question or to get my recipe for a killer peach cobbler, you can send an e-mail to patrickrunge@gmail.com. (DISCLAIMER: Peach cobbler recipe might not be all that killer.)
Or, you could always follow @patrickrunge