Tough Decisions Facing NFL's Rebuilding Franchises
May 10, 2012

Jed Jacobsohn/Getty Images
Few jobs in the management of professional sports are as difficult as that of a general manager of a team in rebuilding mode.
A 2-14 or 3-13 record doesn't just happen by accident. Poor records in the NFL are usually the result of flawed rosters and flawed decision-making. To turn around a franchise, several decisions need to be made correctly and never can a few can go wrong. 
Several NFL teams are currently in the middle of rebuilds. Below, we break down some of the toughest decisions facing those franchises currently: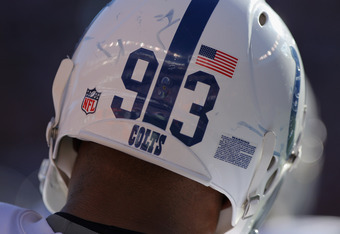 Doug Pensinger/Getty Images
Keep Dwight Freeney or move him?
New Colts GM Ryan Grigson has already dealt with a majority of the tough decisions he was handed this offseason, including the release of Peyton Manning and whom the Colts were going to take at No. 1 overall in the NFL draft. 
One of the last remaining decisions before 2012 is the future of defensive end Dwight Freeney, who is owed $14 million next season and may not fit into the team's new 3-4 defense. There has been speculation over the last several months about the Colts moving the 32-year-old, but Grigson could also flat out cut Freeney if a trade or restructured deal isn't made. 
A rebuilding team such as the Colts would ideally want to move Freeney, but there's little to lose in keeping him on the roster for next season with the way the team's cap situation currently sits. And given how well head coach Chuck Pagano used Terrell Suggs in a hybrid linebacker/end role in Baltimore, Freeney could still fit in nicely while playing a more traditional role.
If I'm Grigson, I keep Freeney in Indianapolis for 2012.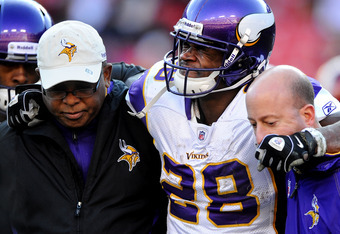 Patrick Smith/Getty Images
Why rush Adrian Peterson back in 2012?
ESPN's NFC North blogger Kevin Seifert brought up the question Wednesday after Peterson's injury update press conference. With the Vikings in the middle of a rebuild, their best offensive player is currently pushing to return for the team's Week 1 game despite blowing out his knee in a horrific injury late last season. 
But should the team be on board with Peterson's accelerated recovery?
While Peterson obviously wants to be playing as soon as possible, the Vikings simply have no need to rush him back next season. Both the team and Peterson should tread carefully early in 2012 so that a dynamic talent like the 27-year-old running back can be a part of the Vikings' plans post-rebuilding. 
Risking another injury before Peterson's knee is back to full strength isn't worth the risk early next season.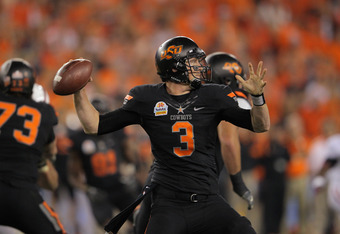 Doug Pensinger/Getty Images
Start a stop-gap at quarterback or throw Brandon Weeden into the fire?
It's a question rebuilding teams have grappled with forever: Do you sit your quarterback early in his NFL career or throw him into the fire? 
Lately, the NFL has shifted to starting rookie quarterbacks as soon as possible, and the Browns are likely to follow suit with Brandon Weeden.
Given Weeden's age—he'll be 29 by the start of the season—the Browns have little other choice. Sacrificing a year of on-field development by sitting the rookie would further shorten an already limited NFL career. 
Starting a rookie isn't exactly admitting defeat, either. Quarterbacks like Cam Newton and Andy Dalton saw plenty of success as first-year quarterbacks in 2011. The Browns are hoping Weeden can have a similar effect in 2012.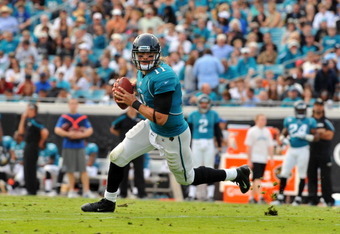 Al Messerschmidt/Getty Images
What if Blaine Gabbert doesn't take the next step?
New owner Shahid Khan and head coach Mike Mularkey represent a new era for football in Jacksonville, but the Gabbert decision they'll need to make over the next 12 months may define the franchise for the next five years. 
The Jags' 2011 first-round pick had a rocky first year, throwing for just 2,214 yards in 14 starts with a 65.4 passer rating. His pocket awareness was atrocious. 
While not all first-year quarterbacks can be Cam Newton, the first 14 starts in the Gabbert era were concerning. If the Jags don't see measurable improvement in year two, the team may have to look elsewhere (2013 NFL draft?) for their future starter. 
It's a harsh assessment, but teams can't waste time and money on the position without improvement. I wouldn't be at all surprised if Khan and Mularkey look for their guy next April if Gabbert struggles again in 2012.
St. Louis Rams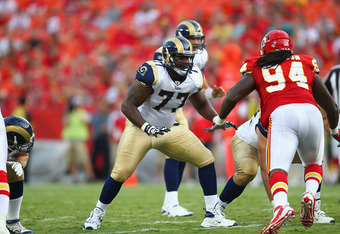 Dilip Vishwanat/Getty Images
Is there still work to be done on the offensive line?
One of the underrated surprises from the 2012 draft was that the Rams used just one selection on an offensive lineman, and it didn't come until the fifth round (Rokevious Watkins, South Carolina). 
No team gave up more sacks in 2011 than the Rams' 55, and keep in mind that St. Louis threw the ball just 549 times last season. New Orleans passed 662 times and gave up just 24. Without a doubt, the offensive line was a question mark heading into the offseason. 
Considering Jeff Fisher and Les Snead did little to upgrade the line during the draft, could free agency be something they turn to? 
Marcus McNeil and Chad Clifton remain on the market but are injury concerns, while Jake Scott—a longtime starter at guard for Fisher in Tennessee—is also an option. 
Grabbing Scott Wells to anchor the line was smart at the beginning of free agency, but the Rams may have to take a second dip into the labor market to help further solidify a big weakness from last season.