B/R Debate: Where Do the Miami Dolphins Still Need to Improve Most?
May 10, 2012

Joel Auerbach/Getty Images
The Miami Dolphins made several upgrades to their roster through the 2012 NFL draft, but they're not done making improvements.
Not, at least, if they want to run with the big boys in the AFC East, a list which now legitimately includes every team except the Dolphins.
But what areas do the team still need the most improvement?
To debate the topic, we bring in B/R Dolphins featured columnist Alex Miglio, an editor at Pro Football Focus who can also be found on Twitter.
As usual, the guest will lead us off.
Alex: Quarterback.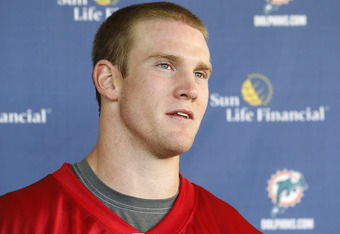 Joel Auerbach/Getty Images
I have participated as a Matt Moore apologist in the past, but let's be realistic here: Matt Moore is not a Super Bowl-caliber starting quarterback. He had a nice season last year, finishing 6-4 as a starter and winding up 12th in the league with a NFL quarterback rating of 87.3.
Would the Dolphins have drafted Ryan Tannehill if they thought Matt Moore was their man?
Miami needs to get better than the poor-to-decent quarterback play that they have gotten ever since Dan Marino's retirement. They owe their lack of postseason appearances—they lost their one playoff game back in 2008—to a quarterback carousel that has been among the worst in the league since 1999. Hopefully, Ryan Tannehill is the answer to that riddle.
Erik: Couldn't argue with that in the slightest, Alex. The quarterback play has been well below average since Marino left, and even if Matt Moore plays exactly the same as he did in 2011, the Dolphins should still be hopeful to get even more out of Ryan Tannehill, whenever it is he starts.
Assumptions are never safe in the NFL, especially when it comes to rookies, but let's pretend that the Dolphins grabbed the right guy at quarterback with the No. 8 overall pick. If that's the case, I say the secondary remains the biggest need.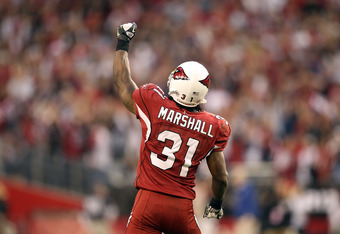 Christian Petersen/Getty Images
Adding Richard Marshall should help; he brings a level of play and versatility that is missing from the secondary. The Dolphins didn't add a single defensive back through the draft, though, and they still have a glaring need at safety. If Sean Smith doesn't return to the form of his first two seasons, they could be looking for another cornerback, too.
The Dolphins gave up a modest defensive passer rating of 83.7 despite logging 41 sacks, well above the league average. the clear area of need going forward is the secondary.
That is, unless Ryan Tannehill isn't the answer at quarterback.
Alex: Indeed, save for quarterback, the guys going up against the other team's QB need to improve as well.
Safety is a big question mark, particularly with the departure of Yeremiah Bell. While the aging veteran was simply too expensive to keep at $4.5 million, he was an excellent tackler despite being a liability in coverage.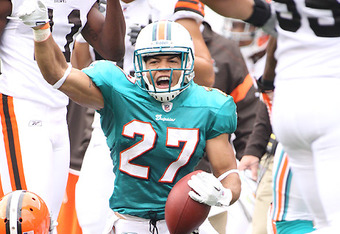 Sophomore Jimmy Wilson has been playing free safety during minicamp, which would make for an interesting development. He played well as a rookie last year—were it not for some scary legal issues from which he was eventually absolved, he may have been a high-round pick—and he might be well-suited for the position. If he can improve in his second year he could stabilize a weak position.
In reality, Richard Marshall is a better free safety than cornerback, but he would be an upgrade at nickel cornerback as well.
The attention is really on strong safety, now that Bell is out. Reshad Jones should be better there than free safety, where he was highly inconsistent. Tyrone Culver and Chris Clemons will also compete for playing time at that position.
For a position that needed improvement anyway, Miami is playing with fire with so much uncertainty and avoiding the position in the draft.
Erik: Their top-end talent at safety, or lack thereof, is rather scary.
As you mentioned, Reshad Jones was highly inconsistent at strong safety. Will sliding over to the free safety spot help him? He played the position at Georgia, and was good enough at it to be drafted, but his ability to hold down that spot is unknown as yet.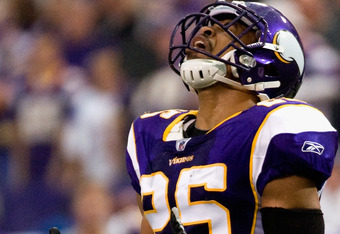 Hannah Foslien/Getty Images
I'll give the Dolphins credit for adding safety Tyrell Johnson, a free-agent who was allowed to walk by the Minnesota Vikings. If nothing else, adding Johnson creates a bit more competition at the position. Johnson's ability to contribute as a strong safety could really help the Dolphins in finding long-term answers on the back end of their defense.
I'd definitely be interested to see Wilson play some safety, too; he looked good in limited action as a rookie at cornerback, and putting him at safety is a good opportunity to give him a bit more playing time.
With so many possibilities, though, who should the Dolphins be turning to for answers at safety in Week 1? Practices haven't yet begun, but who should be getting the first-team defensive snaps at camp?
Alex: It's tough to tell what Wilson might be able to do at the position, so I will say that the starting safeties should be Jones and Marshall. Whether the coaching staff agrees with me remains to be seen, but I would wager they know more than I do.
The Dolphins may have signed Marshall to play nickel back exclusively, though, meaning the free safety spot should go to Wilson in that case. He might be raw as a sophomore, but the others have just not worked out at that position.
Erik: I think you got it right, Alex. It's all on where Richard Marshall projects in their defense. I wouldn't go so far as to say they signed him exclusively to be nickel back; he'll be on the field for a large majority of their defensive snaps. He could play a rotational nickel corner/safety role, but you still need a full-time safety if that's the case.
It really just makes more sense to have Marshall be the every-down free safety to create cohesion in the secondary. Perhaps he could be an every-down cornerback and kick inside in nickel packages, but it all depends on where the Dolphins see him as the best fit.
Putting Marshall at safety would put Sean Smith in the spotlight at cornerback again, which may not be a bad thing. He had a bad season in 2011, but his first two years were both solid. The Dolphins would be hoping for him to get back to that form if they put Marshall at safety.
Putting him at corner, however, would potentially put either Tyrell Johnson or Jimmy Wilson into that free safety spot. The issue with Johnson is the injury and whether he can return to form; with Wilson, it's simply his inexperience.
With that, though, I think it's fair to say that the strong safety spot is the biggest question mark of the secondary. At least the Dolphins have options there. What on Earth are they going to do at strong safety?
Alex: They will have an open competition between Jones, Culter and Clemons, and Jones will win.
Erik: I guess we'll have to wait and find out, but with that, it looks like our debate has drawn to a close.
I'd like to thank Alex for joining me, and we'll talk to him again real soon about more Dolphins-related topics.
For the readers, be sure to check back at the AFC East blog for daily debates on your favorite teams.