Arsenal FC: What the Appointment of Steve Bould Will Mean for Arsene Wenger
May 10, 2012

Shaun Botterill/Getty Images
Arsene Wenger has just announced that Pat Rice will definitely be retiring from his position as Assistant Manager at Arsenal FC and Steve Bould will be taking his place.
This is perhaps the worst-kept secret of the season as Arsenal continues their tradition at being the worst protectors of the truth when it comes to almost everything.
After 48 years, in one form or another, serving the badge like many serve the Gods, Pat Rice is stepping away from his position in the dugout.
Whether it be, as stated, due to health issues, simple retirement issues or time for a fresh approach from Arsene Wenger, it will be the end of an era at the Emirates.
Perhaps he's sick and tired of having to sit next to Arsene Wenger's whining once the fourth official has  managed to get Wenger to go back and sit on his Citroen seat.
Maybe he's tired of doing all the hard work on the touchlines whilst Wenger buries his head into his sleeping bag.
Whatever it is, we'll be sad to see him go, but we will be glad to usher through a new exciting period in the clubs history.
So what can Steve Bould bring to the table to freshen things up?
Steve Bould has been a loyal servant of the club himself and has been with the Gunners as player and coach for 21 years.
As coach, he has been in charge of our famous under 18 academy side and has helped them to two Premier League Academy titles (2008-09, 2009-10) and a FA Youth Cup (2008-09).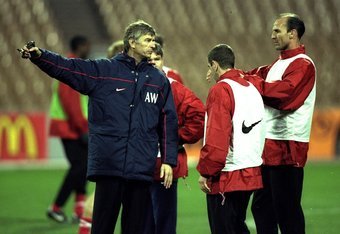 Alex Livesey/Getty Images
He has therefore worked with many of current crop of youngster in the main squad, including Keiran Gibbs and Jack Wilshere.
More famously, he was part of George Graham's famous back four and won two First Division titles (1988-89, 1990-91), the FA and League cup in the 1992-93 season and a Cup Winners Cup medal in the 1993-94 one.
Bould even managed to prolong his Arsenal career when Arsene Wenger arrived as manger and remained an important factor to the squad as he helped us to the Premier League and FA Cup double in 1998.
Due to his time as a player, he has a reputation for organization and will be outspoken if he feels issues need addressing.
As part of the famous back four, you hope that he will be most determined to make sure this promising Arsenal defence can stop leaking goals and tighten up as a defensive unit.
He has the respect and he has the authority. These are exciting times at Arsenal.
Another great coach who will be promoted on to the first team is the current reserves boss Neil Banfield.
Neil Banfield has had to look after our successful reserves team and has also managed the academy as has Bould.
With these two now put into the mix, expect to see more tactical and physical play from the Arsenal first team.
Wenger will not have it all his own way.
Follow me on Twitter: @SamuelMensahLDN