Andrew Bynum's Playoff Performance Should Spark Lakers Interest in Dwight Howard
May 10, 2012

Doug Pensinger/Getty Images
Throughout the 2012 regular season, Los Angeles Lakers center Andrew Bynum has shown moments of dominance. Bynum's had enough big moments throughout the season to make you wonder if he has leapfrogged the Orlando Magic's Dwight Howard as the NBA's top center.
But he's also had far too many moments that put a bit of doubt in your mind as to whether he will become that player or not. 
Bynum's regular-season actions have been well documented, but his playoff performance should send a red flag to Lakers general manager Mitch Kupchak, as Los Angeles needs to show renewed interest in Howard in the offseason.
Bynum's postseason numbers are certainly solid, averaging 18.0 points, 10.4 rebounds and 3.6 blocks per game, but it's the other things about him this postseason that raise doubts about whether or not he will be the premiere dominant big man in the game for an extended period of time.
First, there was the disappearance of Bynum during a Game 3 loss to the Denver Nuggets, where he went scoreless in the first half and was frustrated by JaVale McGee. Then there was the bulletin-board material he provided Denver before Game 5 when Bynum talked about close-out games being easy.
But the disturbing part about Bynum's postseason performance to date has been how easily he's lost interest on the defensive end of the floor when he's not involved on the offensive end.
If Bynum's not getting the amount of touches he feels he needs, especially early in a game, playing defense and rebounding seem to take a back seat, and that's unacceptable.
I do understand Bynum's frustration, but he must realize first and foremost that his defense and rebounding abilities are what will make him the potentially dominant force he can become. He must bring them, not on a game-by-game basis, but on a possession-by-possession basis.
Those are abilities that can't come and go.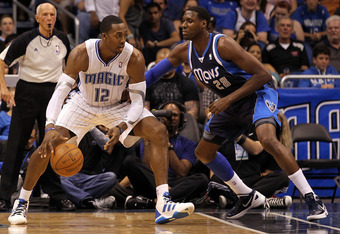 Sam Greenwood/Getty Images
Bynum's inability to do that, plus his continued immature behavior throughout the season, should make Howard a potential option for L.A. during the offseason.
Sure, the Lakers would be trading an immature center for another immature one, but once he's out of Orlando, it's likely that Howard goes back to being a guy who focuses just on playing basketball again.
I wouldn't be too concerned with Howard's back injury, as Bynum has actually been more injury prone throughout his career. On a game-to-game basis, Howard is the more reliable big.
Even though he checked himself out of a few Magic games this season, Howard was still dominant, averaging 20.6 points, 14.5 rebound and 2.1 blocks on the season.
He's still the NBA's best center and has no problem making the defensive end of the floor his top priority, winning the Defensive Player of the Year award three consecutive seasons before this year.
At 26 years of age, Howard is only two years older than Bynum, and while he's got some growing up to do as well, if Kupchak can make it happen in the offseason, Howard is the Lakers' best option going forward.