Boston Red Sox: A House Divided Against Itself Cannot Stand
May 10, 2012

Hannah Foslien/Getty Images
It is time for Ben Cherington and Co. to come to grips with harsh reality.
Though still early, the Boston Red Sox are in a tailspin, due to a multitude of factors.
Red Sox nation is also grieving after losing PA announcer Carl Beane to a tragic car accident.
At 12-18 and 7.5 games south of first place in the AL East, Red Sox leadership needs to take swift and decisive action to avoid peril.
Let me caveat by saying, it is ignorant to say ownership should blow the Red Sox up and start over via wholesale trade. This ball club has been depleted by injury more than any other team in baseball, so it is essential to avoid a knee-jerk reaction to the team's poor play thus far.
What I will say is the Red Sox need an infusion of young, hungry, exciting ball players who can feed off Dustin Pedroia's scrappy, get-down-and-dirty play on the field.
Will Middlebrooks is a nice start, but Red Sox fans deserve better.
About a week ago, I wrote a piece about phenom shortstop Jose Iglesias' bat heating up at Pawtucket.
Since that time, Iglesias has not slowed down. He has six multi-hit games in the last 10 games. Since April 30th, Iglesias is hitting a whopping .444. He has raised his average nearly 50 points.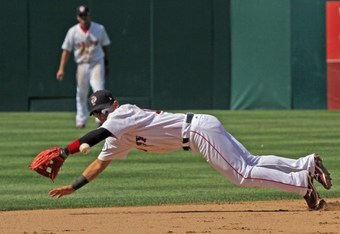 Given consistent playing time, Iglesias has an opportunity to energize this ball club with spectacular defense.
While it is still too early to anoint Iglesias this generation's version of New York Yankees legend Derek Jeter, this young man nonetheless brings a level of excitement to the shortstop position that Boston has not seen in a long time.
I will also say, Red Sox manager Bobby Valentine needs to dig deep and find a way to unify the veteran core of players on this team.
There seems to be serious, potentially corrosive things going on in the Red Sox locker room. Whether it's veteran resentment, egos at play and/or frustration with injury and losing, it is obvious things are not clicking in Beantown.
The core of veterans on this ball club are champions. They are competitors. They know what it takes to win.
For Valentine, losing these men will not only make life uncomfortable for Middlebrooks and Iglesias, but it could also make for a long baseball season in Boston this year.
For as the great Abraham Lincoln once said, "A house divided against itself cannot stand."
The Red Sox are no exception to this rule.
If there are veteran players in the locker room who no longer wish to be on the Red Sox, oblige them.
Positively speaking, the season is still early and the AL East is more of an enigma than at any other time in recent history.
Should the Red Sox turn things around, it will make for the ultimate black and blue division in baseball.
With teamwork, resolve and humility Red Sox nation will rise from the ashes of tragedy to enjoy victory.
Associated Articles: Boston Red Sox: Why 2012 Ball Club Will Be Alright