NL Worst of the Night: Kyle Kendrick's Late-Inning Implosion Dooms Phillies
May 10, 2012

Hunter Martin/Getty Images
Highlighting a bad performance from the previous night in baseball might seem like a harsh way to start the morning. But look at it this way: If you had a rough night or bad day, here's someone who may have had it worse.
May I begin by saying how excited I am about today's "Worst of the Night" post? Because this will be the first time we've had a repeat winner. Or loser, as it were.
There were other candidates from Wednesday night in the National League. Matt Kemp went 0-for-5 in the Los Angeles Dodgers' 6-2 win over the San Francisco Giants. That dropped his batting average back below .400 after briefly getting over that mark for a couple of games.
Also, Donnie Murphy of the Miami Marlins went 0-for-6 and left five men on base in a 5-3 victory over the Houston Astros. That's probably the last time Ozzie Guillen decides to give Omar Infante the night off. (Infante ended up with the game-winning, two-run single in the 12th inning.)
And we should have some sort of team designation for the Milwaukee Brewers, who wasted an outstanding effort from Zack Greinke. Greinke allowed just two hits over eight shutout innings, also striking out 11 Cincinnati Reds. Yet in the ninth, John Axford allowed three two-out hits, resulting in two runs and an eventual 2-1 loss.
Most nights, any of these three would be excellent candidates for NL Worst of the Night honors. (Though I'd probably lean toward giving Kemp or Murphy a pass since their teams won, to be honest.)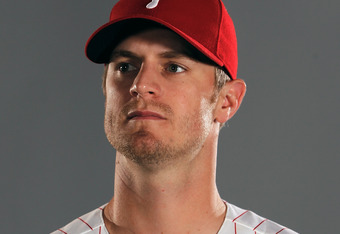 Jonathan Ferrey/Getty Images
But Kyle Kendrick's late-inning meltdown in the Philadelphia Phillies' 10-6 loss to the New York Mets makes him our returning champion.  
Kendrick took over for Cliff Lee in the seventh, with the Phillies holding a 4-2 lead. He then lit himself on fire (figuratively speaking, of course), putting the first four batters he faced on base.
A leadoff walk to Kirk Nieuwenhuis began the steamroller. That was followed by an RBI double from Justin Turner. Ike Davis, who hasn't hit anything lately, then hit another double. Up next, Kendrick walked the No. 8 hitter, Rob Johnson, to load the bases. 
Alertly sensing that Kendrick might be vulnerable, Mets manager Terry Collins pinch-hit Lucas Duda for Tim Byrdak. Kendrick then hit Duda with a pitch, bringing in the game-tying run. 
You can see the hit-by-pitch here.
The Mets took the lead on an RBI groundout from Andres Torres. But Kendrick briefly calmed the flames by getting Daniel Murphy to hit into an inning-ending double play. Hey, the sinker worked!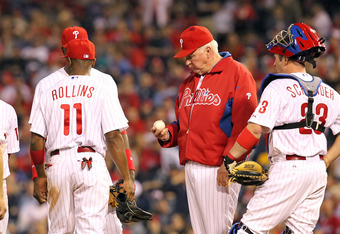 Hunter Martin/Getty Images
Amazingly, Phillies manager Charlie Manuel sent Kendrick out for the eighth inning. Still reeking of gasoline, he proceeded to serve up back-to-back doubles to David Wright and Scott Hairston, giving the Mets a 6-4 lead. That ended Kendrick's night.
To sum up, Kendrick faced nine batters and got three outs. (He arguably only really got two batters out, since one hit into a double play.) He allowed five runs (Hairston later scored on a home run by the suddenly revitalized Davis), four hits, two walks and hit one batter. 
That implosion earned Kendrick NL Worst of the Night honors for the second time in two weeks. I'm sure he doesn't want congratulations for that.
By the way, if you're keeping count (and someone has to), Kendrick has allowed 16 runs in his last 15 innings.
During that stretch, he's given up 27 hits, three homers and six walks. His past four appearances have tagged him with three losses and a blown save. I have no idea if we'll be handing any Worst of the Year designations, but if so, Kendrick has to be one of the early favorites for that award.  
Again, don't congratulate him. 
Follow @iancass on Twitter