NBA Playoffs 2012: 6 Reasons Why Memphis Grizzlies Trail in Series vs. Clippers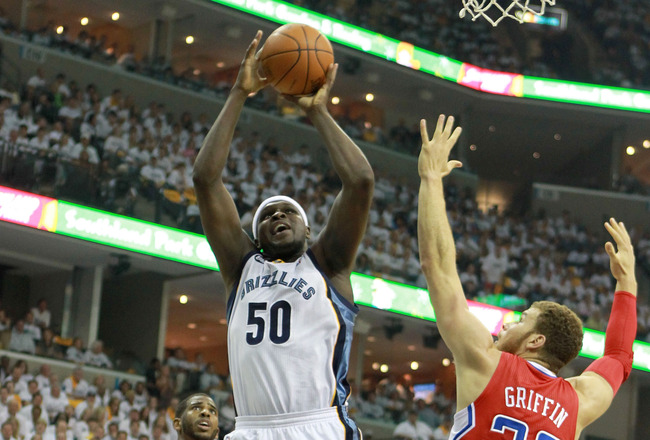 Andy Lyons/Getty Images
The Memphis Grizzlies breathed new life into their effort in the series against the Los Angeles Clippers by beating them in Memphis on Wednesday. Marc Gasol and Zach Randolph both had their best game of the series. Tony Allen was an effective defensive presence. Also, the Grizzlies hung onto the lead.
Grizzlies fans must wonder where this spirit was earlier in the series when the Grizzlies were blowing leads and leaking points on defense.
These are just a few of the reasons why the Grizzlies are behind—but not out—in the series against the Clippers.
Several factors are holding the Grizzlies down in the series.
The following is a breakdown of why the Grizzlies are down in the series 3-2 against the Clippers.
Leaky Defense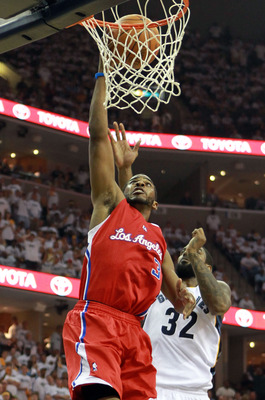 Andy Lyons/Getty Images
A major reason why the Grizzlies are behind in the series is that their defense has given up more points than they can keep up with. They've allowed 98 or more points per game, three times. In three of the first four games, the Grizzlies allowed 110 points or more per 100 possessions.
The Clippers shot much too well in the first three games of the series. They shot 50 percent from the field in Game 1, 56.7 percent in Game 2 and 47.1 percent in Game 3.
In Game 4, the Grizzlies held the Clippers to a manageable 44.7 percent from the field, but couldn't keep them from scoring 101 points via their 113.6 points per 100 possessions for the game.
Game 5 was a defensive testament for the Grizzlies. They allowed a mere 80 points on 37.1 percent shooting.
The Clippers didn't manage to score 25 points in a quarter.
If the Grizzlies can keep the Clippers from putting up a high number of points, they can claw their way back and perhaps win the series.
Not Enough Steals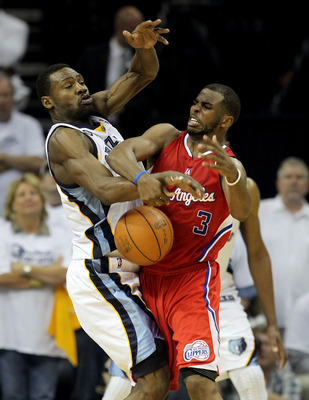 Andy Lyons/Getty Images
The Grizzlies thrive off stealing the ball and pushing it in transition. They led the league in steals per game. Three Grizzlies players averaged 1.5 steals or more per game, and five averaged at least one steal per game.
In this series, the Grizzlies haven't ripped up the Clippers for many steals. In Games 1 and 4, the Grizzlies had three and two steals, respectively. In Game 5, they picked up a quaint six.
On the other hand, the Grizzlies showed their teeth in the two other games by rolling up steals left and right. In Game 2, they picked up 12 steals to aid the victory. In Game 3, they had 10 to keep the Clippers to a low-scoring total of 87.
Grabbing steals is a major part of the Grizzlies defense. Mike Conley and Tony Allen play the ball aggressively. Allen hasn't been successful much of the series. He had two steals on Wednesday to push his series total to five. Conley has only three on the series.
This largely comes from playing against a highly efficient point guard in Chris Paul. Paul had a 4.1 assist-to-turnover ratio in the regular season.
If the Grizzlies can crack Paul's method and force him to commit turnovers, they could bring themselves closer to winning the series. Their intense perimeter defense brought them to the No. 4 spot in the playoffs, and it might be able to lift them late in the series.
O.J. Mayo's Poor Shooting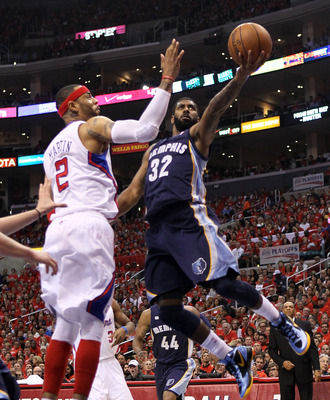 Stephen Dunn/Getty Images
The Grizzlies need O.J. Mayo to sharpen his shooting focus. He's not taking good shots, and he's missing far too many field-goal attempts.
Mayo is shooting poorly from the field, hitting only 29.2 percent. In only one game to this point has he hit at least 40 percent of his shots. In each of the last three games, Mayo has made just one shot while missing five or more.
In the first two games he was a significant scorer. He hit four three-point attempts en route to 17 points in Game 1. In Game 2, he shot his way to scoring prominence for the night, going 6-of-16 from the field and 6-of-6 at the free-throw line and finishing with 20 points.
The Grizzlies benefited from significant scoring in the regular season from Mayo, their No. 4 scorer. He was their only reliable scorer off the bench most of the season.
The Grizzlies can sometimes make up for lost scoring by plugging it in somewhere else. In Game 3, Quincy Pondexter made up for the lost scoring, putting up 11 points, although all of those points came in the first half.
Since then, the Grizzlies haven't found much bench scoring from anyone. No one scored double figures off the bench for the Grizzlies in Game 4 or 5 as Mayo normally does.
The Grizzlies need Mayo to heat back up. They rely on him to keep the offense going while scorers from the starting unit rest. Furthermore, they need the instant offense and aggressiveness that Mayo provides.
Quiet Play from Marc Gasol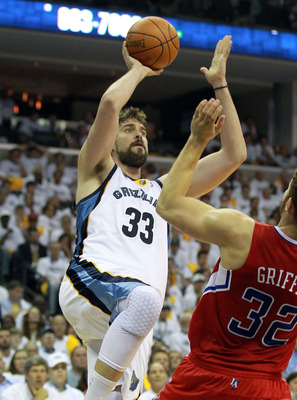 Andy Lyons/Getty Images
Marc Gasol didn't have much of an impact in the first four games of the series. He averaged 10.3 points and 6.5 rebounds per game in the first four games. He only managed eight or more rebounds once and more than 12 points once in the first four games. He did rack up blocks, knocking away eight shots in those games.
His impact was small enough that Ron Tillery of The Commercial Appeal wrote on Wednesday before the game, "He's not a factor. He's not scoring. He's not rebounding. He's not defending. He's fouling. ... He's been passive and easily taken out of this series."
Gasol certainly responded to the notice in the headline of the blog ("Missing: Marc Gasol. Reward: A Series Win If Found"). He charged away for a solid game, totaling 23 points, seven rebounds, four assists and a block. Gasol shot 8-of-14 from the field and 7-of-8 at the free-throw line.
The Grizzlies will need Gasol to keep it going the rest of the series to push it to seven games and perhaps win the series. Gasol is a big, sturdy presence in the post. When he's effective, his shots are tough to defend.
Rudy Gay's Decision-Making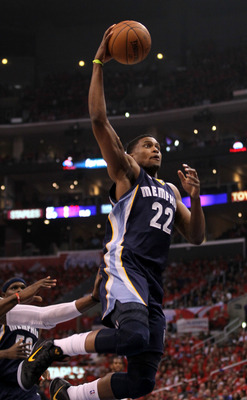 Stephen Dunn/Getty Images
Grizzlies fans would surely have trouble describing Rudy Gay's decisions during the series as anything more than troubling. Gay took game-ending shots in Games 1 and 3, missing both. In Game 1, the Grizzlies had various looks. Gay could have passed it off to Marc Gasol, but declined and decided to take a difficult shot.
In Game 3, the Grizzlies were running fast in the final seconds, and Gay put up an ill-advised three-point attempt. He could have taken an easier shot or passed it inside to an open Gasol.
Instead, he took what Lionel Hollins said in the postgame press conference was the shot that didn't have to be taken.
Then, in Game 4, Gay went much too hard, taking 25 field-goal attempts and making just eight. He also hit only 1-of-6 three-point attempts. While he did finish with 23 points, it was an inefficient 23.
Gay did a bit better in Game 5, hitting 6-of-14 field-goal attempts, including four of his last eight.
He'll have to select good shots and make good decisions, especially in the clutch. The Grizzlies could be counting on their leading scorer to do just that.
Chris Paul Has Succeeded Too Often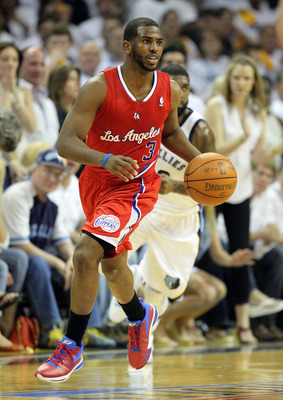 Andy Lyons/Getty Images
Chris Paul has been big for the Clippers this series. He's averaging 22.6 points, 7.8 assists and 2.8 steals per game in the series. He's shooting a nice 46.9 percent from the field.
The Grizzlies have struggled to stop Paul. He had 11 assists in Game 1, including six in their fourth-quarter comeback. In Game 2, he scored 29 points on 10-of-17 shooting. In Game 3, he had 24 points and 11 assists. Game 4 saw him put up 27 points, nine rebounds and seven assists.
Finally, the Grizzlies slowed him down a bit in Game 5. Paul scored 19 points to go with just four assists. Indeed, he did have four steals.
The Grizzlies showed in Game 5 that they may be able to contain Paul. Doing that would bring Memphis a long way towards winning the series.
Keep Reading

Memphis Grizzlies: Like this team?