NBA Playoffs: Why Stan Van Gundy Should Remain Coach of the Orlando Magic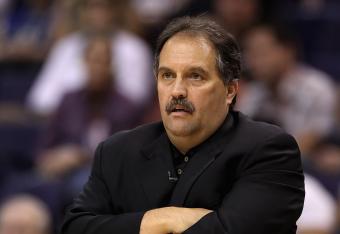 Christian Petersen/Getty Images
Based on the standards of the last 4 or 5 seasons of Orlando Magic basketball, one would be hard pressed to consider the 2011-2012 campaign a success following their recent first round exit.
However, we have to remember that Orlando's best player Dwight Howard went down with a back injury with about 15 games to play, causing Orlando to lose their first-round home court advantage as well as their most important piece come playoff time.
The result? A short 5-game series full of heartbreaking moments to an up-and-coming Pacers squad.
One of the biggest headlines during the season for the Magic was the future of head coach Stan Van Gundy. Many people across the basketball world are going to be calling for him to get fired, especially considering the clash of personalities he experienced with Howard over the past several months.
I am here to say that it is in the best interest of the franchise to retain Van Gundy as head coach.
Why?
Van Gundy has led the Magic to a top 5 NBA record combined over the past 5 years. He has led his team to playoff berths in every season, including two trips to the Eastern Conference Finals and one trip to the NBA Finals.
Many credit the NBA Finals berth to the play of Dwight Howard, which is well deserved, but in reality that team had no place being in the NBA Finals. Van Gundy milked everything he possibly could out of a squad that was thrown together at the trade deadline in response to Jameer Nelson's injury.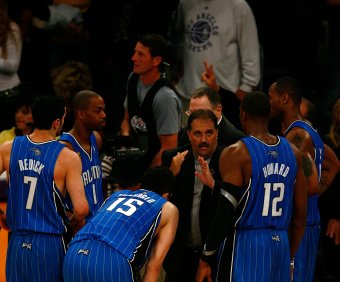 Jeff Gross/Getty Images
What's really impressive is the defensive statistics that the Magic have produced over Van Gundy's time there. I'm aware that Dwight Howard was three-time defensive player of the year during that period, but you have to take into account the type of defensive players around him.
Hedo Turkoglu and Rashard Lewis were never people known to move their feet very fast yet he got them to buy into defensive schemes which is what truly propelled Orlando to the NBA finals.
The following season, Van Gundy worked a miracle and even got well-documented slacker Vince Carter to start on a team which ranked 1st in defensive efficiency.
Van Gundy's most recent accomplishment?
Coaching the Magic to the third-best record in the Eastern Conference, prior to Dwight Howard's injury, even amidst all the hoopla surrounding the Howard trade saga and the public rumors that Howard wanted Van Gundy out as coach.
In the playoffs, the Magic battled more than most analysts thought they would. They stole a game in Indiana, only to lose the series four straight games. Still, the Magic lost one of those in overtime, a game in which a Van Gundy coaching move (putting Hedo Turkoglu at the power forward for the fourth quarter) rallied the Magic from 19 points down in the 4th quarter to force overtime.
In addition, Orlando was close in every loss until the 4th quarter, attributing to the fact that Indiana's only big edge was their superior depth due to the lack of Dwight Howard in a Magic uniform.
Should the Magic keep Stan Van Gundy?
Overall, Stan Van Gundy has done everything you could have asked him to do over the course of his Magic career. A finals appearance, 100% on playoff berths, great defensive teams, and a team that managed to consistently be one of the top in the NBA with only one star on the roster.
Stan Van Gundy is a great NBA coach, and anybody who argues otherwise hasn't looked at the statistics. Sure they haven't won a championship, but Orlando has done just about everything else under Van Gundy, even with a management who refused to put a second star around Dwight Howard.
Hats off to you, Stan.
This article is
What is the duplicate article?
Why is this article offensive?
Where is this article plagiarized from?
Why is this article poorly edited?

Orlando Magic: Like this team?