NHL Playoffs 2012: Ratings, Money, and Empirical Data Say Violence Will Continue
May 10, 2012

Jonathan Daniel/Getty Images
"If the question is about sports," television executive Don Ohlmeyer once said, "the answer is money."
Succinctly and eloquently, Ohlmeyer may have provided the answer to why this year's NHL playoff violence seemingly goes unabated.
Early returns show that cable television ratings for the first round were the highest in over 10 years, with NBC reporting that they were up over 50 percent from last year. In fact, they were the best first-round numbers ever. Granted, 32 one-goal games, and 16 overtime games made for compelling television, but don't discount the violence that has led to a record number of suspensions and penalties.
"The hockey has been good—playoff hockey usually is—but the jump in ratings is attributable to one factor, and one factor only: violence," wrote Yoni Goldstein of the Huffington Post recently. When it comes to television, ratings translates to one thing only—money. While hockey fans applaud the fact that their sport has enjoyed a boost in popularity, purists find this year's "style" of hockey distasteful, and bemoan the questionable application of the rules by on-ice officials.
"The NHL has been terribly inconsistent when it comes to doling out discipline of late," wrote Sarah Spain of ESPN-W, "particularly during this postseason." The point is well taken when one considers that the most notorious hit of the playoffs—Raffi Torres' malicious hit on Marian Hossa—was not even called a penalty at the time.
It's an opinion shared by others who follow the sport. "Inconsistency in disciplinary action is one issue," wrote ESPN-W's Melissa Jacobs. "The far greater issue, though, is the flat-out-acceptance of fighting in hockey."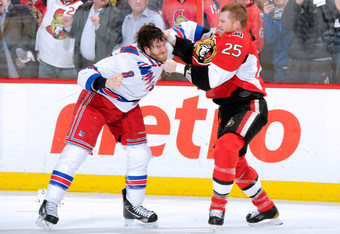 Richard Wolowicz/Getty Images
A common excuse says that so-called "chippy" play and infractions that go uncalled by the referees is what causes NHL players to become frustrated. This frustration then leads to aggression, which manifests itself in overt violence such as "goonery" or fighting.
Psychological research seems to bears this out, as evidenced by the conclusions drawn by Leonard Berkowitz of the University of Wisconsin-Madison. In 1987, Berkowitz noted that "there is good reason to think that decidedly unpleasant feelings evoke an investigation to aggression, and that this negative affect is the source of whatever aggressive inclinations are produced by frustrations."
Translation: feelings of frustration lead to aggressive behavior. When added to urgency of NHL playoff hockey, the stress level is multiplied. 
For years, the standing belief is that fighting was somehow cathartic, and that by engaging in fisticuffs the players' frustration would be dissipated. Consequently, it was believed, fighting lowered aggression and helped to prevent occurrences such as the Torres-Hossa disgrace, or other such incidents that have marred this year's NHL Playoffs.
An eloquent theory, but completely fallacious.
Empirical data published by Dr. Brad Bushman of the University of Michigan suggests that rather than lowering feelings of aggression, "venting to reduce anger is like using gasoline to put out a fire—it only feeds the flame. By fueling aggressive thoughts and feelings, venting also increases aggressive responding."
In other words, violence begets more violence, because it becomes the automatic response to stressful conditions. "If the act of venting becomes repeated, it risks becoming a habit—a bad habit," Bushman concluded.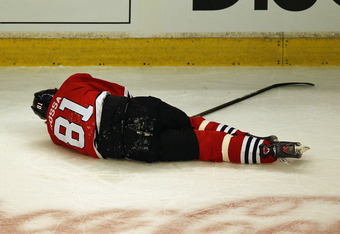 Jonathan Daniel/Getty Images
The rise in this year's playoff  violence has led to concerns about player safety—most notably, concussions—and has some wondering if the league has, in fact, lost control of the situation. Damien Cox of the the Toronto Star recently opined that "Department of Player Safety boss Brendan Shanahan...increasingly seems completely overmatched by the task he's been given."
The NHL must now walk a fine line between profits and protection, particularly in regards to the abundance of concussion injuries. "[T]he NHL's commitment to limit concussions is either full-time," says Jim Litke of the Associated Press, "or it's not. The league knows the difference, but it also knows that pandemonium on the ice is a lot easier for plenty of viewers to follow than a puck. Sold-out arenas and through-the-roof TV ratings across the board...are a testament to that."
Sadly, this year's NHL Playoffs seem to be proving that Don Ohlmeyer was right.