NBA Free Agency: 6 Free Agents Who Have Increased Their Value in the Playoffs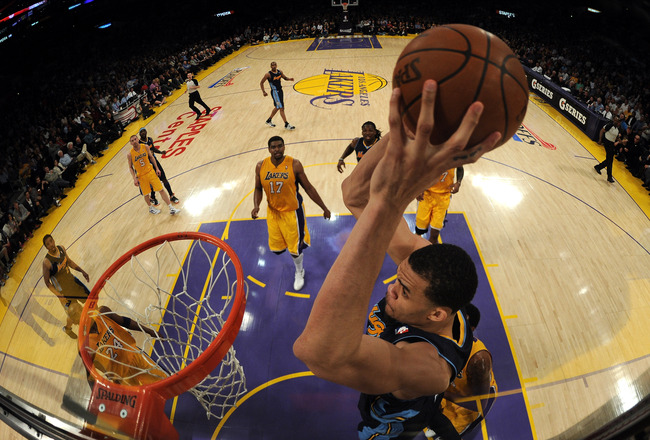 Harry How/Getty Images
Free agency: It is often a player's goal to reach this stage in their career. Instead of them desperately trying to make an NBA team, it is the NBA teams desperately offering them money for their services.
But, money doesn't fall from trees, as the old cliché goes. The players who put in the hard work and showcase their true talents will end up reaping huge amount of cash in the offseason.
And what better place to showcase your talents for the world to see than the NBA playoffs? You can bet that GMs and coaches from teams all around the league are closely following the performance of potential free agents in the playoffs, and you can also bet that those free agents are giving 110 percent effort, knowing that a good postseason might lead to a ton of cash later on.
Who are those lucky free agents who will increase their value in the NBA playoffs?
Read on to find out.
Jameer Nelson, Orlando Magic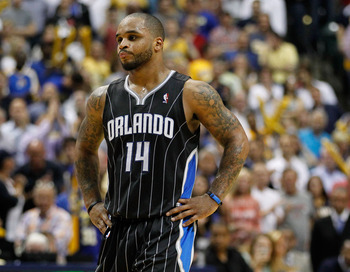 Gregory Shamus/Getty Images
Jameer Nelson's Magic may have been eliminated from the playoffs, but Nelson is still very much playing the game of free agency. He has a player option for 2012-2013, and will be an unrestricted free agent if he declines it.
Nelson's stats were decent during the regular season, often deferring to Dwight Howard: 11 ppg to go along with 5.9 assists on 42 percent shooting.
In the playoffs, without Dwight, Nelson really stepped his game up, averaging 16 ppg, including a 27-point outing in a losing effort.
Nelson can either sign his player-option worth $7.8 million or test the market. Whatever the case, Nelson will go into next season with a few extra bucks in his bank account.
Roy Hibbert, Indiana Pacers

Roy Hibbert Denies Glen Davis in the 2012 playoffs.

At just 25 years of age, Roy Hibbert has developed into one of the best centers in the league. He is known best for his defensive game, but still averaged 12.8 ppg during the regular season.
However, his strength is blocked shots. His two blocks per game during the regular season suddenly doubled to four during the postseason. To be precise, that's 19 blocks in just five games.
Hibbert is a cross between Hakeem Olajuwon and Dikembe Mutombo—he blocks shots like Dikembe, but has the scoring touch of Hakeem.
Hibbert is a restricted free agent, but due to the number of offers that could be headed his way, there is no guarantee that he will stay in Indiana.
Javale McGee, Denver Nuggets

Javale McGee dunks on the Lakers.

Javale McGee may be frustrating and hard to coach at times (video), but when he puts his mind to it, McGee can be dominant.
Traded to the Denver Nuggets before the trade deadline, McGee has attempted to reinvent himself as a consistent power forward who does not make dumb plays. He is a work in progress, but he has also shown improvements.
Take, for example, his outstanding performance in a Game 5 elimination match against the Los Angeles Lakers:
McGee was more impressive than his Lakers counterpart for much of the Nuggets' 102-99 victory in Game 5 on Tuesday night at Staples Center, repeatedly dunking over Andrew Bynum on the way to 21 points on nine-for-12 shooting. The 7-footer also snagged 14 rebounds and had a key block of a Pau Gasol dunk attempt in the final minutes.

-Ben Bolch, L.A. Times
If he can play with this kind of mindset every game, there is no question that Javale McGee will put up big numbers in this league.
Even with his inconsistency, McGee is set to earn a big payday this offseason. He is a restricted free agent, and will likely test the market.
Ray Allen, Boston Celtics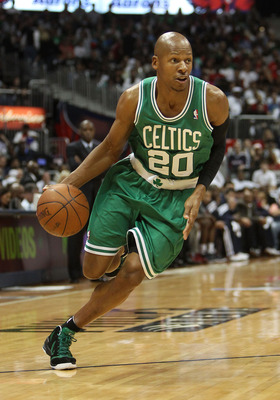 Mike Zarrilli/Getty Images
Ray Allen has really nothing left to prove. His shooting touch alone will get him a decent short-term deal, not to mention his veteran leadership and experience.
During the playoffs, he has averaged 13.3 ppg, and will certainly look to increase his production as the Celtics endeavor to make another deep playoff run.
Allen is an unrestricted free agent, and there is no doubt that a lot of teams will be interested in his services.
Andre Miller, Denver Nuggets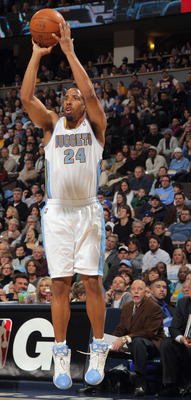 Doug Pensinger/Getty Images
Andre Miller always seems to step it up during the playoffs—whether it is with his defense, scoring or clutch free-throw shooting. This postseason has been no different.
His veteran leadership and calm presence at the point guard position will be highly sought after during the offseason, as Miller is an unrestricted free agent.
Any contender looking for a veteran point-guard will surely go after Miller.
Spencer Hawes, Philadelphia 76ers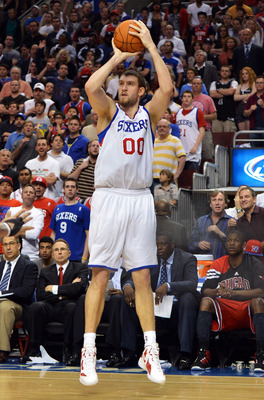 Drew Hallowell/Getty Images
Like Roy Hibbert, Hawes is a big man who will look to get a similar deal.
Hawes averaged nine ppg and seven rebounds during the regular season, but has come up huge for the Sixers in the playoffs.
Hawes had 22 points and eight rebounds during the Game 3 win. This came after a 21 point performance in Game 2. It is clear that his move back into the starting lineup has helped his game. After scoring just seven points in the first two games, Hawes has 43 in the last two. He has done this by converting on 16 of 26 field goal attempts in the two home games. He has 17 rebounds in the two games as well. He is the biggest reason why the team was successful in Philadelphia.

-Mark Paul, Yahoo Contributor Network
Hawes is an unrestricted free agent, so look for him to sign a lucrative long-term deal.
Keep Reading