Who Will Be a More Successful Big Leaguer: Domonic Brown or Trevor May?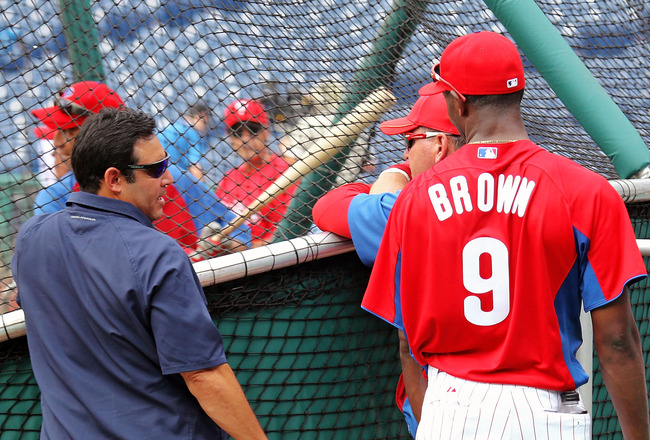 Len Redkoles/Getty Images
The Phillies have had their share of farm system success stories over the years. Pat Burrell, Cole Hamels, Ryan Howard, Scott Rolen, Jimmy Rollins and Chase Utley all rose through the minors to become successful and productive Phillies at some point.
On the other hand, there have been some guys who just didn't pan out, or never really got their shot with the Phils. Gavin Floyd (with the Phillies at least), Greg Golson, Scott Mathieson, Mike Costanzo, etc.
The verdict is still out on uber-middle-relief prospect Mike Schwimmer. JK, he should not be anywhere near a close game, ever.
The Phillies have also had their hits and misses with announcing prospects, like Scott Franzke (not highly rated on Announcing America's top 100 list; overachieved; the Vance Worley of announcing) and Chris Wheeler (bust, huge bust, please check the Chris Wheeler glossary, it's hilarious).
Domonic Brown (2011) and Trevor May (2012) have been the Phillies' top-rated prospects the past two seasons. While predicting the success of minor league players in the major leagues is far from an exact science, I am going to predict with 100 percent guaranteed accuracy which player will have a more successful big league career.
Yup. Just watch me, haters.
A Bit About Domonic Brown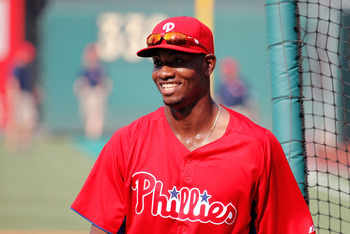 Len Redkoles/Getty Images
For those of you unfamiliar with the athletic wonderboy that is Domonic Larun Brown, he is a 24-year-old outfielder for the Triple-A Lehigh Valley Ironpigs. Drafted in the 20th round of the 2006 draft by the Phils, Brown was rated the No. 4 prospect in all of baseball by Baseball America before the 2011 season. Needless to say, big things were expected of him.
By and large, Brown has not lived up to the hype to this point. In 246 career at-bats with the big league club, he has hit .236 with seven home runs. He has been plagued by injuries the last couple of springs. In fact, even though he did pretty well this spring (.300 average), he didn't get enough at-bats to prove he belonged due to a neck injury.
Brown had been touted as a five-tool player in the past (he's an incredible athlete, as he was actually recruited to play wide receiver at the University of Miami), but he has seemed to regress when he's been sent down to the minors the last couple of seasons.
It also hasn't helped that the front office hasn't shown much confidence in Brown. While he has only hit .236 in his major league career so far, 246 at-bats are hardly enough to let him develop. The front office also shows no confidence in Brown by leaving him down in the minors while the Phillies' offense continues to be pathetic, lacking any sort of a spark.
You're telling me they couldn't use a promising young hitter with a ton of potential right now? How much more of John Mayberry Jr. and his .224 average, three RBI and zero home runs does Amaro need to see before Brown gets a shot? No respect.
A Bit About Trevor May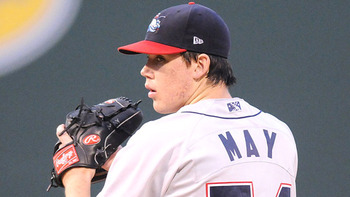 Trevor J. May is a 22-year-old right-handed pitcher who was drafted in the fourth round of the 2008 draft by the Phils. We know May can pitch, but the question remains: What does the J stand for?
Is it just for J, like Harry S. Truman? Is it for the phonetic Jay? Is it for something embarrassing like Jenna? Frankly, I'd prefer not to know. I think it adds to May's mystique, and thus I will not research it further.
May is currently the top prospect in the Phils' farm system according to Baseball America (Brown no longer qualifies), and was rated the No. 69 prospect in all of baseball entering the 2012 season.
May has a prototypical, workhorse build for a starting pitcher. At 6'5" and 215 pounds, he's an imposing presence on the mound. According to Phillies Nation, he throws a mid-90s fastball, a biting curveball and a constantly improving changeup.
Currently with Double-A Reading, May has compiled some pretty good minor league stats in his young professional career. He is 5-1 with a 3.09 ERA through 6 starts this season, and has a very impressive career K/9 of 11.7.
With the pitching staff that the Phillies have right now, there's pretty much no way I can see May getting rushed to the majors anytime this season. With Halladay, Lee and Worley pretty sure to be around for the next handful of seasons, a lot will depend on whether the Phillies decide to re-sign Cole Hamels or not. If not, there may be a void in the rotation next season that would necessitate Trevor May taking over as the fourth starter.
Photo Cred: phightingon.com
The Verdict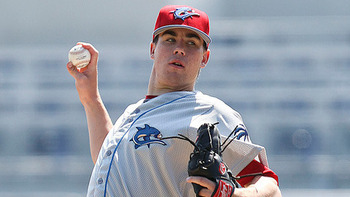 Well, it's not so clear cut.
I've been a huge Dom Brown supporter the past couple of seasons. However, if Amaro can't find it in himself to call Brown up when the offense is this bad, I'm not sure he'll ever get a real shot with the Phillies.
I think Brown has a really bright future if he can somehow make it back to the majors before he's 40, but I also kind of think that Ruben Amaro Jr. is content to just let Brown's career rot in the minor leagues; in my opinion, that's the wrong move. And it's a real shame.
As for May, I think he'll have a great shot to develop at the major league level next season.
If the Phillies continue to struggle throughout 2012, I don't know if Amaro will be able to re-sign Cole Hamels. With so much money already committed to so many players on what may turn out to be a losing team, I just don't know if you can sink another $150 million into a player who might be your third starter for the next couple of seasons.
If the Phillies finish out of contention, it may be time to start rebuilding (or at least remodeling) a bit, and May would almost definitely be in the rotation in 2013.
Even if the Phillies do sign Hamels, May will likely be in strong contention for the fifth spot in the rotation next spring. Entering 2013 at 23 years old, May would have a chance to learn from Roy Halladay, Cliff Lee and possibly Cole Hamels. With such accomplished mentors, and without the pressure of having to be the No. 1 ace early in his career, he should develop into a very strong pitcher.
Considering all the doubt surrounding Domonic Brown, the lack of confidence that the Phillies management has shown in him and the fantastic situation that Trevor May will likely find himself in next season, I would have to say that I think Trevor May will be a more successful big leaguer than Domonic Brown.
Photo Cred: milb.com
Keep Reading

Philadelphia Phillies: Like this team?