Harrison Barnes : Highlights, Analysis and Pro Projections
March 18, 2017
Dilip Vishwanat/Getty Images
Harrison Barnes will be a solid player in the NBA, but he'll never be a star. Though Barnes helped to lead his North Carolina Tar Heels to the Final Four this past season and is a competitor, he isn't the alpha male teams may want to lead their franchise.
In a solid sophomore campaign, Barnes averaged 17.1 points and 5.2 rebounds per game. He could have come out for the draft after his freshman season, but he chose to return to Chapel Hill. That could have hurt his draft position as the 2012 draft looks stronger than the 2011 draft.
Barnes made himself eligible for the NBA Draft on March 29 along with Tar Heel teammates Kendall Marshall and John Henson.
Though he is still highly thought of, Barnes rates beneath Michael Kidd-Gilchrist of Kentucky on ESPN analyst Chad Ford's small forward rankings. I would agree with that.
Here is a scouting report on Barnes, highlighting his strengths and weaknesses. 
(Height, weight and stats per statsheet.com)
Kevin C. Cox/Getty Images
Profile:
Height: 6'8" 
Weight: 215 pounds 
School: North Carolina
Date of Birth: May 30, 1992
Best NBA Position: Small Forward
College Stats: (Key Stats Underlined) 17.1 PPG, 29.2 MPG, 44 FG%, 35.8 3FG%, 72.3 FT%, 1.1 APG, 5.2 RPG, 0.3 BPG, 1.1 SPG
Skill Grades:
Athleticism - B+
Size - A
Intangibles - B-
Rebounding - B
Ball Handling - B
Defense - A
Shooting - A
Passing - B+
Post Game - B
Basketball IQ - A+
Upside - B
Strengths:
Barnes has prototypical height and weight for the small forward position, and there shouldn't be a small forward in the NBA he isn't capable of physically matching up with.
But his best quality in the NBA will be his ability to shoot from distance.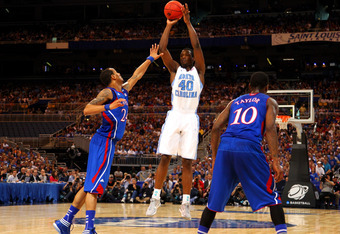 Dilip Vishwanat/Getty Images
He shot 35 percent from three-point range and this is a skill that will be attractive to most teams. He also has a great grasp of the team concept and always makes the right basketball play.
He has a strong upper body, so he is built to drive and finish with contact. His mid-range game is perhaps the best in the draft, and he is great at taking and making the pull-up jump shot from 15-feet.
Barnes is also a willing and capable defender. He has the size, quickness and strength to defend on the perimeter and against most wing players in the post.
Barnes' fundamentals and skills are on display in this highlight reel:
This kid is smart, disciplined and focused. He'll be a solid teammate and player on an NBA team.
Weaknesses:
Barnes is a bit of a stiff and mechanical athlete. It doesn't effect him as a slasher or as a defender, but his one-on-one skills don't have a ton of misdirection. Because of this, I see him as more of a spot-up shooter or slasher in the NBA.
Most of all, Barnes is what I call a trap player. When you look at him you expect a superstar, but he doesn't have that type of presence. He is not a No. 1 option or a go-to guy down the stretch—unless it's a penetrate and kick situation from his point guard.
If teams aren't expecting Barnes to create his own shot and carry an offense, they won't be disappointed.
But anyone expecting a true star may want to reassess their evaluation of him. 
NBA Player Comparison: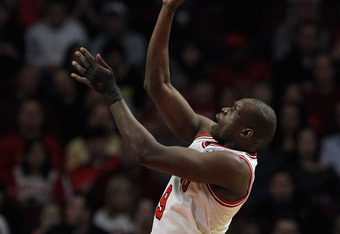 Jonathan Daniel/Getty Images
Slightly More Athletic Luol Deng
Deng is an excellent complimentary player, but he isn't a No. 1 option. His game is very system-based and he doesn't excel at improvisation; Barnes is the same type of player. This can obviously still be a valuable member of a good team; Deng's vital role in the Bulls' success over the past two seasons is evidence of this.
Deng made his first All-Star team this season and he has averaged 16 points and six rebounds in his eight-year career.
But there have been times in Deng's career that he has been criticized for not living up to his potential. You don't hear those criticisms as much now, because he has the benefit of playing off Derrick Rose and Carlos Boozer.
Barnes will need a similar team if he is to maximize his talents in the NBA. He does possess a little more athleticism than Deng, but I think what they bring to the table on a whole is similar.
Draft Projection:
From No. 4 to No. 8
Follow Brian Mazique and Franchiseplay.net for reactions, analysis and news from the world of sports and sports Video Games