2012 NBA Mock Draft: The 5 Most Exciting Players in Round One
May 9, 2012

Jeff Gross/Getty Images
Although we have some idea of what the 2012 NBA Draft order will look like, we can't know for sure until after the draft lottery.
What we do know, however, are the draft prospects available for teams to call upon. Some future NBAers will draw more attention than others, but every team will look to add value via the draft.
Let's break down five of the most exciting players prior to a first round NBA mock.
1. Anthony Davis, Kentucky
I'd be remiss if I didn't lock in Anthony Davis as the most exciting player in the draft. He's a lock to be taken first overall by the Charlotte Bobcats (or any other team if the Bobcats fall out of first place in the draft lottery).
The athletic power forward has the ability to change games through his defense. He averaged an astonishing 4.7 blocks per game last season to go with 14.2 points and 10.3 rebounds per game.
With the back injury to Dwight Howard, Davis has even been seen as a candidate for the USA Basketball team this summer at the Olympics. You know you've impressed when before you play a single game at the NBA level, you have a chance to make the USA Olympic team.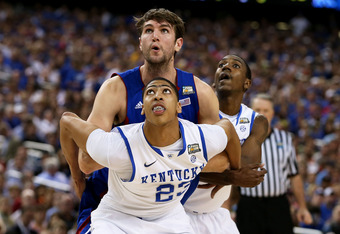 Jeff Gross/Getty Images
Personally, I think it's a great fit. Davis could protect the rim like Cookie Monster defending a cookie jar and the experience he gains would give him a huge leg up on competition at the NBA level.
2. Andre Drummond, UCONN
Andre Drummond is a bit of an enigma. He's projected as a lock to get selected in the top five in the draft and has a gigantic ceiling as a prospect. Will he embrace that potential?
I believe that Drummond can come into the NBA and be a good player right away. Does he have the work ethic to become great?
If Drummond comes into the league, cashes a paycheck and is content with being the player that he is currently, NBA fans could miss out on seeing a top tier talent at the highest level.
3. Austin Rivers, Duke
The son of Boston Celtics head coach Doc Rivers, Austin Rivers is an intriguing prospect.
He probably would have benefited from staying at Duke for another year to bulk up and hone his basketball skills, but it's hard to pass up the perks of the NBA.
Rivers is one of the most cocky, confident shooters coming out of this year's draft class. That confidence and air of purpose is Rivers' greatest asset.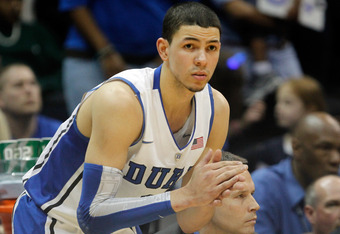 Streeter Lecka/Getty Images
The former Duke shooting guard doesn't shy away from big moments and isn't afraid to attempt clutch shots. Those are two huge intangibles you look for in an NBA-ready prospect.
Players without self-confidence usually take much longer to adjust to the NBA. I think Rivers has a chance to be very good right away.
At his best, Rivers could translate as the next Reggie Miller, an extremely confident outside shooter who can develop the other aspects of his game. At worst he'll be a glorified spot-up shooter like JJ Redick.
4. Terrence Jones, Kentucky
Terrence Jones translates well as an NBA-ready prospect. At 6'8", 244 pounds, he has a frame built for the NBA level as a small forward.
One big advantage that Jones has is the fact that he's left-handed. While that may seem trivial at first glance, basketball players are wired to play against right-handers. If defenders try to prevent Jones from driving to his right side, he'll make them pay.
He finishes strong at the basket and plays good defense, with the potential to become a lock-down defender. Don't sleep on Jones.
5. Damian Lillard, Weber St.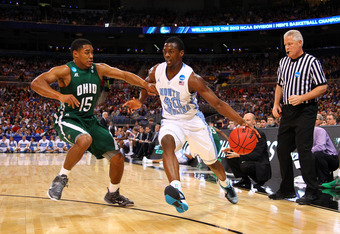 Dilip Vishwanat/Getty Images
Damian Lillard is a score-first point guard. Lillard scored 24.5 points per game last season while shooting 46.7 percent from the field, 40.9 percent from three-point range and 88.7 percent from the free throw line. He's a lights-out scorer.
However, as a point guard, Lillard's highest assist total for a season during his collegiate career was four per game. Four assists per game as a point guard is certainly not stellar. He doesn't have the natural court vision you look for in a point guard, but his scoring ability may make up for that.
If Lillard can find a position in the NBA where he has solid teammates and coaches to work with, his assist totals and ability as a point guard could improve.
It's hard to pass up 24.5 points per game out of the point guard spot though.
2012 NBA Mock Draft:
1. Charlotte Bobcats: Anthony Davis, Kentucky
The obvious choice, Davis is a game changer on both ends of the court, but his defense is fantastic.
2. Washington Wizards: Michael Kidd-Gilchrist, Kentucky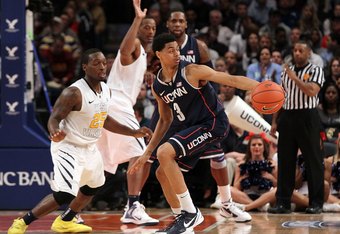 Jim McIsaac/Getty Images
Some mock drafts have Thomas Robinson out of Kansas at this spot, but if the Wizards eventually choose to amnesty Rashard Lewis, there will be a need at small forward (especially with the disappointing Jan Vesely). They also have a lot invested in Nene after acquiring him mid-season.
3. Cleveland Cavaliers: Andre Drummond, UCONN
With Kyrie Irving solidifying the point guard position, the Cavs will need help in the frontcourt. Drummond has some bust potential, but he could also develop into a top five NBA center.
4. New Orleans Hornets: Bradley Beal, Florida
Eric Gordon becomes a free agent this offseason and the chances he stays with a bad Hornets team are pretty slim. The Hornets can move on right away with arguably the best shooting guard in the draft, Bradley Beal.
5. Sacramento Kings: Thomas Robinson, Kansas
Slotting Thomas Robinson next to DeMarcus Cousins in the Kings' frontcourt makes a lot of sense. They struck gold with last year's "Mr. Irrelevant," Washington point guard Isaiah Thomas. They have a plethora of talented guards, so they should add size here.
6. Portland Trail Blazers: Harrison Barnes, North Carolina
After trading Gerald Wallace to the New Jersey (Brooklyn) Nets, there's an opening at small forward. Admittedly, the Blazers have a lot of needs. They could go with a point guard here, but taking Damian Lillard or Kendall Marshall this high may be a stretch.
7. Golden State Warriors: Perry Jones, Baylor
The Warriors already have a shooting guard in Stephen Curry and a steady power forward in David Lee, which is unfortunate because those are the two deepest positions in this draft. Perry Jones is a high-risk high-reward move.
8. Toronto Raptors: Damian Lillard, Weber St.
Jose Calderon is entering the final year of his contract in Toronto and he's the perfect point guard for Lillard to learn from. Calderon is a pass-first point guard with great court vision. If some of that rubs off on a score-first point guard like Lillard, the Raptors will be pleased.
9. Detroit Pistons: Jared Sullinger, Ohio State
The Pistons can bolster a frontcourt that already features budding star Greg Monroe. Sullinger has experience, confidence and intangibles.
10. New Orleans Hornets: Tyler Zeller, North Carolina
After addressing the backcourt with Beal at No. 4, I think the Hornets will add size by way of Tyler Zeller. He's a seven-footer who can make a difference on both ends of the floor.
11. Portland Trail Blazers: Kendall Marshall, North Carolina
After adding Harrison Barnes, the Trail Blazers stick with the same team and get their point guard of the future. Raymond Felton's contract is set to expire so adding Marshall, a pass-first point guard, is a good fit.
12. Milwaukee Bucks: Meyers Leonard, Illinois
After the trade that sent Andrew Bogut to the Warriors in exchange for Monta Ellis, the Bucks have a tremendous lack of size. At 7'1", Leonard is a true center who can fill that need.
13. Phoenix Suns: Terrence Jones, Kentucky
Since Steve Nash will likely leave the Suns in free agency, Phoenix will be disappointed to see both Kendall Marshall and Damian Lillard off the board. Instead they fill the void that will be left at small forward when Grant Hill's career comes to an end. Terrence Jones can come in and make a difference right away for a rebuilding Suns squad.
14. Houston Rockets: Jeremy Lamb, UCONN
The Houston Rockets may look to add size, but with Leonard and Zeller off the board, they'll be content with one of the best shooters and shot-creators in the draft, Jeremy Lamb.
15. Philadelphia 76ers: Arnett Moultrie, Mississippi St.
With Spencer Hawes' contract set to expire this offseason and Elton Brand not getting any younger, adding size makes sense for the Sixers in this spot. Moultrie is athletic for his size and has a lot of upside.
16. Houston Rockets: John Henson, North Carolina
Two picks apart, the Rockets address a scorer and now add size with John Henson. At 6'10" and just over 200 pounds, Henson is a string bean, so he'll need to get stronger to be a solid NBA player. His length should enable him to be a decent shot-blocker though.
17. Dallas Mavericks: Tony Wroten, Washington
The contracts of Jason Kidd, Jason Terry and Delonte West all expire this offseason, so it makes sense for the Mavs to add backcourt depth.
Tony Wroten is a project to say the least, but the Mavs can afford to pick a high-potential guy with the 17th overall pick. Wroten has great explosiveness and a gift for getting to the bucket and finishing, but his shooting numbers are pathetic. He shot 16.1 percent from three point land and 58.3 percent from the charity stripe last year. He needs to improve both of those at the NBA level.
18. Minnesota Timberwolves: Austin Rivers, Duke
The T-Wolves have a huge need at the shooting guard position moving forward and they would be thrilled to see the sharpshooting Rivers fall to them at this spot. With Kevin Love and Ricky Rubio leading the charge, this would be a great situation to aid Rivers' NBA development.
19. Orlando Magic: Terrence Ross, Washington
Terrence Ross is a lanky shooting guard at 6'6" who could move to small forward if he bulks up. If the Magic are optimistic about keeping Dwight Howard, selecting a high potential guy would be smart.
20. Denver Nuggets: Moe Harkless, St. Johns
At 6'8", the athletic Harkless is raw in terms of basketball IQ, but his upside makes this a great value pick for Denver.
21. Boston Celtics: Dion Waiters, Syracuse
Although Waiters is undersized at 6'4", he has great potential.
Ray Allen has struggled with injuries of late and he's not getting any younger. Allen could help improve Waiters' shooting range and free throw percentage by taking him under his wing.
22. Boston Celtics: Quincy Miller, Baylor
The prototypical small forward, Quincy Miller does a lot of things well on the court. He lacks experience, but learning under the Celtics' veterans would be an ideal situation for him.
23. Atlanta Hawks: Royce White, Iowa St.
Royce White is a versatile small forward with a 6'8" 240-pound frame. He has tremendous ball-handling skills for a bigger player, which would be invaluable when running the fast break.
The Hawks may choose to exercise the amnesty clause on Marvin Williams, so adding a dynamic small forward like White to take his place would be a good fit.
24. Cleveland Cavaliers: Doron Lamb, Kentucky
A crafty scorer, Lamb could come in and solidify the shooting guard spot for a young Cavaliers team. You can't go wrong drafting a Kentucky player this year.
25. Memphis Grizzlies: Draymond Green, Michigan St.
Coming into the draft as a senior, Green has a lot of basketball experience. The Grizzlies already have a very solid team, so bringing in a player with maturity and poise would be smart.
26. Indiana Pacers: Andrew Nicholson, St. Bonaventure
Experienced, high basketball IQ, great intangibles. Nicholson would be a solid fit in the Pacers' steady frontcourt.
27. Miami Heat: Fab Melo, Syracuse
If Fab Melo falls to the Heat in the draft, I honestly can't see them drafting anyone else. The Heat desperately need to add size to their roster and the seven-foot shot-blocking center Melo fills that role nicely.
28. Oklahoma City Thunder: Festus Ezeli, Vanderbilt
With Russell Westbrook, James Harden, Kevin Durant, Serge Ibaka and Kendrick Perkins, the Thunder's top five players are pretty well solidified. The Thunder can afford to take a chance on the Nigerian born center Festus Ezeli.
Playing behind Perkins and Ibaka, Ezeli could hone his raw basketball skills and become a dynamic defensive big man.
29. Chicago Bulls: John Jenkins, Vanderbilt
The Chicago Bulls are set at all positions much like the Thunder. Adding a pure-shooter like John Jenkins would be their best bet. He has tremendous range which will translate well to the NBA. He can help spread the floor for Derrick Rose and company.
30. Golden State Warriors: Marquis Teague
Adding a pure point guard would end Stephen Curry's responsibilities as a passer. If Curry can focus purely on scoring and knocking down threes, the Warriors will be a better team. Teague has natural point guard skills and maturity for his age.