6 Predictions for Dwight Howard, Stan Van Gundy and Magic's Offseason
May 9, 2012

Sam Greenwood/Getty Images
When the 2012 NBA Finals come to an end, most NBA fans will get to turn their attention to the NBA Draft and free agency.
However, this offseason has an added bonus as fans will also be treated to the sequel of the Orlando Magic soap opera, co-starring Dwight Howard and Stan Van Gundy. You can bet that as soon as the Larry O'Brien trophy is presented, the drama in Orlando will start up once again.
In fact it could start sooner, but that's me thinking there is an ounce of professionalism in Disneyworld, as their drama won't overshadow the rest of the NBA playoffs.
But as the Magic prepare for the offseason, let's take a look at some predictions for how their offseason will play out.
1. Van Gundy Will Not Be Brought Back
This has nothing to do with his coaching, as Van Gundy is the best coach in Orlando franchise history and has done enough to return.
Rather, Van Gundy's dismissal represents the franchise's lone chance to win favor with Howard as he enters the final year of his contract. Howard's disdain toward Van Gundy has been made clear over the course of the season, leaving the Magic's front office with little choice but to appease its superstar in hopes of improving the team's chances of re-signing him in 2013.
Simply put, a very good coach is replaceable in the NBA, but a superstar talent like Howard is not; which is a shame, because Van Gundy has done enough that his job shouldn't be in jeopardy because of Howard's childish behavior.
But it is what it is and Howard has all the power here, something Van Gundy realizes but doesn't seem to care about as he stated in his press conference following the Magic's Game 5 defeat.
2. Dwight Howard Will be Traded
Finally, the Magic brass will say enough is enough and put an end to Howard's antics. They will have done everything, including getting rid of Van Gundy, but Howard still won't sign an extension beyond next season, which David Baumann tweeted is still their ultimate goal.
I asked #Magic CEO Martins if he'll trade #dwighthoward: "We'll cross that bridge when it comes to it..#1 goal is to get him to sign ext."

— David Baumann (@DavidBaumann33) May 9, 2012
The Magic don't want to go through a saga like they did this past season, and will be forced to make the tough call on Howard.
3.Otis Smith Will Remain as General Manager
You have to feel for Smith, as Howard has put him in a no-win situation from the beginning; but he did what he could and at least has his superstar under contract for next season.
It's been a tough go for Smith, and while you can feel bad for him, some of this is his doing as well. He's made some good moves, but also some questionable ones.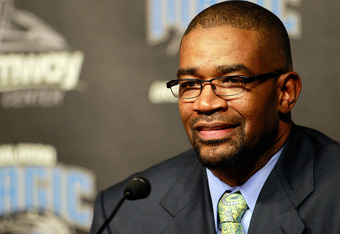 Sam Greenwood/Getty Images
Fran Vázquez (selected 11th overall in 2005 draft) still hasn't joined the team and may never do so. Smith signed Chris Duhon and Quentin Richardson to long-term deals, and they haven't produced at all.
The Vince Carter experiment fizzled out big time (although it did bring Ryan Anderson in the trade). Then, the trades of 2010 when the Magic acquired Hedo Turkoglu, Jason Richardson and Gilbert Arenas, backfired badly as the team will be paying Arenas $43 million over the next two seasons not to play for them. Also in the two trades, Smith dealt Marcin Gortat which could end up being the worst move of all.
Yet, Smith will get one more chance as he will be back for the final year of his contract during the 2012-'13 season.
4. The Magic Will Match Any Offer on Ryan Anderson
Like they've done in the past with such stars as Gortat and J.J. Redick, the Orlando Magic will match offers to restricted free agents this offseason, but it will be costly.
Sure, Anderson was voted the Most Improved Player of the Year, but he's also a guy that is dependent on teammates creating space for him.
5. Jameer Nelson Will Be Back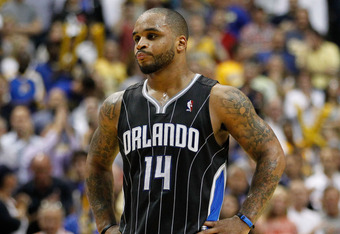 Gregory Shamus/Getty Images
Nelson has a $7.8 million player option and he's not walking away from that type of money, so expect him back in an Orlando uniform next season.
That's not terrible though, as he will be in the last year of his contract and will have a bit of trade value.
6. The Magic Will Not Add a Major Addition via Free Agency
Orlando isn't in the best of salary cap situations, so significantly improving the roster through free agency still doesn't seem like much of an option.
Sadly, the only way to really improve this team is to get a massive return for Howard. We'll see if Smith can pull off a trade this time.