WWE News: Major Update on Paul Heyman in WWE, Set to Work with CM Punk?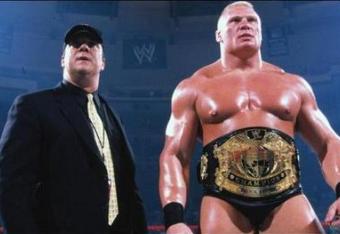 Photo courtesy of WWE.com

In the age of the Internet, the WWE has all sorts of problems hiding its major returns and storylines and preventing them from leaking out on wrestling news sites.
That's why, for the first time in a really long time, I was genuinely shocked when Paul Heyman showed up on this week's episode of Monday Night Raw as Brock Lesnar's legal counsel.
I legitimately thought to myself, "Holy crap! I can't believe I'm seeing this happen right now."
I'm sure I wasn't the only thinking that, and I can also guarantee that wrestling fans across the world want to know what's up with Heyman's return to the WWE.
Well, I bring to you a major update on Heyman's return and whether it could be leading to him working with CM Punk.
From PWInsider.com (via WrestleNewz.com):
We noted yesterday that Paul Heyman is with WWE through August's SummerSlam pay-per-view and will be representing Brock Lesnar. Heyman is being used as WWE has Lesnar signed for a limited number of dates.

One idea discussed was to have Lesnar "sue" WWE for breach of contract and money owed, playing off the actual legal battle the two sides had years ago. This angle would include all sorts of viral campaigns, something Heyman is experienced with, that would help get it over as a legitimate issue between WWE and Lesnar.

Heyman is not expected to go on the road full-time with WWE, and at last word, he was only involved in the Lesnar storyline and not working with WWE creative.

While one of the reasons Heyman has returned is to work with close friend Lesnar, word is that he also returned to potentially work with CM Punk down the line. Heyman has much respect for Punk and will work with him on the upcoming Punk DVD release.

Backstage reaction to Heyman at RAW on Monday was positive. He was warmly greeted by the younger talents, as some of them knew him from their time in WWE developmental.
A lot of that report is just repeating news about Heyman's WWE contract that was already reported yesterday, the major piece being that Heyman unfortunately won't be around for Lesnar's entire WWE run.
What's worth nothing, however, is that it appears that one of the reasons Heyman returned to the WWE was to work with Punk, who is, of course, "a Paul Heyman guy."
Will we see a Lesnar/Punk feud with Heyman involved??
The thought of Punk and Heyman cutting promos together in a WWE ring is absolutely fantastic, and the potential of a storyline involving those two is something that has me damn near giddy.
I want to see it happen. No, scratch that—it has to happen.
Punk made a lot of noise last summer when he called himself "a Paul Heyman guy" during that worked shoot promo, so it's only fitting that he works with the guy he referenced in the promo that turned him into a star.
If I was booking the WWE, I'd do the logical thing and have Heyman in the middle of a feud between the company's two "Paul Heyman guys," Punk and Brock Lesnar.
This makes a ton of sense, given the history between Heyman and those two, and this could be a huge, never-before-seen feud that ends up being great for the WWE.
Do it, Vince. You won't regret it.
Drake Oz is the WWE Lead Writer for Bleacher Report. You can follow him on Twitter and ask him any wrestling-related questions (to be answered in the B/R Mailbag) on Formspring.
This article is
What is the duplicate article?
Why is this article offensive?
Where is this article plagiarized from?
Why is this article poorly edited?