NBA Playoffs 2012: Previews and Predictions for Thursday's Game 6 Clashes
May 10, 2012

Jeff Gross/Getty Images
May 10 will prove to be another important date in the 2012 NBA playoffs. They are three pivotal Game 6's set for Wednesday night, and these matchups will define the rest of their respective first-round series. 
By Friday morning, a heavy favorite plagued by injuries could finally be out of the running, and a team past its prime could be moving on. In that regard, an upstart underdog could catch a break and a superstar-less squad could force a Game 7 with the biggest superstar in the league. 
NBA fans are lucky to have a triple dose of crucial games on tap for tonight. 
Here are previews and predictions for all the games. 
Chicago Bulls at Philadelphia 76ers 
Time: 7:00 p.m. ET 
TV: NBA TV 
Series: 76ers lead 3-2 
Preview
Maybe the Bulls are up to something or maybe the 76ers just wanted the series to end in Philadelphia.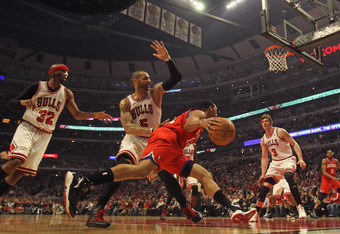 Jonathan Daniel/Getty Images
We will find out Thursday evening. 
Many predicted that after Derrick Rose and Joakim Noah went down with injures that this series would be over at Game 5. But here we are previewing a Game 6. 
That is because the also injured Luol Deng finally showed up to play. Deng has been bothered by a hurt wrist and has been limited offensively for most of this series. 
But when the Bulls were at the brink of elimination he exploded for 24 points and let the Windy City see another game. 
Chicago will need another big game from Deng as well as Carlos Boozer if they want to force a Game 7. 
Another key to forcing a Game 7 is getting Noah back in the lineup. The big man will be a game-time decision, though he did tell Chuck Swirsky of Bulls TV, "We won and we live to fight another day, it's going to be a big Game 6 and I'm hoping that I'll be able to play." 
All of Bulls nation is hoping that he'll be able to play. 
But Philadelphia is still the favorite to close out the series at home. Center Spencer Hawes has finally found a role with the 76ers, as he is averaging 12.2 points and 7.6 rebounds per game. The Washington product will be an important piece for a Philly win. 
76ers point guard Jrue Holiday is also another important piece in the City of Brotherly Love. He has relished the absence of All-Star Derrick Rose taking games over with little competition. 
Holiday is averaging 19 points and 4.8 assists per game in the series. Aided by the cheering home crowd, he will have another big game, propelling Philadelphia to the second round. 
Andre Iguodala and Louis Williams will also have to play solid games against Chicago's role players in order for this team to morph back into how it played in the first half of the NBA season.
I don't know who you'll be rooting for, but I'll be waiting anxiously for Brian Scalabrine to enter a playoff game. Hey, you never know! 
Prediction
These two teams are neck and neck for most of the first half, but Chicago pulls away late in the second quarter and enters the locker room with a four-point lead. 
Holiday and company aid a mini-comeback in the third quarter and Philadelphia posses a slim lead going into the final stretch of the game. The home crowd rejoices as the beloved 76ers hold on to win, thus advancing in the NBA playoffs. 
Atlanta Hawks at Boston Celtics 
Time: 8:00 p.m. ET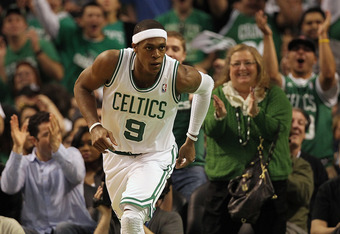 Jim Rogash/Getty Images
TV: TNT  
Series: Celtics lead 3-2 
Preview
The Celtics have never lost at home this series. They won't start Thursday. 
Atlanta has beat Boston by an average of five points per game in this matchup. Boston's wins have come with an average of 11.7 points per game. 
Stats don't lie. The Celtics are overpowering Atlanta in every major statistical category except rebounds, where Josh Smith is averaging an electrifying 14.8 boards per game. 
But can Smith carry the Hawks to a Game 6 victory?
Boston has been there and done that. The experienced Big Three have been in tougher playoff situations than this and have escaped as champions. 
Rajon Rondo is averaging a double-double in this series and is burning up right now.
Rondo and company is not only talented but also angry. They dropped Game 5 by a single point and now have to play another full game just to move on.
They had a chance to win that game when Rondo intercepted an Al Horford pass in the waning seconds of the match with a chance to steal not only the ball but also the victory. Alas, it was not meant to be as the point guard fumbled the win away. 
That should make him angry. 
That anger should translate to great play on the court and a quick win. But these Hawks will not go down without a fight. 
Al Horford was back in the starting lineup for Game 5, scoring 19 points with 11 rebounds. He will be a huge boon for Atlanta. 
Smith still has some discomfort in his knee but should play just fine through the pain. He will be joined on the court by Joe Johnson, hoping for a big game to bring the series back to Atlanta. 
Boston realizes that the window for their aging team is rapidly closing. They won't let another opportunity fall past them. 
It won't be easy but the Celtics will get the win in TD Garden in order to rest their squad for a brutal continuation of these playoffs. 
Prediction
Rondo spearheads a quick start for Boston in the first quarter, but Atlanta slowly picks apart the lead heading into halftime.
The Hawks come out swinging in the third quarter but Kevin Garnett and company won't let their opponents run away with a win. They orchestrate an admirable defensive stand and celebrate a six-point victory with the home crowd.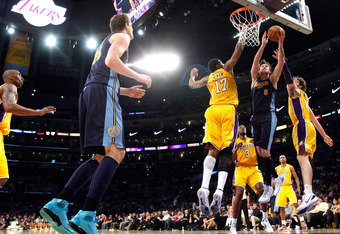 Jeff Gross/Getty Images
Los Angeles Lakers at Denver Nuggets  
Time: 10:30 p.m. ET 
TV: TNT  
Series: Lakers lead 3-2 
Preview
In Game 5 of this suddenly interesting series Kobe Bryant exploded for 43 points.
But his team lost. No other Laker had over 20 points. After all, there is only so many shots to go around. 
No Nugget had over 25 points that game, but three put up more than 15 and five Denver players notched up 10 or more points. 
On that night teamwork trumped selfishness. It usually does. Cliches stem from the truth, so excuse me as I use one right now. 
There is no I in team. 
The Nuggets played Game 5 like a well-oiled machine. The Lakers played as if Kobe was the only star on their team.  
I'm not trying to diminish what the future Hall of Famer did, but when your team doesn't win, no one cares about your individual achievements. 
The series returns to Denver tonight and the Nuggets should pick up where they left off. 
They have crept back into the series and will be a benefactor from a 5,280 feet boon that throws many visiting opponents for a spin. 
The mile-high altitude is always a big fatigue factor and gives Denver a home-court advantage like none other. 
Another advantage Denver has is age. They are a young team anchored by a youth explosion of Ty Lawson, Kenneth Faried, Danilo Gallinari and JaVale McGee. If the Nuggets get an early lead on Los Angeles, then the aging Lakers will have a tough time coming back. 
McGee was acquired by Denver in the Nene trade deadline deal. So far the former Wizard has done a great job containing Andrew Bynum and keeping the explosive center in check while also putting up offensive production of his own. 
McGee is a huge presence on the court but also extremely athletic. The big man will be key if Denver will send this series back to Los Angeles. 
Gallinari is also playing big against the Lakers, as he is averaging 15.8 points per game. A win at home will come if the Nuggets can get a solid performance from Arron Afflalo and contain Los Angeles' role players.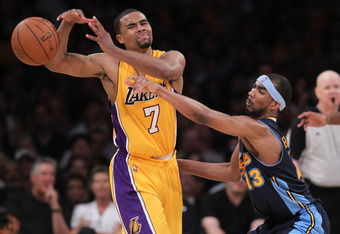 Jeff Gross/Getty Images
Everyone knows that The Black Mamba can take over games in a heartbeat but shutting down players like Ramon Sessions and Pau Gasol make the Lakers more human and thus beatable. 
The Nuggets are a deeper, younger team riding an incredible momentum high. 
The Lakers are experienced and have a roster full with rings and All-Stars.
Who wins on Thursday, and what does the future hold? 
Prediction
The home crowd is pumped and cheers on their team en route to an early lead. The first quarter is all Denver and they hold on in the second to go into halftime with a visible lead. 
In the start of the second half Kobe Bryant suddenly brings the Lakers back to life, but the collection of Nuggets players shadow him every step of the way and finally pull away with a four-point lead late in the fourth. 
The Mile High City erupts into joyous celebration as Kenneth Faried and company force a Game 7 after eking out a two-point victory. 
Thanks for reading and please comment with your opinions and predictions below!