Detroit Tigers Should Show Greater Concern for Jose Valverde's Struggles
May 10, 2012

Christopher Pasatieri/Getty Images
Let's get this right out in the open so there's no whining about it later—Jose Valverde is not the same closer he was a year ago. Period.
In fact, he's not even close.
While he's been bashed by the media over the course of a still very short season of accomplishments, or lack thereof, I've remained reserved in my judgment of his effectiveness toeing the rubber as the ace of the Tigers bullpen.
After another blown save over the weekend against inter-league rival Chicago, the ability to lurk in the shadows of opinion no longer sits well.
The term closer itself elicits a vision of slamming the door, which Valverde has been as far from doing this season as he has in any point in his career. This isn't to say that even the best closers won't blow a save over the 162-game stretch of the regular season, but closers are still expected to make the three outs that are their absolute responsibility in an effort to garner team victory.
Those three outs have been painstaking for Valverde and Tigers fans alike to get through.
In 14 appearances this season, Valverde has had only two clean innings of work—three up and three down is clean. Nearly every one of his outings this year have found manager Jim Leyland pacing back and forth down the stretch of a concerned and almost despondent Detroit dugout.
The outward arrogance that is a trademark of Valverde's lively mound antics is less prominent and less assured with each pitch of every game. The cockiness that was Valverde seems to be in question as though it has disappeared—from his behavior on the mound, the loudest questions are being asked by himself.
It is abundantly apparent that Valverde is not pleased with his 2012 performance, which is clearly evident from his self-talk on the mound and his ongoing look of angst and disgust in the dugout. He just isn't the same "Papa Grande" that made everyone in Detroit forget the ugly memories of lackluster closers like Todd Jones and Fernando Rodney.
His 5.27 ERA is over two runs higher than his career ERA of 3.08 and this season's performance is well off the mark of the 2.24 ERA he had in 2011 when he dominated American League hitters.
Valverde has given up nearly as many walks (11) as he has hits (15) and has only struck out 11 batters in 13.2 innings of work. He's also blown two save opportunities, both outstanding starts by Tigers pitchers, which has left fans in an outcry.
The problem really becomes this: if it's not Valverde, who is it? Detroit's bullpen is in shambles as well.
A week ago the answer may have been Octavio Dotel, who was providing the most consistency in his seventh-inning spot, but he blew a save as well and cost the Tigers a victory too. Phil Coke has the best veteran bullpen hurler ERA at 2.92 and is beginning to return to the dominate reliever form he displayed in 2010 after last season's failed attempt at moving him to a starting pitcher role.  
Right now, the true ace of Detroit's bullpen staff has been the near-perfect rookie Duane Below. Below sits at 2-0 for the Tigers and has walked only one hitter while striking out nine and scattering seven hits over his 13.1 innings of work. Strikingly different numbers than Valverde, who has basically worked the same number of innings as Below.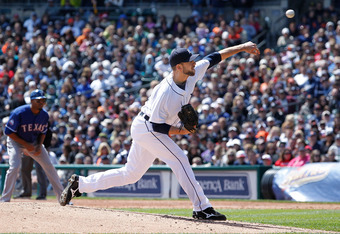 Gregory Shamus/Getty Images
What is more striking is that Below has walked into situations where the game was on the line— runners in scoring position—and has walked back to the dugout unscathed and with his team still in a position to win the ball game. Valverde cannot say the same, and in all reality, his road has been an easier path.
Below is holding hitters to a .159 average on the season and has an impressive 0.60 WHIP. In comparison, Valverde has rendered a much higher average to A.L. hitters (.283) and has a WHIP three-times Below's at 1.90.
At present it would seem the rookie has much greater confidence and presence on the mound than does his veteran mentor. That alone, at the very least, will keep the Tigers organization on pins and needles as they try to figure out how to fix Valverde.
This isn't to say that Below is prepared or should even be considered as a potential closer, it is more to glaringly point out that something isn't right and it can't continue to be swept under the carpet.
Valverde needs to answer the bell quickly or the Tigers may have little other choice than to pull the trigger on picking someone up or picking someone out of the bunch they currently have at their disposal.
Even with that, there is no guarantee those options would pan out any better. It takes a certain mentality to step on the mound in the ninth inning when more often than not the game will be on the line and get the job done.
Valverde has all the tools to do so, but needs to find that inner arrogance that gave him the confidence he hurled with in 2011.